Cheese chilli toast recipe – How to make cheese chilli toast sandwich recipe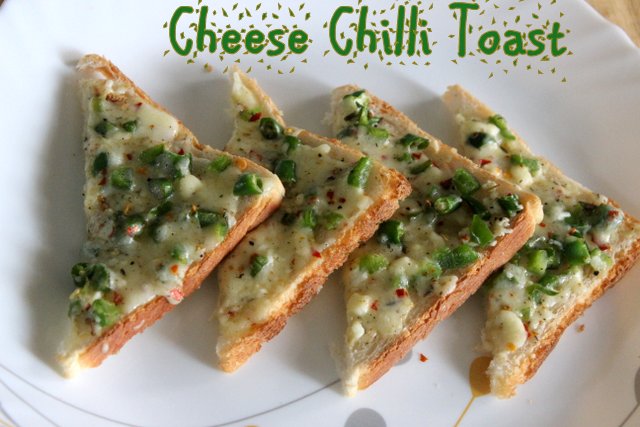 Cheese chilli toast is a very easy and quick snack made with few ingredients.  It can be done in an oven as well as tawa.  Kids love this snack is it is very delicious and filling too.  Cheese chilli toast can be had as a breakfast dish or as an evening snack.  It can also be had as a brunch  when you miss your breakfast as it keeps you full and satiated, till your next meal.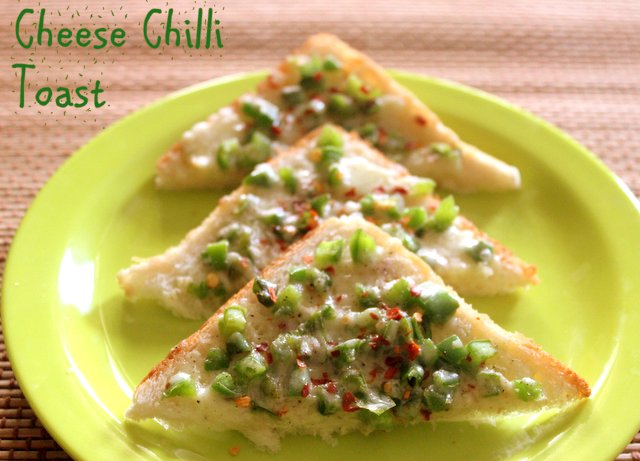 Prep Time : 10  mins
Cook Time : 5 mins
Servings : 2 persons
Indian cuisine
INGREDIENTS
Bread slices – 6 (brown bread or atta bread or multigrain bread)
Green chilli – 2 (chopped finely)
Green capsicum – 3 tablespoons (chopped finely)
Grated cheese – 1/2 cup
Black pepper as needed
Red chilli flakes – 1/2 teaspoon
Garlic cloves – 2 (chopped finely or grated) (optional)
Butter as required
Salt to taste
HOW TO MAKE OR PREPARE CHEESE CHILLI TOAST RECIPE
Take a mixing bowl.  Add chopped green chillies and green capsicum.  Then add grated cheese, pepper powder, red chilli flakes, garlic cloves and salt.  Mix well.
Take the bread slice in a plate.  Spread the butter evenly on it.  Then spread the cheese mixture evenly.
Keep them in an oven and bake/grill in a pre-heated oven at 200 degrees C  for 5 minutes or until the cheese melts and turns light golden colour and becomes crisp.  Cut into triangles and serve hot.
Enjoy cheese chilli toast with tomato ketchup or as it is.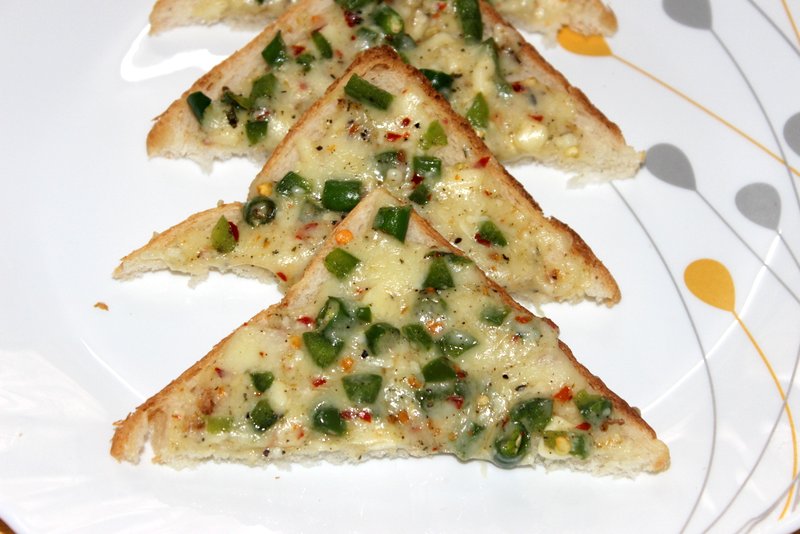 NOTES/TIPS
Add salt as per taste, as butter and cheese already has salt in it.
You can skip green chillies if making for kids.
For making the cheese chilli toast on tawa, spread butter and then the cheese mixture on the bread and toast it on tawa on medium flame till the cheese melts.
Ensure that the bread slices does not get burnt.