Menthya soppu huli or methi sambar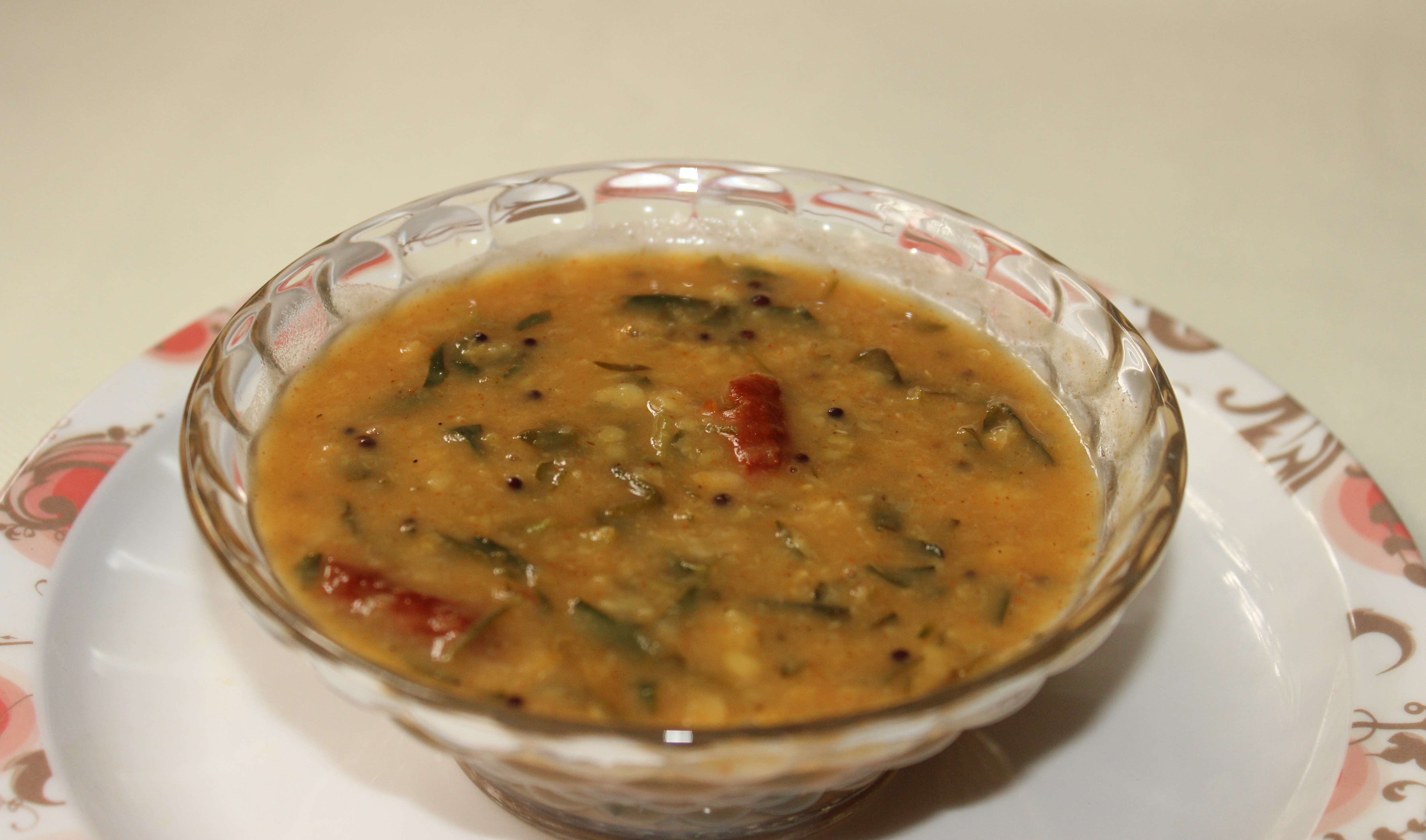 Menthya soppu huli recipe is very popular in Karnataka and easy to make too. Menthya soppu huli or methi sambar is also called as vendhaya keerai sambar in Tamil Nadu.   It is made with fenugreek leaves, tur dal, tamarind and jaggery and best served with rice and little ghee.  It also makes an excellent side dish for rotis. Fenugreek leaves are rich in iron, calcium and potassium and it helps in digestion.
Ingredients
Menthya/fenugreek/methi leaves - 2 cups (roughly chopped)
Tur dal - 1 cup
Tamarind - 1 lemon sized ball
Turmeric powder 1/4 teaspoon
Grated jaggery - 1 tablespoon
Cooking oil - 2 tablespoons
A pinch of asafoetida
Gram/chana dal - 1 teaspoon
Mustard seeds - 1/2 teaspoon
Whole red chillies - 2 to 3 (broken into small pieces)
Salt to taste
sambar powder - 2 teaspoons
Method
Step 1
Wash the methi leaves thoroughly and immerse in water for 15 minutes. This helps to remove the sand/mud particles from the leaves which gets settled down in the water. Then remove and chop the methi leaves roughly and keep aside
Step 2
Soak tur dal in water for half an hour. Pressure cook the dal with sufficient water and turmeric added to it, upto 4 whistles in a pressure cooker. When completely cooled, mash the dal and keep aside
Step 3
Heat oil in a pan. When oil is hot, add asafoetida and mustard seeds. Once the seeds starts spluttering, add chana dal and red chillies and roast till the dals turn light brown.
Step 4
Add methi leaves and saute for 5 to 6 minutes on a medium flame, till they become soft.
Step 5
Add 1/2 cup of tamarind water and bring it to a boil. Boil till the raw smell of tamarind goes.
Step 6
Add sambar powder, salt and mix well. Cook for another 2 to 3 minutes on a low flame.
Step 7
Add mashed dal and 1/2 to 1 cup of water to bring to a medium consistency or depending on the desired consistency.
Step 8
Lastly add grated jaggery and combine together. Remove from flame and pour the curry in a serving bowl.
Step 9
Serve menthya soppu huli or methi sambar hot with steamed rice.
Step 10
NOTES: For tamarind water, soak 1 lemon sized ball of tamarind in hot water for half an hour. Extract half a cup of tamarind water from the pulp and use the same for preparing sambar.