Barley khichdi recipe – How to make barley khichdi recipe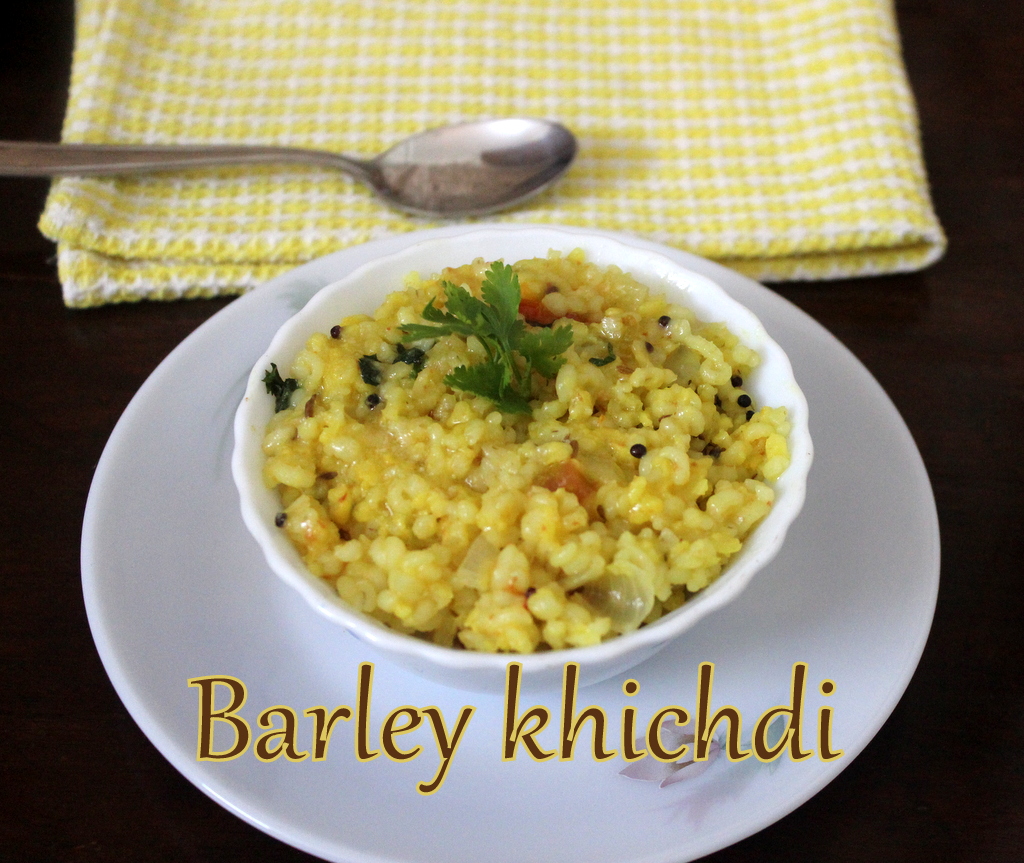 Khichdi is a comfort dish made from rice and lentils.  It is easily digestible as compared to other foods.  Khichdi is very soft on stomach as it has no spices.  Traditionally, khichdi is made with rice and moong dal and tempered with ghee, hing and cumin seeds. In this recipe, I have replaced rice with barley grains and added onions and tomatoes for a spicy twist.
Barley has got lot of health benefits.  It is rich in fibre and helps to lose weight and lowers cholesterol.  Barley khichdi is a comfort food that keeps your stomach full for a long time, due to its high fibre content.  Do try this delicious and healthy khichdi for your family!!
In this recipe, I have used Oo Mugi barley grains which I received from goindiaorganic thanks to Ms. Kirti Yadav of plattershare, a social media for food enthusiasts.  I am happy to share this healthy recipe to the viewers!!
Other khichdi recipes :
Prep Time : 10 mins plus 1 hour soaking time
Cook Time :  20 mins
Servings :  2 persons
Indian cuisine
INGREDIENTS
Oo Mugi barley grains – 1 cup
Yellow moong dal – 1/2 cup
Onion -1 (chopped finely)
Tomatoes – 2 (chopped finely)
Ginger – 1/2 inch sized (grated or chopped finely)
Green chillies –  3 to 4 (chopped finely)
A pinch of asafoetida or hing
Turmeric powder – 1/4 teaspoon
Curry leaves – 10
Cooking oil or ghee – 2 tablespoons
Mustard seeds or rai – 1/2 teaspoon
Cumin seeds or jeera – 1/2 teaspoon
Salt to taste
Water – 3 cups
Chopped coriander leaves for garnishing
Lemon juice – 2 tablespoons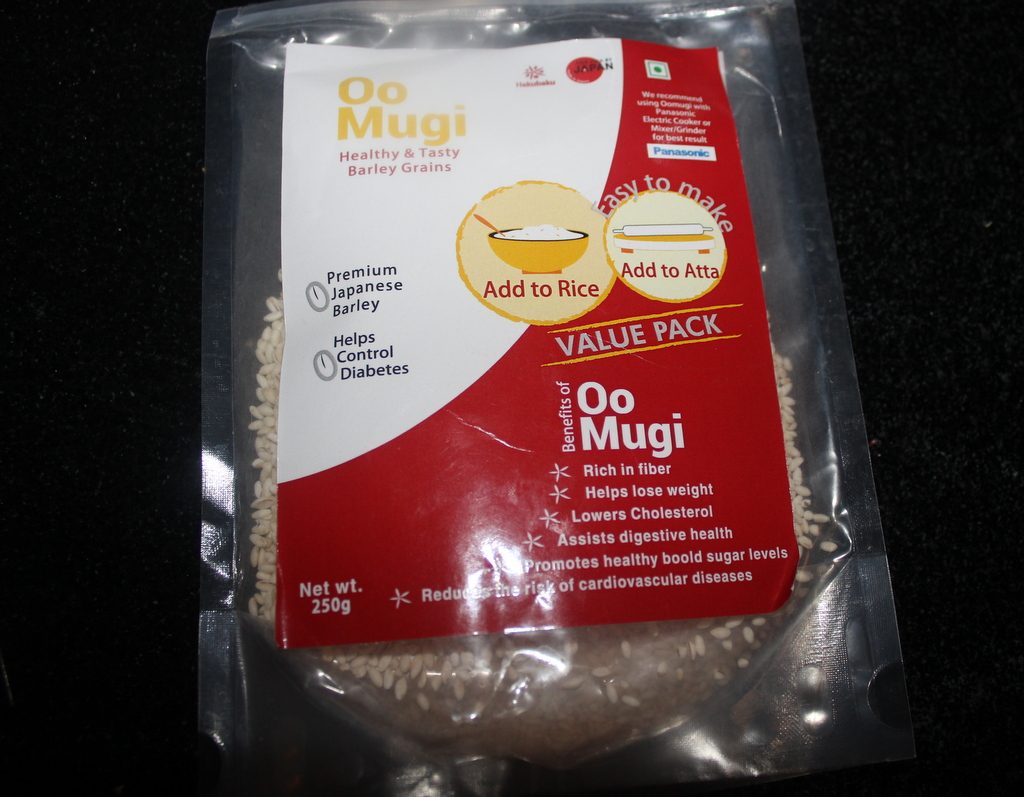 HOW TO MAKE OR PREPARE BARLEY KHICHDI RECIPE
Soak barley grains for 1 hour with enough water.  Then drain the water and keep the soaked barley aside.  Heat ghee in pan on medium flame.
Add mustard seeds and cumin seeds.  When they sizzle, add chopped onions and saute on medium flame.  Add curry leaves, hing, ginger and green chillies.  Stir fry for upto 2 minutes, till onions become translucent.
Add chopped tomatoes and cook till they become mushy.  Then add soaked barley and moong dal and mix well.
Add 3 cups of water and salt.  Allow the water to come to a nice boil.
Then lower the flame and close the pan with its lid.  Cook for 15 to 20 minutes till the it is well cooked and the water is fully absorbed.  Add more water if required, if you feel the barley is not cooked.  Then switch off the flame.  Sprinkle lemon juice and garnish with chopped coriander leaves.
Yummy barley khichdi is ready to be served.   Serve barley khichdi with curd or as it is.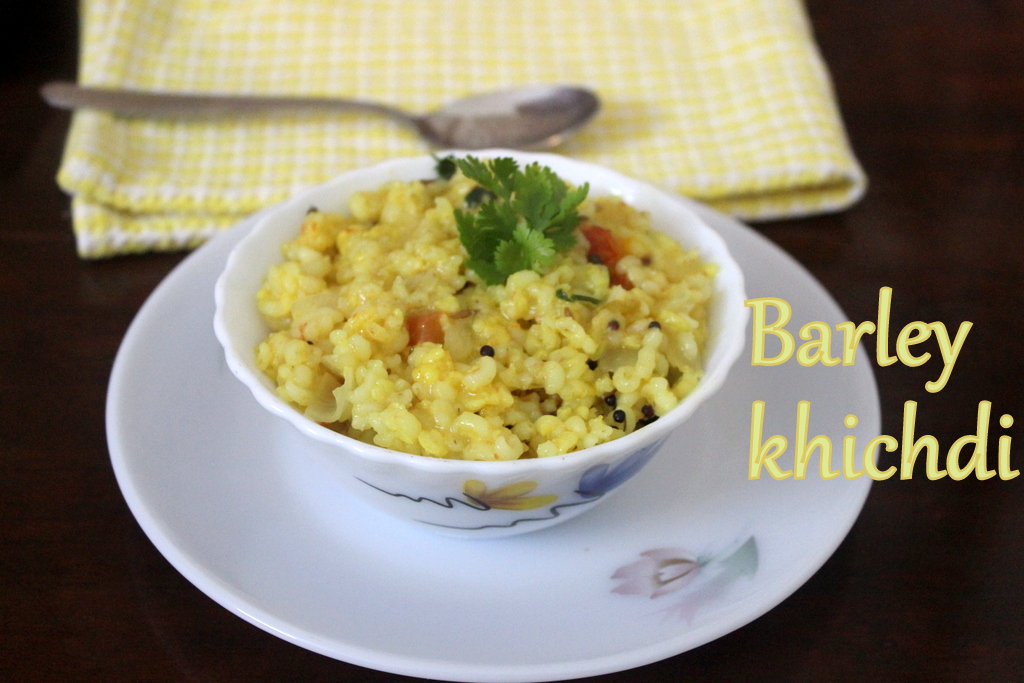 NOTES/TIPS
Add vegetables like carrot, peas, beans or any other vegetable of your choice to make it more nutritious.
You can add cooking oil instead of ghee to make it a vegan dish.
You can also cook this khichdi in a pressure cooker.  In that case, pressure cook for upto 4 whistles after adding water.
Always serve khichdi hot or warm for better taste.