Puranpoli or Holige or obbattu or bobbattu recipe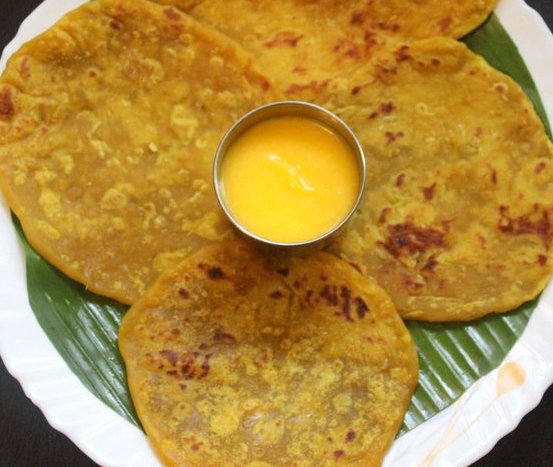 Puranpoli is a traditional sweet flatbread  with a sweet stuffing made from split bengal gram/chana dal and jaggery and is very popular in the States of Maharashtra, Andhra Pradesh, Karnataka and Tamil Nadu.  It is called as holige or obbattu in Karnataka, boli in Tamil Nadu, bobbattu in Andhra Pradesh and pooran poli in Maharashtra.  Puranpoli is generally served alongwith ghee and hot milk.  Puran poli is an Indian dessert served during auspicious occasions and during important festivals such as Holi and Gudi Padwa. It is made mostly during Holi when the bonfire is lit. The stuffing is known as puran and the outer cover is known as poli.  The stuffing is made with boiled chana dal, jaggery, ghee and cardamom powder and the outer cover is prepared from maida or all purpose flour or you can also use wheat flour.  Puran poli is a great breakfast dish and also can be served as snack.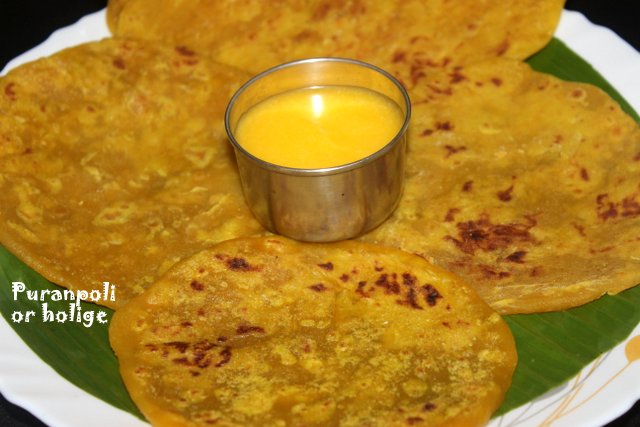 Prep Time : 3 hours and 30 mins
Cook Time : 30 mins
Yield : 10-12 puranpolis
Total time – 4 hours
Maharastrian cuisine
Festival sweet dish
INGREDIENTS
For the covering or dough
Maida flour/all purpose flour – 2 cups
Turmeric powder – 1/4 teaspoon
Ghee or oil – 4 tablespoons
Salt – 1/2 teaspoon or as required
Water as required for making the dough
1/2 cup of maida for dusting purpose
For the stuffing or mixture
Split bengal gram or chana dal – 3/4 cup
Powdered jaggery or gur – 1 1/2 cups
Grated coconut – 1/4 cup
Cardamom powder – 1/2 teaspoon
Ghee or oil  – 2 tablespoons
HOW TO MAKE PURANPOLI OR HOLIGE OR OBBATTU RECIPE
Preparation of covering
Take a mixing bowl.  Add maida flour, salt, turmeric powder, ghee and  little water  and make a smooth and soft dough. Cover the bowl with a lid and keep aside  for 2-3 hours.
Preparation of mixture/stuffing
Wash and soak chanadal for half an hour and then drain the water.  Add 2 1/2 to 3 cups of water and pressure cook for upto 4 whistles.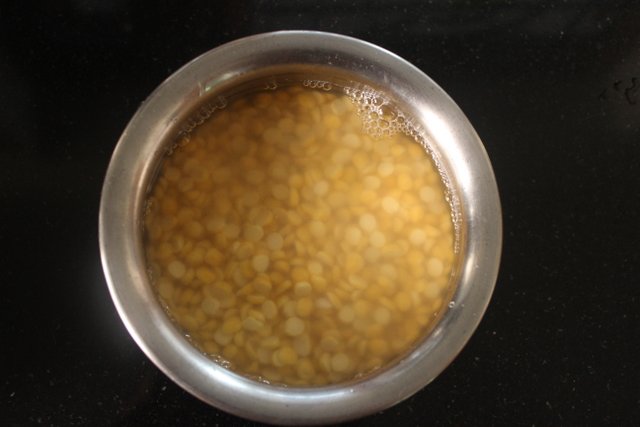 Once the pressure is cooled down, remove the boiled chana dal and strain the water. This water or stock can be used for making any other vegetable dishes.  Keep the boiled chana dal aside.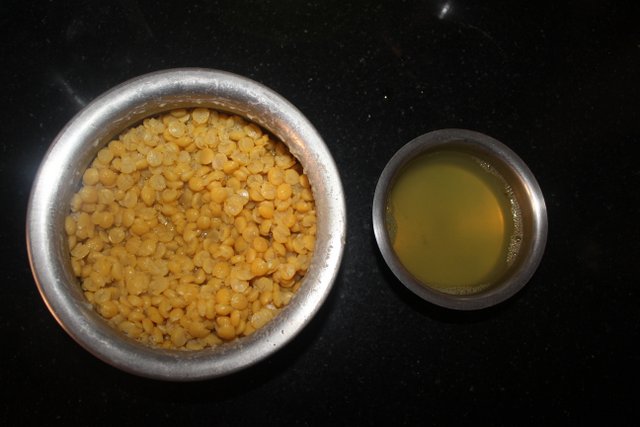 In a mixer grinder, add the chana dal, cardamom powder and grated coconut with very little water and grind to a smooth thick paste.  You can use the stock for grinding this mixture.
Heat a pan on a medium flame.  Add 2 tablespoons of ghee.  Add the chana dal mixture and powdered jaggery and mix well.  Cook the mixture on a low to medium flame till the mixture becomes dry.  Keep stirring at regular intervals.  It will take approx 18-20 mins for the mixture to become thick and dry.
When the mixture gets stuck to the spoon or ladle and does not fall down easily, then that is the right consistency.  Switch off the flame. Once it is cooled down, make small equal balls of the mixture or the stuffing and keep it ready.
Making of puran poli
Apply little oil or ghee in your hand.  Smear oil on the banana leaf or rolling board.  Take a small ball from dough and spread it on a banana leaf or rolling board.    Roll it to a small puri-sized with the help of your hand. Keep the stuffing in the centre of the rolled dough and close the edges towards the centre.
 Sprinkle some flour and press the dough lightly and start rolling the dough to a round shape.  Heat a non stick pan or tawa on a medium flame.  Spread ghee or oil on the tawa and place the rolled dough on it  and cook on a medium flame.  Once cooked, flip on the other side and cook till light golden spots appear on the poli.  Flip again and put some ghee on the top.  Puran poli will fluff a little.  Once cooked on both the sides, remove from the flame to a serving plate.
Serve puranpoli hot or warm with a dollop of ghee over it.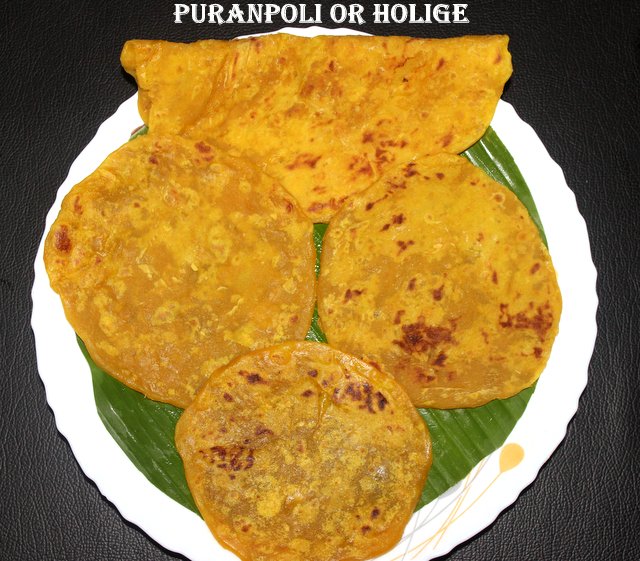 NOTES/TIPS
Puran poli can also be made from wheat flour or a combination of wheat flour and maida/all purpose flour.
To check the right consistency of the mixture or the puran, remove a small portion of the mixture with the help of a spoon.  If the mixture does not fall down and gets stuck to the spoon, then this is the right consistency.  If it does not, then it needs to be cooked more.
Apply some more ghee on the puran poli at the time of serving and serve hot immediately.
Puran poli can also be prepared using Toor dal or arhar dal.
Cooked puran poli can be stored in a refrigerator for upto a week.  Reheat over a skillet or in the oven before serving them.