Spinach peas (Palak matar) pulao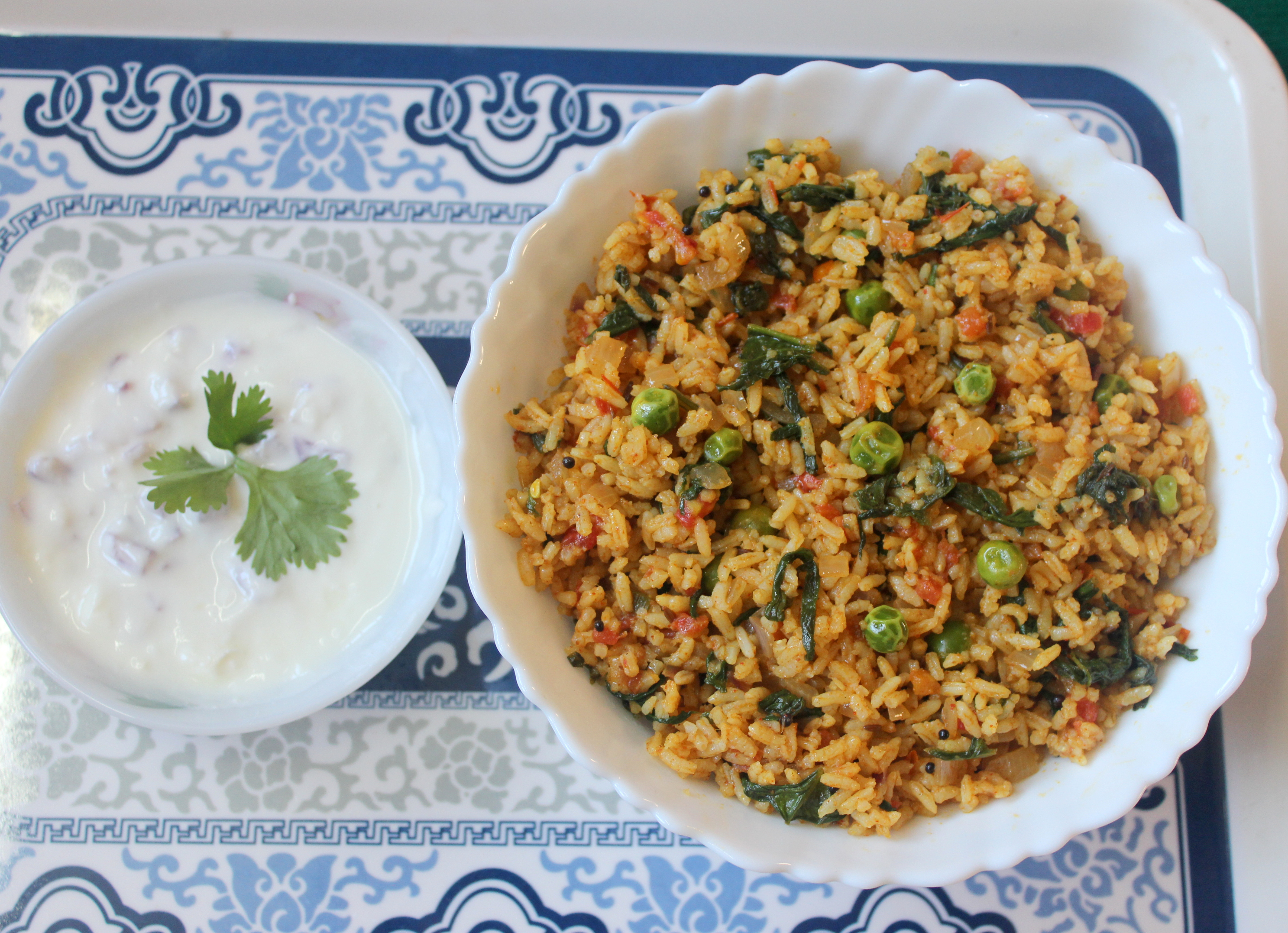 Palak peas pulao is a very tasty and nutritious rice dish made from spinach leaves, peas, onions, tomatoes and rice. It can be served with raita or papad as an accompaniment. Palak peas pulao is a good option for lunch box as it is a sumptuous meal and also very healthy. Now for the recipe of Palak peas pulao.
Ingredients
Spinach (palak) leaves - 2 cups (chopped)
Green peas - 1/2 cup
Cooked rice - 2 cups
Cooking oil - 2 tablespoons
Mustard seeds - 1/2 teaspoon
Cumin seeds - 1/2 teaspoon
Onion - 1 (chopped finely)
Tomatoes - 2 (chopped finely)
Ginger-garlic paste - 1 teaspoon
Turmeric powder - 1/4 teaspoon
Red chilli powder - 1 teaspoon
Coriander powder - 1 teaspoon
Garam masala powder - 1 teaspoon
Salt as required
Method
Step 1
HOW TO MAKE PALAK PEAS (PALAK MATAR) PULAO RECIPE Heat oil in a pan on a medium flame. Add mustard seeds and cumin seeds.
Step 2
Once the seeds stop spluttering, add onion and ginger-garlic paste. Saute till onions become translucent and light brown.
Step 3
Add chopped spinach leaves and saute for few minutes till the leaves become little soft.
Step 4
Add chopped tomatoes and green peas and fry till the tomatoes become little soft.
Step 5
Add salt, turmeric powder, coriander powder and garam masala and mix well. Cook on a low flame for another 2 minutes.
Step 6
Now add cooked rice and combine together. Here adjust salt accordingly and mix well. Palak peas pulao is now ready to be served.
Step 7
Serve palak peas pulao with raita, papad or any gravy of your choice.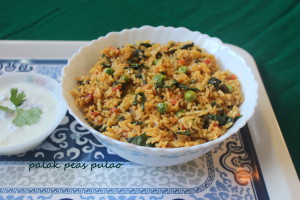 Step 8
NOTES: Ensure that the cooked rice is fluffy and separate and not too mushy or soft. This will enhance the taste of pulao. Once the rice is cooked, you can spread the rice in a plate to cool down a bit and then mix to make pulao.