Curd rice recipe/mosaranna recipe/thayir sadam recipe – How to make South Indian curd rice recipe – rice recipes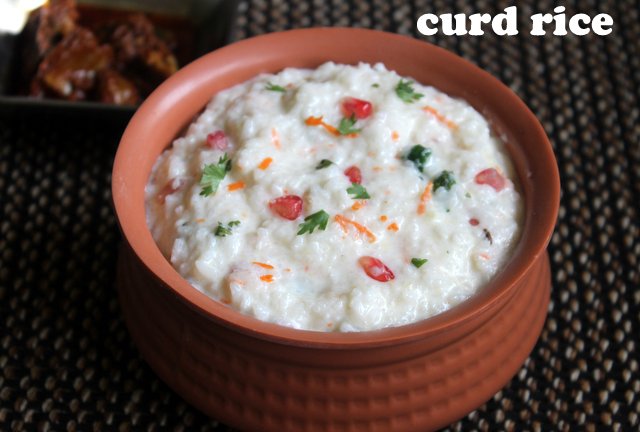 Curd rice is  also called as yoghurt rice and a popular dish in South India. Mosaranna thayir sadam or curd rice is a delicacy of South India. In some South Indian temples, curd rice  is served as prasadam. Curd is high in proteins, calcium and good fats and helps in digestion and reducing stress and anxiety.  No South Indian meal is complete without curd rice.   A very easy to make recipe, it is often eaten accompanied by pickles.  
In South Indian home cuisine, it is standard to eat curd rice at the end of lunch and dinner, which helps ease the effects of the spicy main dishes and it  is also said to aid digestion.  Garnishings range from grated carrots, pomegranate seeds, raisins, grapes, fried cashewnuts, grated raw mango and boondi. It can be served lukewarm or chilled.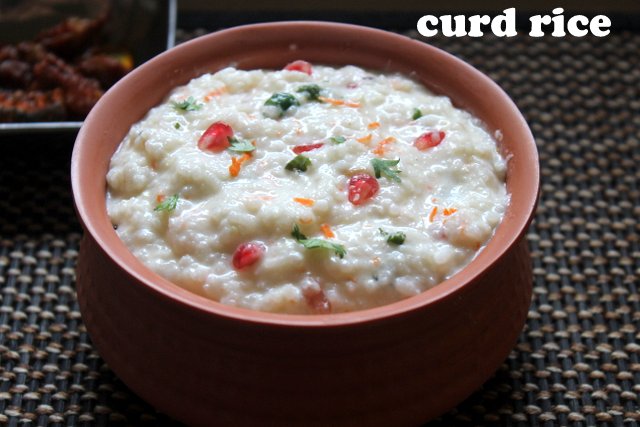 Prep Time : 20 mins
Cook Time :  10 mins
Servings : 4 to 5 persons
South Indian cuisine
INGREDIENTS
Rice – 1 cup
Water – 2 cups
Milk – 1 cup
Grated carrot – 1/2 cup (optional)
Fresh cream or butter – 2 to 3 tablespoons
Pomegranate seeds – 1/4 cup (optional)
Curd – 2 cups
Chopped coriander leaves – 2 tablespoons for garnishing
Salt to taste
FOR SEASONING/TADKA
Oil – 2 teaspoons
A pinch of asafoetida or hing
Mustard seeds/rai – 1/2 teaspoon
Urad dal – 1/2 teaspoon
Green chillies – 2 (chopped finely)
Grated ginger – 1 tablespoon
Few curry leaves
A short video link on curd rice :
HOW TO MAKE OR PREPARE CURD RICE RECIPE
Wash 1 cup rice thoroughly and soak it for 15-20 minutes.
Take the rice to a pressure cooker.  Add 2 cups of water and 1 cup of milk.
Once it starts boiling, close the lid and pressure cook on medium flame for 3-4 whistles or till cooked.
Once the pressure is cooled down, open the lid and add 1/2 cup to 1 cup of water and mash the rice thoroughly with the help of a spatula.  This will avoid formation of lumps in the rice. (do not add curd when the rice is still hot).
When the rice is mashed, add pomegranate seeds, grated carrot, fresh cream or butter and mix well.  Fresh cream or butter gives a nice aroma to the curd rice.
Now add 2 cups of curd and salt and mix it well. (You can add 1 cup of curd and 1 cup of milk, if packing curd rice for lunch and having it after 4-5 hours),
Heat 2 teaspoons of oil in a tadka pan. Add mustard seeds. When the mustard seeds start spluttering, add hing, urad dal, green chillies, grated ginger and curry leaves. Saute them for a minute.  Add this seasoning to the curd rice and give a good mix.
Finally add chopped coriander leaves and mix well.  Serve curd rice with pickles, papads or potato fry.
NOTES/TIPS
You can add grated cucumber, carrot or pomegranate to enhance the taste. But these are optional.
Ensure that the cooked rice is soft and little mushy and cooled down before adding milk.
You can add milk or curd according to the consistency and sourness required by you.
Fresh cream or butter added gives a creamy texture and taste to the rice.
Add little milk to curd rice, if you are serving later, as this helps from turning dry and sour.
You can add fried cashewnuts and add to the curd rice for more taste and flavour.
Use fresh thick curd or homemade curd and avoid curd which is too sour.
If using freshly cooked rice, allow it to come to room temperature before adding curd.