Strawberry jam recipe – How to make homemade strawberry jam recipe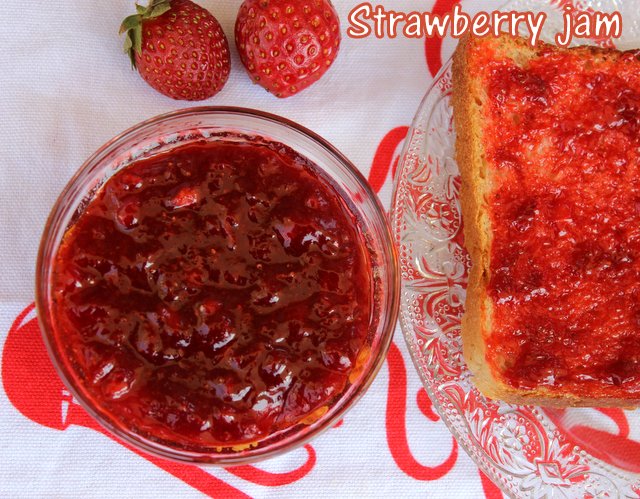 Homemade strawberry jam — a very easy to make jam recipe with fresh strawberries, sugar and lemon juice.  This recipe is made without the use of preservatives.  Lemon juices gives a nice flavor to the jam.  If you prefer a smooth jam, then you can puree the strawberries and then make the jam.  If you like chunky jam, then you can chop the strawberries and mash them while cooking.  You will get strawberry chunks while having the jam.  Spread the strawberry jam on a toast, plain bread or as a garnishing to an ice-cream and enjoy!!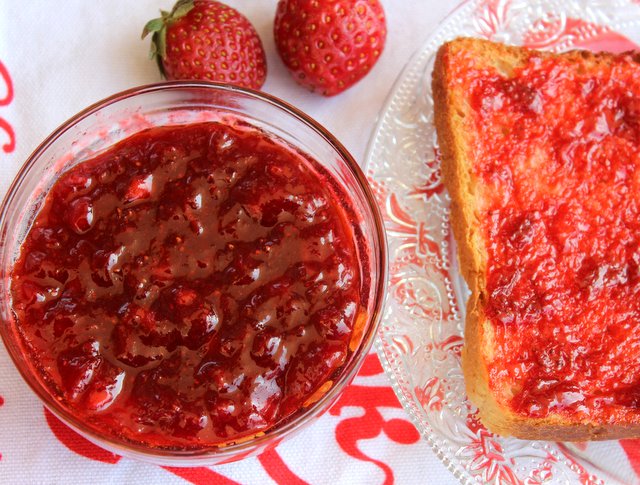 Prep Time : 10 mins
Cook Time : 20 mins
Servings :  Makes 1/2 cup
Indian cuisine
INGREDIENTS
Strawberries – 15 to 16 nos.
Sugar – 1/2 cup
Lemon juice – 1 tablespoon
HOW TO MAKE OR PREPARE HOMEMADE STRAWBERRY JAM RECIPE
Rinse the strawberries and remove the stalk.  Chop them finely into small pieces.
Heat a pan on low flame.  Add the chopped strawberry pieces and sugar.  Mix well.
Add lemon juice.  Keep cooking on a low to medium flame.  The strawberries will leave their juices.  Stir continuously till they are cooked.
Mash the strawberries gently occasionally with the top of the ladle.   The mixture will start reducing and thickening.  Simmer for some more time till the mixture starts leaving the sides of the pan. (It will take approx. 15 -20 minutes to make the jam).  Once the mixture reaches a thicker consistency, switch off the flame.
Once cooled down, it will become even more thicker.  Store the jam in an airtight container in a refrigerator and use it as and when required.
NOTES/TIPS
You can also puree the strawberries first and then make the jam.
Adjust the sugar content as per the tanginess of the strawberries used for making the jam.
You can used powdered jaggery instead of sugar for making this recipe.
Ensure to cook on a low to medium flame by stirring continuously to avoid getting burnt at the bottom of the vessel.