Tomato sambar recipe – How to make quick and tasty tomato sambar in pressure cooker – sambar recipe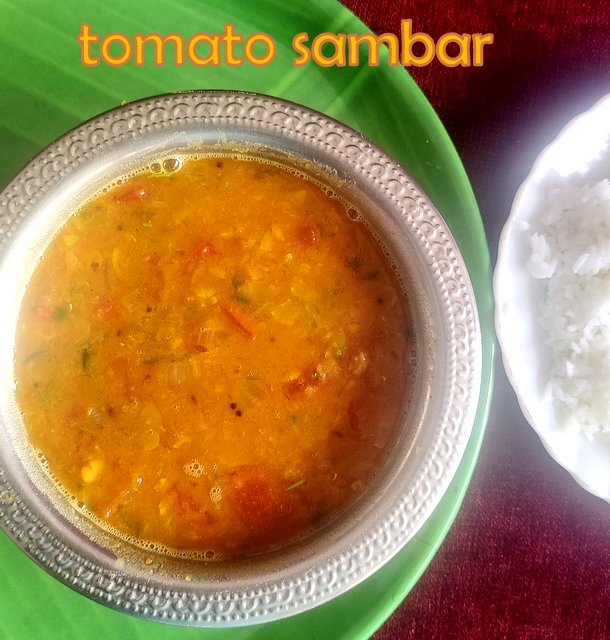 Sambar is a lentil, tamarind and vegetable based curry or stew and very popular in South India. The story is that it got originated in the kitchen of  Thanjavur.  Maratha ruler, Shahuji during the 17th century from the southern Indian state of Tamilnadu tried to make a dish called amti (Maharashtrian curry) and experimented with toor dal or pigeon peas  instead of mung bean, and tamarind pulp for  kokum and the court named it sambhar after the guest of the day, Sambhaji, second emperor of the Maratha empire. (adapted from Wikipedia)
Sambar is prepared either with single vegetable or a combination of various vegetables like brinjal, ladies finger, radish, pumpkin, potatoes, tomatoes, onions and drumstick.  In coastal Karnataka and Tamil nadu, where coconuts are grown in plenty, sambar is prepared with a paste of freshly ground spices and grated coconut instead of sambar powder.  It gives more taste to the sambar.  Sambar is usually served with steamed rice in south indian cuisine. But it is also served as an accompaniment for idlis, dosas and vadas.
In this sambar recipe, I have used more of tomatoes,  some onions, a mix of yellow moong dal and tur dal, tamarind pulp and spices.   You can add your own choice of vegetables like radish, drumstick or pumpkin.  But do not add too many vegetables, otherwise you will have more vegetables than the sambar or gravy itself.  This sambar recipe is an instant sambar recipe as it is prepared in a pressure cooker, which goes well with idli, dosa or rice.  It is a  very easy and quick  method of making sambar without compromising on the taste,  as it is very delicious each time when making this sambar.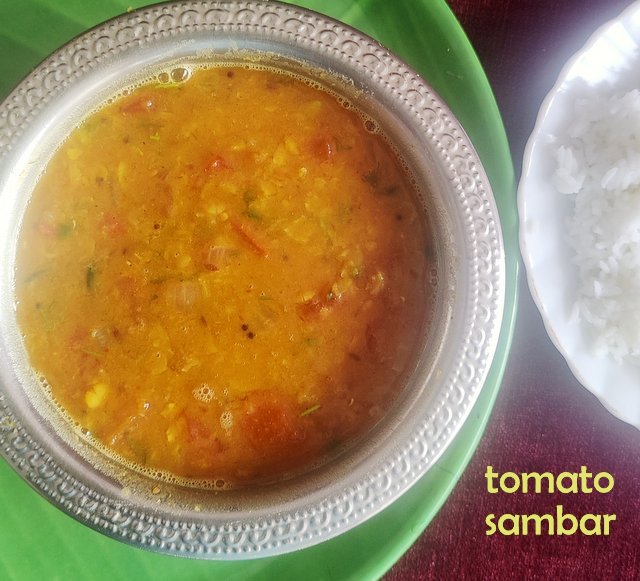 Prep Time : 30 mins
Cook Time : 20 mins
South Indian cuisine
INGREDIENTS
Toor dal – 1/2 cup
Yellow moong dal – 1/4 cup
Tomatoes – 2 (chopped into medium pieces)
Onion – 1 (chopped into medium pieces)
Tamarind water – 1/2 cup
Sambar powder – 2 teaspoons
Turmeric powder – 1/4 tsp
Red chilli powder – 1 teaspoon
Salt to taste
Coriander leaves for garnishing
FOR TEMPERING/SEASONING
Ghee – 2 tablespoons
Mustard seeds or rai – 1/2 tsp
Cumin seeds or jeera – 1/2 tsp
Urad dal – 1/2 tsp
Whole red chillies – 3 to 4 nos (broken into pieces)
A pinch of asafoetida
Few curry leaves
HOW TO MAKE OR PREPARE  QUICK AND TASTY TOMATO SAMBAR IN PRESSURE COOKER
PREPARATION
Soak a lemon sized tamarind in hot water for 30 minutes.  Then squeeze the soaked tamarind pulp in water and make 1/2 cup of tamarind water.  Keep it aside.
Take 1/2 cup of toor dal and 1/4 cup of yellow moong dal in a vessel.   Rinse them thoroughly with water.  Then soak them with 2 cups of water for half an hour.   Keep it aside.
METHOD
Heat a  small pressure cooker on medium flame.  Add the soaked dals, chopped onions and chopped tomatoes.  Add 1/4 tsp of turmeric  powder, salt, red chilli powder and sambar powder.
Mix everything well.  Now add 1/2 cup of tamarind water to it and mix everything well again.
Pressure cook for 4 to 5 whistles on medium flame.  Once cooled down completely, open the lid and give a nice stir to the sambar.
Heat 2 tablespoons of ghee in a tadka pan on medium flame.  Add 1/2 tsp mustard seeds, 1/2 tsp cumin seeds, 3 red chillies, a pinch of asafoetida,  1/2 of urad dal and curry leaves.  Saute for a minute and pour it to the sambar and mix well.  Garnish with chopped coriander leaves.
Delicious tomato sambar is now ready to be served. Serve tomato sambar with rice, idlis, dosas or ven pongal.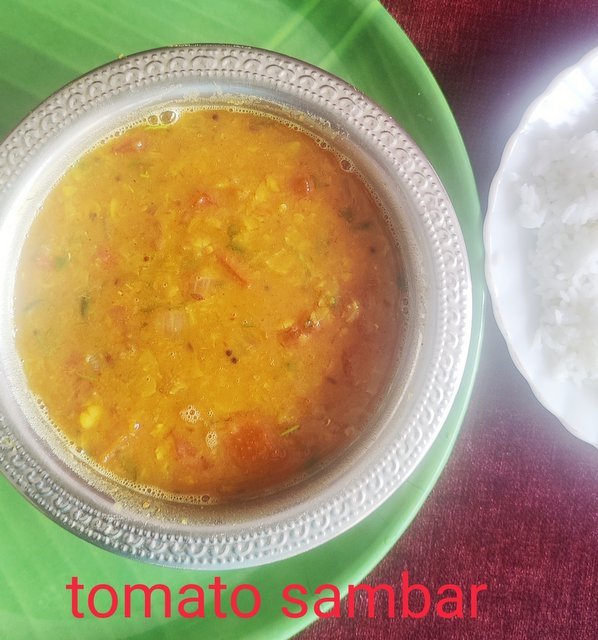 NOTES/TIPS
Add jaggery only if you prefer a sweet taste of sambar.
Soak the lentils for 30-40 minutes for faster cooking.
Sambar stays good for upto 2 days when refrigerated.
Adjust the consistency of sambar by adding little water.