Strawberry milkshake recipe – How to make strawberry milkshake recipe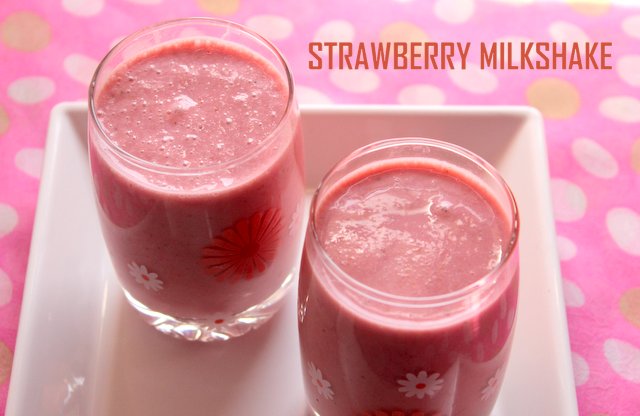 Strawberry milkshake is a healthy and refreshing drink made from strawberries and milk.  You can use fresh ones if they are in season  or use frozen strawberries for making this drink.  This drink energises you instantly and can be had as breakfast drink or any time of the day.  Strawberry milkshake is made with minimum ingredients and very easy to make too.  Kids love the colour and the flavour of the strawberries added to this milkshake.  Do try this delicious health drink and enjoy!!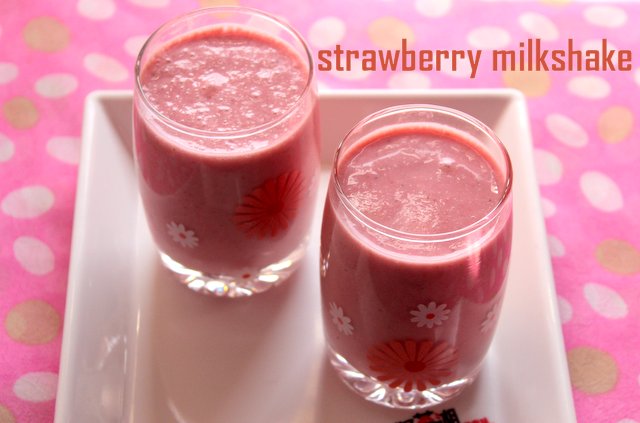 Prep Time :  10 mins
Cook Time :  5 mins
Servings : 2 persons
Indian cuisine
INGREDIENTS
Strawberry – 20 pieces
Milk – 3 cups
Sugar or honey – 2 tablespoons
Vanilla or strawberry ice-cream – 1/2 cup (optional)
HOW TO MAKE OR PREPARE STRAWBERRY MILKSHAKE RECIPE
Wash the strawberries thoroughly.  Pat dry and remove the stems.  Chop them into halves.
Take a blender and add the chopped strawberry, milk and sugar.  Blend till it becomes a smooth puree.
Pour the strawberry milkshake into  serving glasses.  Serve chilled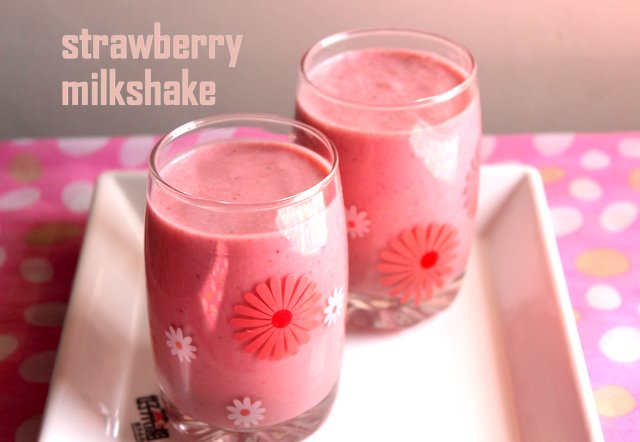 NOTES/TIPS
Add more sugar if you prefer a sweeter taste.
If the strawberries are very sweet, adjust sugar accordingly.
Serve milkshakes immediately once done.
Add ice-cream for a thicker and creamier version and more enhanced flavour.