Poha chivda or chiwda (spicy flattened rice) recipe – Diwali snacks recipe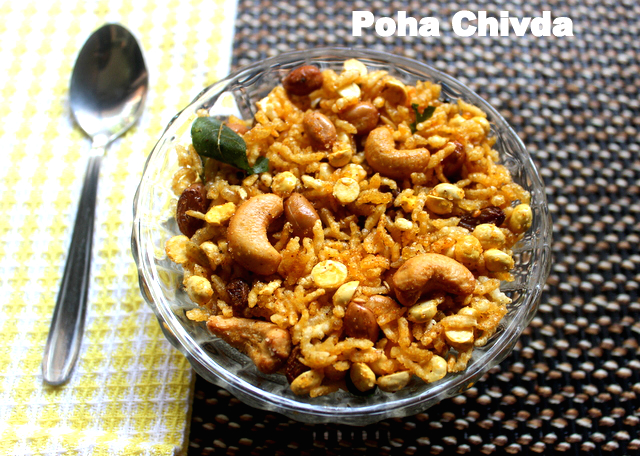 Poha chivda or chiwda is a spicy mixture made from thick poha and dry fruits which is deep fried and mixed with spices.  It is a savory snack which is easy to make.  Poha chiwda is mostly prepared during diwali festival as a part of diwali snacks.  It can be also had as a tea-time snack or just plain.  This recipe of crispy beaten rice flavoured with peanuts, raisins and cashewnuts makes up for a delicious anytime snack.
I have already posted poha mixture made with thin poha which is light fried and not deep fried.  If you prefer low calorie snack you can try this recipe.  Another snack which you can try is cornflakes mixture during this diwali season, which is light, healthy  and very delicious.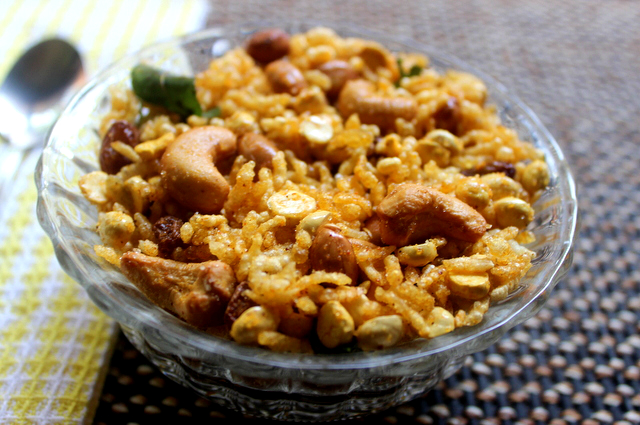 Prep Time :  10 mins
Cook Time :  20 mins
Servings :  4 persons
INGREDIENTS
Thick poha or flattened rice or aval – 1 cup
Roasted chana dal or chutney dal – 1/2 cup
Peanuts – 1/4 cup
Cashewnuts – 1/4 cup
Raisins – 1/4 cup
Powdered sugar – 2 teaspoons or as per taste (optional)
Salt to taste
Cooking oil for deep frying
FOR SEASONING
Cooking oil  – 2 tablespoons
Mustard seeds – 1/2 teaspoon
A pinch of asafoetida or hing
Cumin seeds (jeera) – 1/2 teaspoon
White sesame seeds or white til – 1 teaspoon
Turmeric powder – 1/4 teaspoon
Red chilli powder – 1/2 teaspoon
10 curry leaves or kadipatha
HOW TO MAKE OR PREPARE SPICY POHA CHIVDA OR CHIWDA RECIPE
Clean the poha of any impurities, if any.
Keep the poha, roasted chana dal, peanuts, cashewnuts, raisins and curry leaves ready for deep frying.  (I forgot to keep the raisins measurement cup in the first pic.  Hence a separate pic for raisins.)
Heat sufficient oil in a pan for deep frying on a medium flame.  I added the poha directly to the oil and deep fried  them.   (Other alternative is to place the poha in a closely knit wire mesh sieve and lower it in the oil and then deep fry them).  Deep fry till the poha double up in size or swell a bit in size, but take care as to not to  brown it.  Transfer the poha to a plate lined with paper towel..  This helps to absorb the excess oil.
Then add the roasted chana dal and fry till they become crisp.  Remove them on the same plate lined with paper towel.
Next add peanuts and deep fry till crunchy and drain them too.
Then add cashewnuts and fry till golden brown.  Transfer the cashewnuts to the plate and drain them too.  Add raisins and fry for few seconds till they puff up.  Drain the raisins too.   Lastly add the curry leaves.  Once they become crisp, drain them.
Keep all the fried ingredients in a plate and keep it ready.  Heat 1 tablespoon of oil in a pan.  Add mustard seeds.  Once the seeds start to splutter, add hing, cumin seeds, sesame seeds, red chilli powder and turmeric powder and saute for few seconds on a low flame.  Switch off the flame.
Add the fried ingredients –  fried poha, chutney dal, peanuts, cashewnuts, raisins and curry leaves and mix well.  Add salt and sugar.  Finally combine all the ingredients and toss well.
Spicy poha chiwda is ready to be served as a teatime snack.  Once cooled down or reaches room temperature, transfer the chiwda to an airtight container.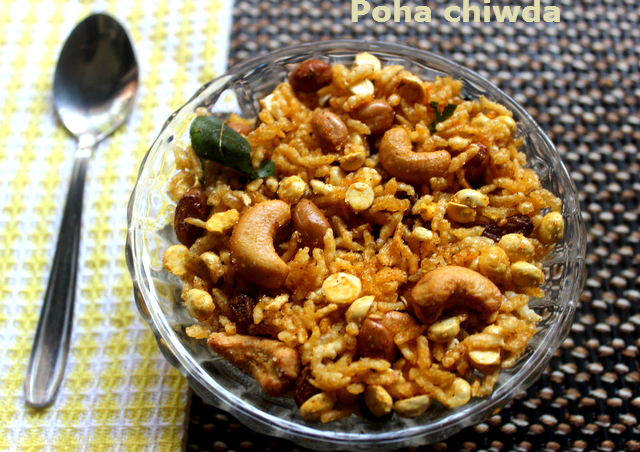 NOTES/TIPS
Keep all  the ingredients ready which are required to be deep fried.  It becomes easier and saves time.
You can also add  fried thin coconut slices to this mixture.
Adjust sugar as per your taste or you can also skip it, if you prefer a salted version.