Basundi recipe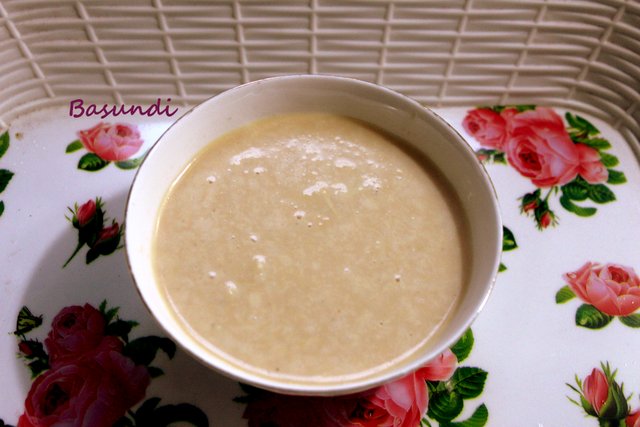 Basundi is a popular Indian dessert in the States of Maharashtra, Gujarat and Karnataka and it is made from milk, sugar and nuts. It is a sweetened dense milk prepared by boiling milk on low heat till it is reduced to half. Once the milk is reduced, sugar and nuts are added to it. Cooking the basundi after sugar is added gives a nice light pink colour to it. Basundi is best served warm or chilled garnished with almonds and pistachios. Here I have prepared basundi without nuts which also tastes divine. Keep stirring the milk continuously and scraping the sides of the vessel as this makes the basundi thick and gives a creamy texture to it. Basundi is ideal for occasions like Diwali or Navratri or any special occasions.
Ingredients
Full cream milk - 1 litre
Sugar - 1/2 cup
Cardamom powder - 1/4 teaspoon
5 to 6 strands of saffron
Method
Step 1
HOW TO MAKE BASUNDI RECIPE Take a broad and heavy bottomed vessel or pan. Add milk and bring it to a boil.
Step 2
Then reduce the flame and heat on a low flame and reduce the milk to half its volume. This will take approximately about an hour. Keep stirring occasionally to avoid burning of the milk.
Step 3
Keep scraping the sides of the vessel and cream from the top and keep adding back to the basundi mixture.
Step 4
Once the milk is reduced to half its volume, add sugar, cardamom powder and saffron strings and mix well. Cook on a low flame for another 15 minutes till the basundi mixture gets a thick consistency. Then switch of the flame.
Step 5
Serve basundi hot, warm or chilled as desired.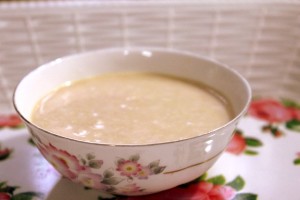 Step 6
NOTES/TIPS : Keep stirring the milk occasionally to avoid burning of milk. You can also use condensed milk for making instant basundi. In that case, you can prepared in less than an hour. You can also prepare with uncondensed milk and add sugar accordingly according to the sweet taste required by you. You can add fruits like strawberry or Lychee to make a delicious strawberry rabri or lychee rabri. Add nuts like almonds and pistachios to make it even more rich and delicious. Always use full cream milk for better and rich taste.