Oats spiced buttermilk recipe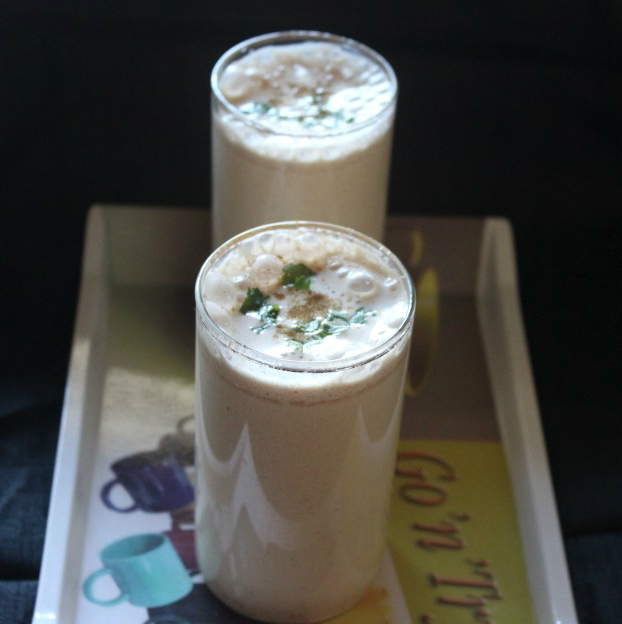 Oats spiced buttermilk is a perfect low fat and low calorie drink. It is a cooling drink during especially during hot summers as it helps to keep yourself hydrated. Oats are loaded in dietary fibre and helps to lower cholesterol levels. Over the past few decades, oats have become a popular health food and if included in your daily diet, provides your body a lot of health benefits.
Ingredients
Oats - 4 tablespoons
Curd/Yoghurt - 1/2 cup
Water - 2 cups
Ginger - 1 inch small piece (grated or chopped finely)
A pinch of asafoetida
Cumin (jeera) powder - 1/4 teaspoon
Chopped coriander leaves - 1 tablespoon
Green chillies -1 (chopped finely)
Salt to taste
Few ice cubes
Method
Step 1
HOW TO MAKE OATS SPICED BUTTERMILK RECIPE Roast the oats lightly and then grind them to a fine powder. In a mixing bowl, add oats, water, curd and salt and mix well. Keep it aside for 10-15 minutes and let the oats get soaked well.
Step 2
Chop the green chillies, coriander leaves and ginger finely. You can also grate the ginger.
Step 3
In a blender, blend the green chillies, coriander leaves and ginger to a smooth paste. Then add oats curd mixture, cumin powder, ice cubes and little water and blend well. (Add water according to the consistency required). Pour in a tall glass and garnish with cumin powder.
Step 4
Serve oats spiced buttermilk chilled.