How to make aloo bhujia or potato sev recipe – Diwali snacks recipes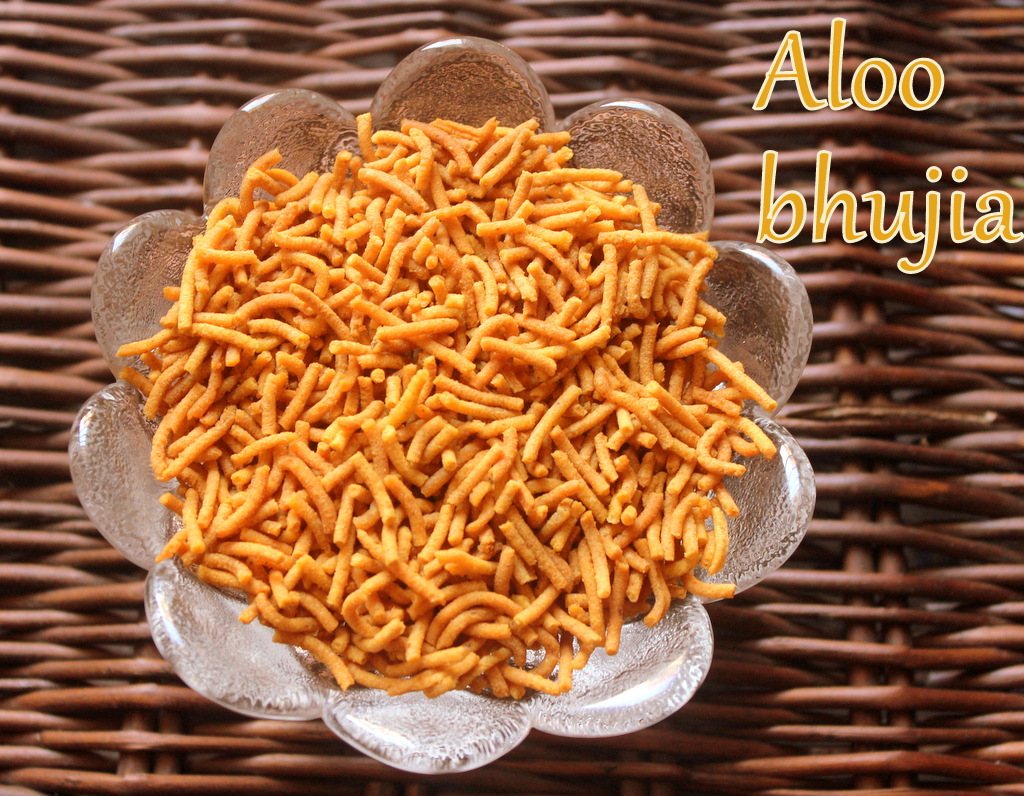 Aloo bhujia or potato sev is a spicy and crispy savory snack made from gram flour, potatoes and spices.  It is a popular Indian snack especially in North India. It can be had as a  Diwali snack or as a teatime snack.   Amchoor powder and chaat masala gives a nice tangy taste to the bhujias. It can be easily made with simple ingredients available at home.  Do try this yummy and crunchy snack this Diwali season and enjoy with your family.
For full collection of diwali snacks and sweets from my blog pls check this link : http://charuscuisine.com/diwali-sweets-and-snacks-recipes-diwali-recipes-collection-2015/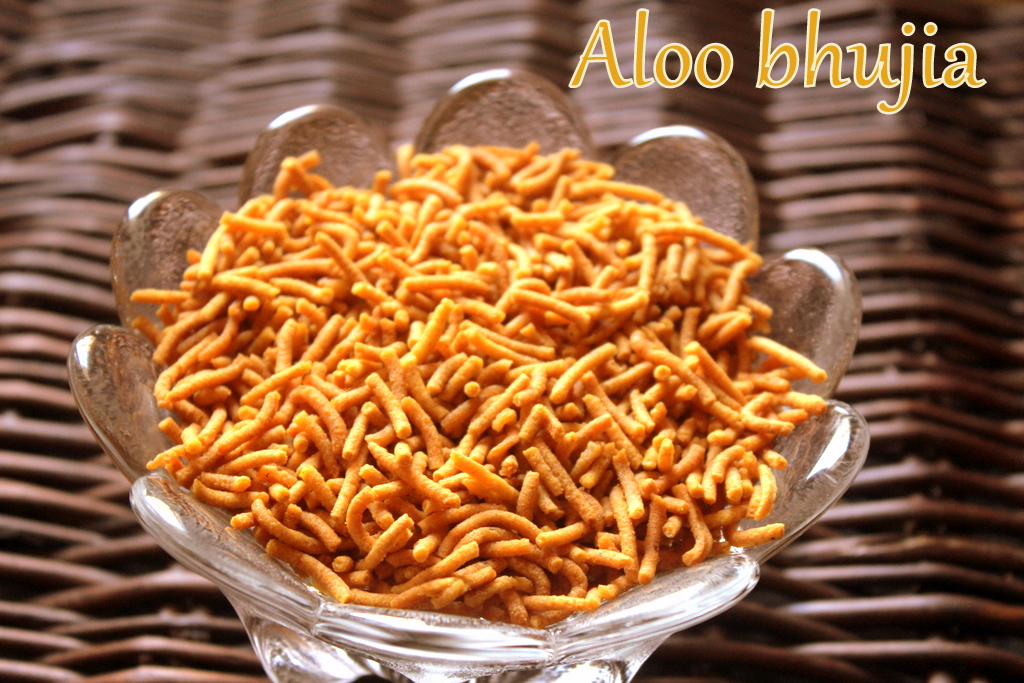 Prep Time :  25 mins
Cook Time : 15  mins
Servings : 1 cup of aloo bhujias
INGREDIENTS
Besan or gram flour – 1/2 cup
Potato – 1 (medium sized)
Turmeric powder – 1/4 teaspoon
Red chilli powder – 1/2 teaspoon
Garam masala – 1/2 teaspoon
Amchoor powder – 1/2 teaspoon
Chat masala powder – 1/4 teaspoon
A pinch of asafoetida/hing
Oil for deep-frying
Salt to taste
HOW TO MAKE OR PREPARE ALOO  BHUJIA OR ALOO SEV RECIPE
Boil the potato in a pan with sufficient water till soft or pressure cook for upto 5 whistles.  Once cooled down, peel the skin of the potato and mash them.
Take a mixing bowl and add the mashed potato, gram flour, turmeric powder, red chilli powder, hing, garam masala, chaat masala, amchoor powder and salt. Add little oil and knead to a smooth and pliable dough.  Do not add water as the moisture in the boiled potato will be enough to knead the dough.
Take a sev maker with fine hole attachment.  Fill the sev make with the dough and close with its lid.
Heat sufficient oil in kadai or heavy bottomed pan.  Once the oil becomes moderately hot, gently hold the sev maker over the kadai and press the handle of the sev maker.  Bhujia will start flowing into the oil.  Make a circular motion without over lapping.
Deep fry the bhujias on both the sides till they turn golden colour and crisp.  Remove with the help of a slotted spoon.
Drain the bhujias on an absorbent or tissue paper to absorb excess oil.  Repeat the process with the remaining dough.  Once cooled down, crumble the bhujias lightly.  Store aloo bhujias in an airtight container.
Serve spicy, tasty and crispy aloo bhujias with tea/coffee or as an evening snack.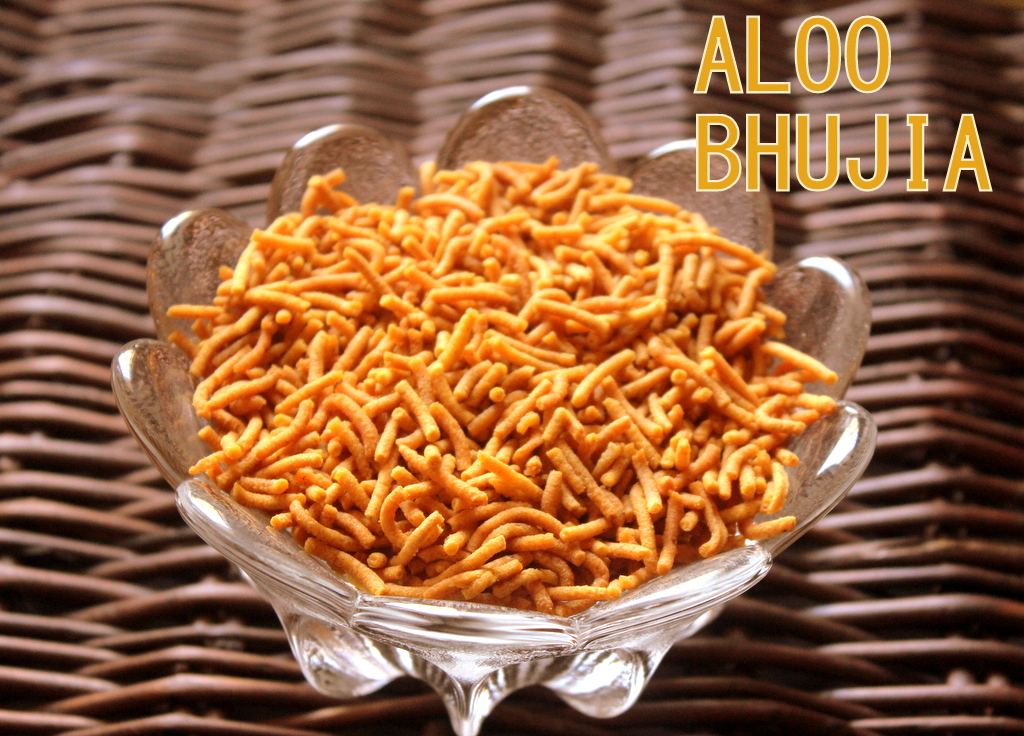 NOTES/TIPS
You can add 2 teaspoons of lemon juice instead of amchoor powder.
If the dough is too soft, add little more besan.   Apply little oil in your palm and then knead the dough again.
Check the oil before deep frying by adding a small piece of dough.  If it comes up quickly then it is too hot. If the dough settles down,  then the oil is not hot enough.   The dough has to come up gradually. So adjust the temperature of oil accordingly.  After dropping the sev, deep fry in medium flame to ensure even cooking of the bhujias.
Sprinkle some chat masala once you have removed the sev from the frying pan to make it more tasty.