Capsicum rice recipe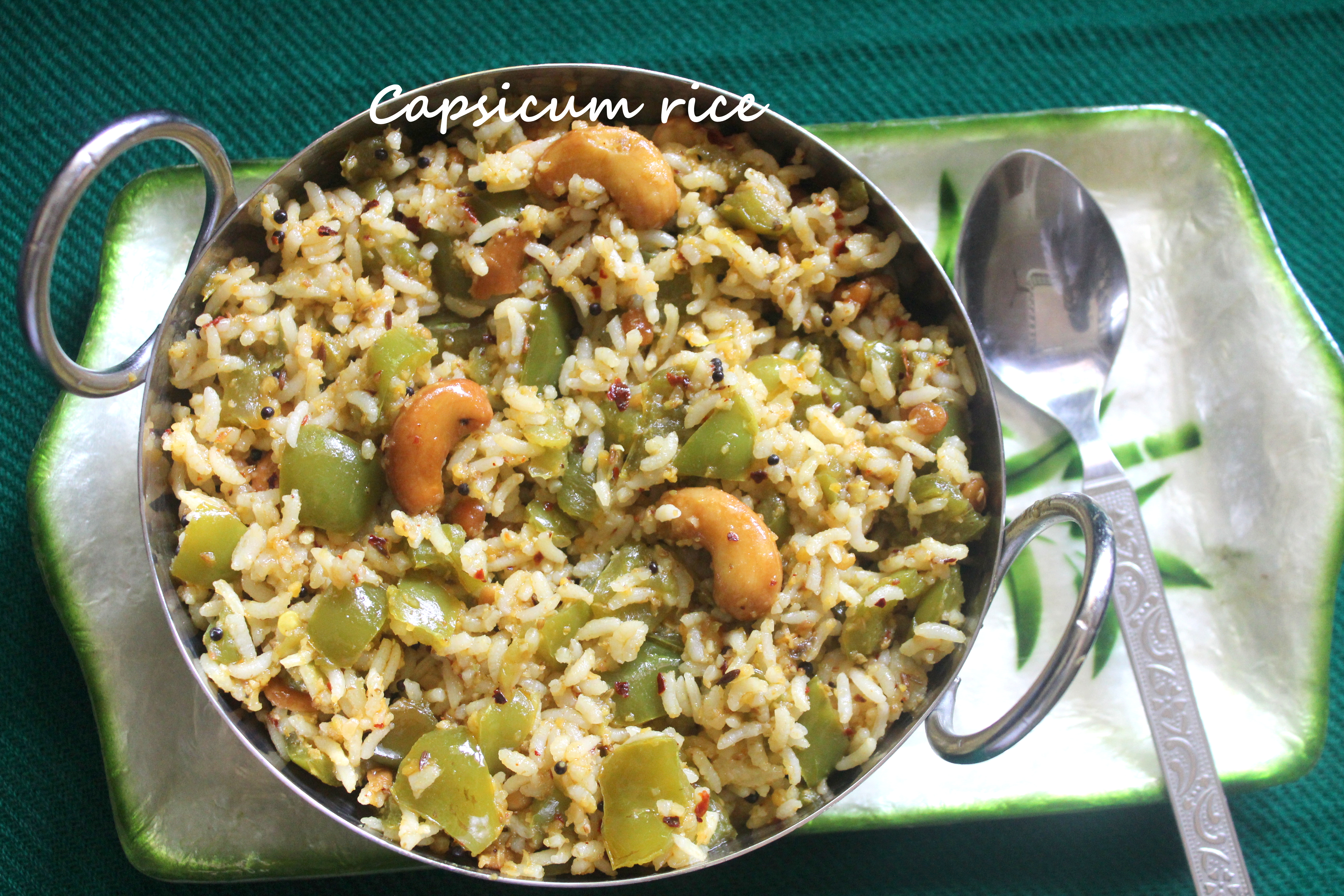 Capsicum rice is a very tasty and delicious rice recipe made with capsicum and mild Indian spices. Peanuts and cashewnuts added to it make it more flavourful and yummy dish. Capsicum rice can be had on its own or best served with raita or papad. It is a delicious and sumptuous one pot meal and a perfect recipe for lunch box.
Ingredients
Cooked rice - 4 cups
Capsicum - 4 nos
Lemon - 1 no.
Grated jaggery - 2 tablespoons
Salt to taste
FOR DRY MASALA POWDER
Coriander seeds - 3 teapoons
Cumin seeds - 1 teaspoon
Urad dal - 2 teaspoons
Chana dal - 2 teaspoons
Red chillies - 4 nos
Grated coconut - 3 tablespoons
FOR SEASONING
Oil - 4 tablespoons
Mustard seeds - 1/2 teaspoon
Urad dal - 1/2 teaspoon
Chana dal - 1/2 teaspoon
Whole red chillies - 2 nos
Peanuts - 10 nos
Cashew nuts - 10 nos
1 string of curry leaves
Method
Step 1
HOW TO MAKE CAPSICUM RICE RECIPE Chop the capsicum into small pieces.
Step 2
Fry the dry masala ingredients with 1 teaspoon of oil, till light brown and grind to a fine powder.
Step 3
Heat remaining oil in a pan. Add mustard seeds. Once the mustard seeds stops spluttering, add chana dal, urad dal, red chillies, peanuts, cashewnuts, curry leaves. Stir fry till light brown
Step 4
Add chopped capsicum pieces and sprinkle little water and close the pan with a lid. Cook till the capsicum pieces become soft and the excess water is absorbed fully.
Step 5
Add dry masala powder, salt, grated jaggery and cook for another one minute on a low flame.
Step 6
Add cooked rice and mix well till the rice becomes fully blended with the mixture.
Step 7
Switch off the flame. Add lemon juice and mix well.
Step 8
Garnish with coriander leaves and serve capsicum rice hot with raita or papad.