Stuffed lady's finger or stuffed bhindi (okra) recipe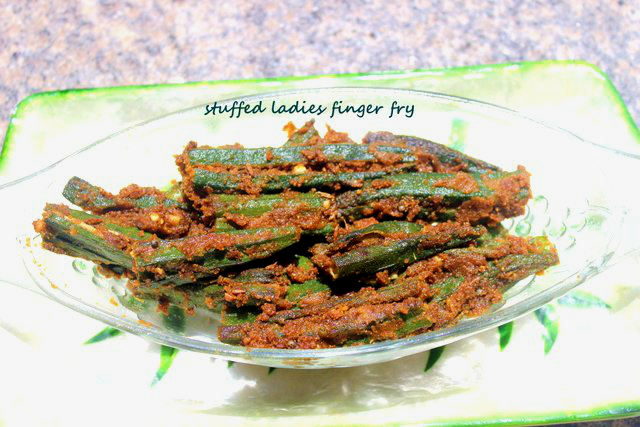 Stuffed lady's finger is a very easy to do recipe and makes for a perfect and delicious side dish for rotis and naans. It is made with lady's finger which is stuffed with spices and then shallow fried.
Ingredients
Lady's finger- 250 gms
Salt to taste
FOR THE STUFFING
Bengal gram flour (besan) - 3 teaspoons
Red chilli powder - 1/2 teaspoon
Coriander powder - 1 teaspoon
Cumin powder - 1 teaspoon
Dry mango (amchur) powder - 3/4 teaspoon
Turmeric powder - 1/2 teaspoon
Garam masala powder - 1 teaspoon
Salt to taste
Cooking oil - 1 teaspoon
FOR THE SEASONING
Cooking oil - 1/4 cup
Cumin seeds (jeera) - 1/2 teaspoon
Saunf - 1 teaspoon (optional)
Method
Step 1
HOW TO MAKE STUFFED LADY'S FINGER/BHINDI RECIPE Wash the ladies finger and pat it dry thoroughly with a clean kitchen napkin.
Step 2
Cut off the two ends of the bhindi and make a vertical slit on one end and keep it aside.
Step 3
Dry roast the bengal gram flour (besan) on a low flame till the raw smell goes away. Set aside.
Step 4
In a mixing bowl, add roasted besan, coriander powder, cumin powder, amchur powder, red chilli powder, turmeric powder, garam masala and salt and mix well. Add 1 teaspoon of oil and combine together
Step 5
Stuff the bhindi with this masala mixture and keep it aside.
Step 6
Heat oil in a pan. Add cumin seeds and saunf and once it splutters, add stuffed bhindis, remaining masala mixture and salt as required, as salt is already added to the stuffing.
Step 7
Cover the pan with a lid and cook on a low flame till lady's finger are fully cooked and becomes tender. Stir occasionally to ensure that they get cooked evenly.
Step 8
Serve stuffed lady's finger hot with rotis or naans.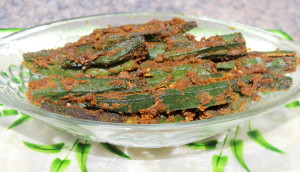 Step 9
NOTES: Choose the lady's finger which are small and equal sized and tender. They get cooked evenly and also tastes better.