Tutti frutti cup cake recipe – How to make eggless tutti frutti muffins – eggless cake recipes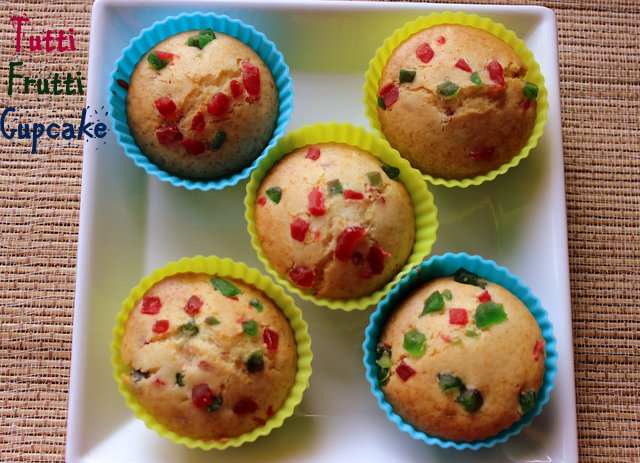 Tutti frutti cup cake is a yummy baked dish made with all purpose flour and without the use of butter and eggs.  Milk, oil and curd used in it gives the softness instead of eggs. Tutti frutti added to it gives a nice colour as well as enhances the taste.
Eggless tuttti frutti muffins is very quick and easy to make too and can be had as a guilt free snack as no butter is added.  These are soft, moist, healthy and delicious muffins that you can bake for your family and enjoy.  Do try this recipe….
Wishing all my readers a VERY HAPPY AND PROSPEROUS NEW YEAR 2019!!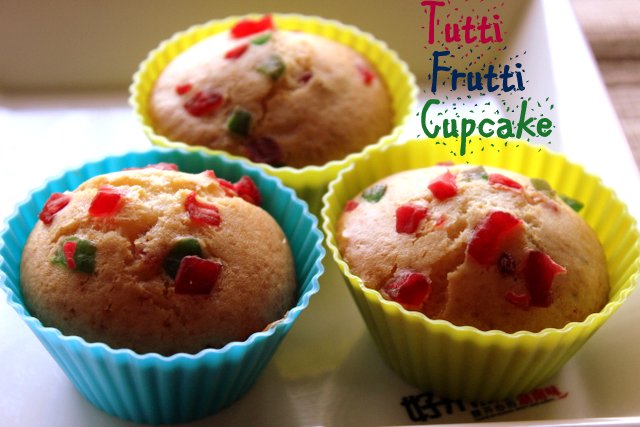 Prep Time :  10 mins
Cook Time : 15 to 18  mins (convection – baking time)
Yield :  8 cup cakes
Indian cuisine
INGREDIENTS
Maida/All purpose flour – 1 cup
Powdered sugar – 1/2 cup
Curd/yoghurt – 1/4 cup
Oil – 1/4 cup
Milk – 1/2 cup
Vanila essence – 1 teaspoon
Baking powder – 1/2 teaspoon
Baking soda – 1/4 teaspoon
Vinegar – 1 tablespoon
Tutti frutti – 1/2 cup
HOW TO MAKE OR PREPARE EGGLESS TUTTI FRUTTI CUP CAKE RECIPE
Sieve the maida, baking powder and baking soda in a bowl.  Set aside.
In another bowl add oil, curd and vinegar .  Mix it well.
Add  powdered sugar and whisk it well so that the sugar is fully dissolved. Add vanilla essence and mix well.  Now add the maida mixture little by little and give a good mix.
Take half cup of milk and keep it ready.  Add the remaining maida and mix well.
Slowly add milk and and whisk well to make a smooth batter.  Do not overbeat.
Now add the tutti frutti to the batter and mix well.  Preheat the oven for 10 minutes at 180 degree celcius.
Line standard muffin cups with paper liner or silicone cups. Divide batter among muffin cups.  Sprinkle few tutti frutti on the top.
Bake for 15-20 minutes or till a toothpick inserted into the muffins comes out clean.  Let it cool in pans on wire rack for 5 minutes. Then remove from wire rack and let it  cool down  completely.  Store in an airtight container.  Serve it as an evening or tea time snack along with a cup of tea/coffee.
NOTES/TIPS
You can also add pineapple essence instead of vanilla essence.
You can add chopped nuts of your choice or chocolate chips .
Once the batter is ready, bake it immediately.
Fill each cup 3/4th with the batter.
To check if the muffin is cooked, insert a toothpick or a knife in the centre of the muffin.  If it comes out clean, it means it is cooked or bake for another couple of minutes till done.
Baking time varies with different ovens.   My cup cakes got baked in oven in 15 minutes.  Hence bake it accordingly.