Cucumber dosa recipe (southekayi dose) – How to make cucumber dosa recipe – dosa recipes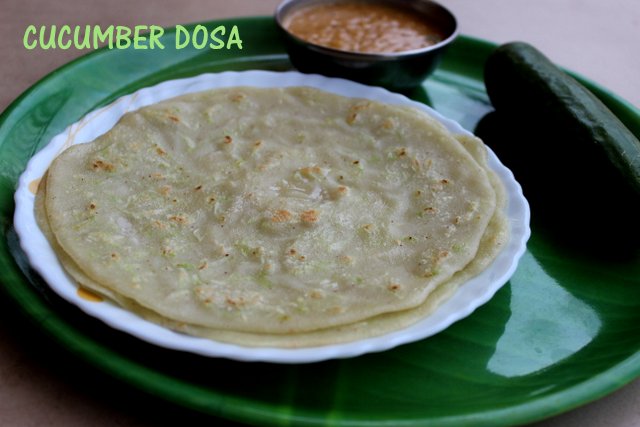 Cucumber dosa is a nourishing and tasty dosa made from raw rice and cucumber.  It is very cooling to the body and grated cucumber added to the batter gives a light green colour to the dosa.  Green chillies and ginger added to it makes it more flavourful.  Cucumber is tradionally had with butter, but it also goes well with sambar or coconut chutney.  It is better to make the  cucumber dosa immediately once the batter is made to get the goodness of the cucumber.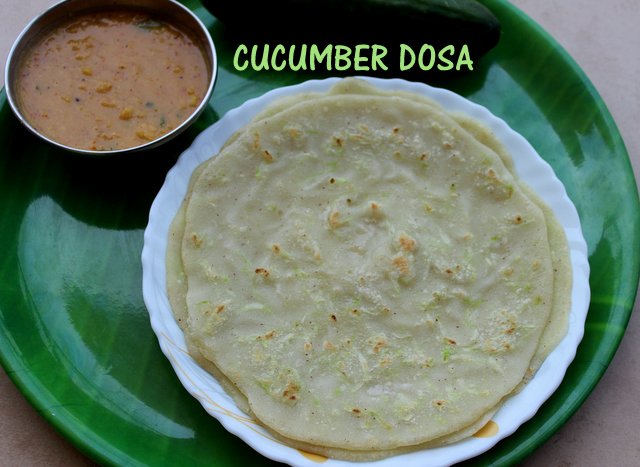 Prep Time : 15 mins
Cook Time :  10 mins
Servings :  2 persons
South Indian cuisine
INGREDIENTS
White rice – 2 cups
Fresh grated coconut – 1/2 cup
Cucumber – 1 (medium sized)
Ginger – 1 tablespoon (grated or chopped finely)
Green chillies – 2
Salt to taste
Oil for making dosas
HOW TO MAKE OR PREPARE CUCUMBER DOSA RECIPE
Wash the white rice thoroughly and add enough water to cover.  Soak at room temperature for 5-6 hours or overnight.  Then drain the rice and discard the soaked water.  Take a mixer grinder and add the soaked rice, green chillies, ginger and grated coconut.
Add little water and make a smooth batter.  Transfer the batter to a bowl or vessel.  Add salt and mix well.
Peel the skin of the cucumber and grate it.   Add the grated cucumber and its released water to the batter.
Stir well and bring the batter to a  dosa or thin pouring consistency.  Heat a non-stick or dosa tawa on medium heat.  Grease the tawa very lightly using the oil.
Pour a ladleful of batter  in the center of the tawa and spread to a round little medium circle.  Add oil on the edges of the dosa and cook for 1-2 minutes on a medium flame.
Once cooked, flip on the other side and cook till done.  Serve cucumber  dosa hot with sambar, green chutney, chutney powder or coconut chutney.
NOTES/TIPS
Cucumber dosa is best served hot or warm.
It tastes best when the batter is used immediately for making the dosas.
Ensure to heat tawa on medium flame for even cooking of dosas.  If cooked on high flame, dosas gets dark in colour and remains partially uncooked.
You can add cumin seeds and coriander leaves to the batter, for a more enhanced flavor.