Apple cinnamon oats recipe – How to make apple cinnamon oats recipe – Healthy breakfast recipes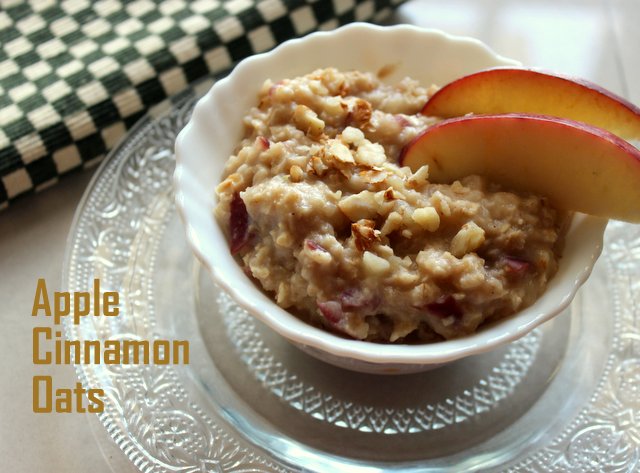 Apple cinnamon oats is a very healthy and quick breakfast recipe made with oats, apples, milk and nuts.  It is very easy to make and can be prepared in a short time.  Oats added with fruits and nuts makes a nutritious combination for breakfast or as an anytime snack.
Oats are packed with magnesium, fiber, protein and dietary fiber which makes them easy to digest and also leaves feeling you full.   Not only oats are  considered low in calories but also great for weight management.  They also help combat heart diseases,  diabetes  and blood pressure. Try to include oats in your daily diet for best and many health benefits.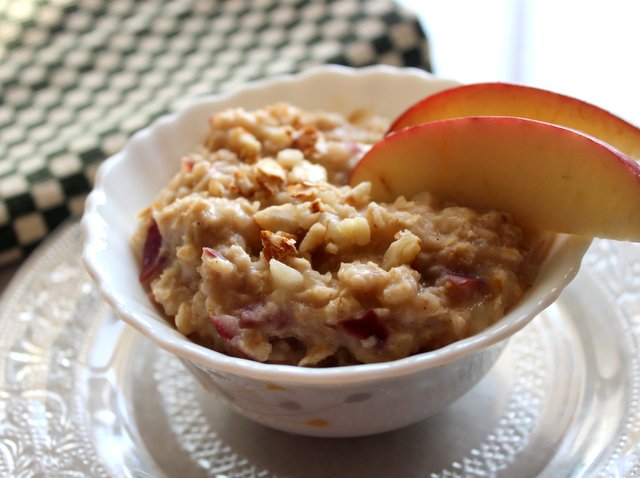 Prep Time :  5 mins
Cook Time :  15 mins
Servings : 2 persons
Indian cuisine
INGREDIENTS
Oats – 1 cup (rolled or quick)
Milk – 1/2 cup
Water – 2 and 1/2 to 3 cups
Powdered cinnamon powder – 1/4 teaspoon
Sugar – 2 tablespoons or add as required
Apple – 1 (grated or chopped finely)
HOW TO MAKE OR PREPARE APPLE CINNAMON OATS RECIPE
Heat water in a pan and bring it to a nice boil.  Add the apple pieces to the boiling water.  Reduce to low flame and cook for 2-3 minutes.
Add the oats and mix well.  Then add cinnamon powder and sugar.  Mix again.  Cook on a low flame for 5 minutes till it becomes creamy.
Finally add milk and cook for another 2-3 minutes stirring continuously.  Add more water or milk, if required.  Once it reaches a medium consistency, switch off the flame.
Yummy and healthy apple oats is ready to be served.  Serve hot as a breakfast dish or as an evening snack.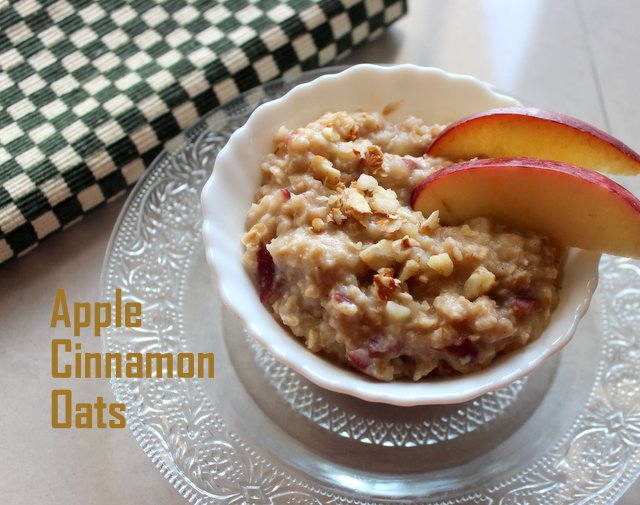 NOTES/TIPS
You can skip milk and cook only with water, if allergic to milk.
Add nuts of your choice like almonds, raisins or walnuts to make it more nutritious.
You can add almond milk instead of normal milk for a vegan dish.
Serve it immediately after cooking, as it tends to become very thick.
You can also add jaggery instead of sugar.