Curd dosa or sponge dosa (soft dosa) – How to make sponge dosa with curd – dosa recipes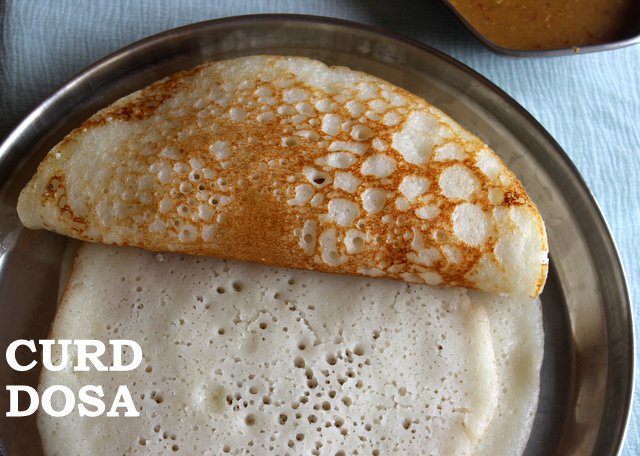 Curd dosa is a tasty soft dosa made with rice, flattened rice  and curd.  It is best served with sambar or coconut chutney.  In this recipe, curd is added which gives a nice texture and sour taste to the dosas.  Curd also helps in fermentation process and brings a porous texture to the dosa.  This dosa is made without the use of urad dal as compared to the traditional dosa recipe.  Poha is added while grinding, as this too helps to make soft and spongy dosa.  Do try this delicious curd dosa from the traditional dosa and enjoy!!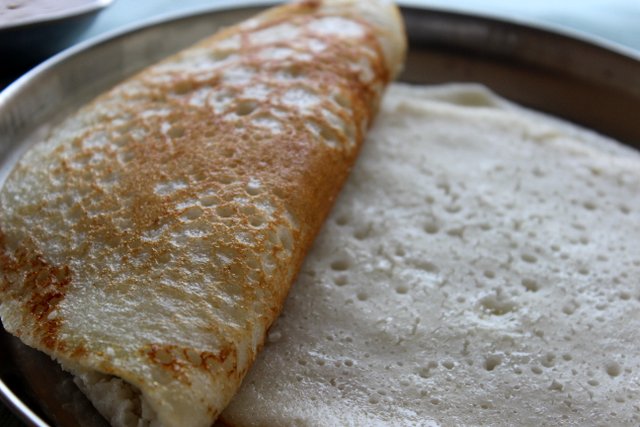 Prep Time :  20 mins plus soaking time of 8-10 hours
Cook Time :  20 mins
Yield – 7 to 8 dosas
South Indian cuisine
INGREDIENTS
Sona masoori rice or any rice variety – 1 cup
Thick poha/flattened rice/avalakki  – 1/2 cup
Fresh yoghurt/curd – 3/4 cup
Methi or fenugreek seeds – 1/4 teaspoon
Salt to taste
Oil or ghee for cooking dosas
HOW TO MAKE OR PREPARE CURD OR SPONGE DOSA
Take 1 cup of rice and rinse it thoroughly.  Then soak the rice and methi seeds with enough water for 5-6 hours.
Rinse and soak the poha for 10-15 minutes just before grinding.  Take a mixer grinder and add the soaked rice and poha.  Grind the mixture without adding water.  Add 3/4th cup of curd and grind again.
The batter should be of thicker consistency than that of a normal dosa batter.  Remove the batter in a wide mouthed vessel.
Close the vessel with a lid and allow it to ferment for 8-10 hours or overnight.  Next day, add salt according to taste, and mix well.
Heat a griddle or tawa on medium flame and spread some oil on the tawa.  Pour a ladleful of batter on the hot tawa and do not spread.  Add little oil on the sides of the dosa.
You can see a porous texture on the dosa.  Cook the dosa covered on a medium flame for 2 minutes or till cooked.
Do not flip to cook the other side.  Once the top side of the dosa is cooked and the base turns golden in colour, remove the dosa and serve hot with sambar or coconut chutney.
NOTES/TIPS
Ensure to ferment the batter for 8-10 hours for a soft and fluffy dosa.  It is best served hot and fresh with chutney or sambar.
Avoid using too much water for grinding, as the batter will become thin and dosas will turn soggy.  The batter should be of thicker consistency.
You can add freshly grated coconut to the batter, before making the dosas.
The tawa or the dosa griddle should be hot enough, before you pour the batter, (not too hot).  Ensure to season the tawa with little oil before making the dosas.  The first one or two dosas usually tend to stick to the tawa, but after one or two trials, the tawa gets well seasoned.  So make small dosas to avoid wastage of batter, in the beginning.
If you want to ferment for 3-4 hours only, in that case, add a pinch of baking soda to the batter before fermenting.