Instant rava dosa with potato masala – How to make instant rava dosa/sooji dosa recipe – dosa recipes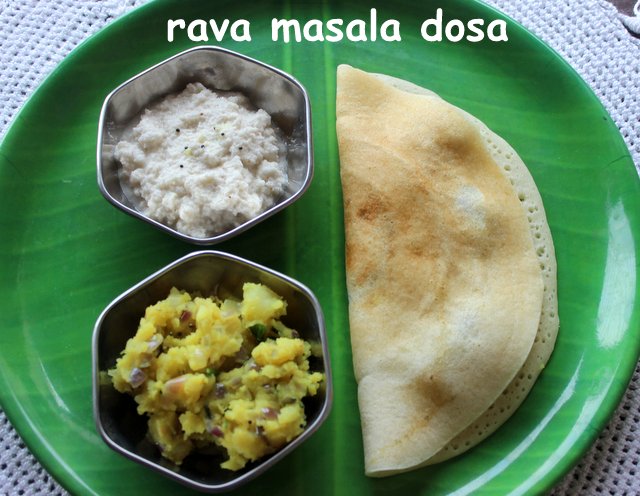 Rava dosa – an instant rava dosa made with semolina and curd.  Potato masala goes as an excellent side dish to this dosa.  It is a very popular south indian breakfast dish which can be easily and quickly prepared.  You can add chopped onions to the dosa batter and an instant onion rava dosa is ready to be served.  You can serve this dosa with coconut chutney and sambar.
This dosa also turns to be crispy as rava is used to make this dosa.  Add little ginger, cumin seeds and green chillies to give a spicy flavour to the dosa.  'Dosa' means traditional 'thin south indian crepe' and rava is a south indian word for dosa.
Rava dosa  does not require any soaking, fermentation or grinding and can be done instantly.  It is  especially made with Bombay rava which you get easily in any provision stores.  A very tasty and crispy dosa, do try this instant rava dosa and enjoy with aloo/potata masala..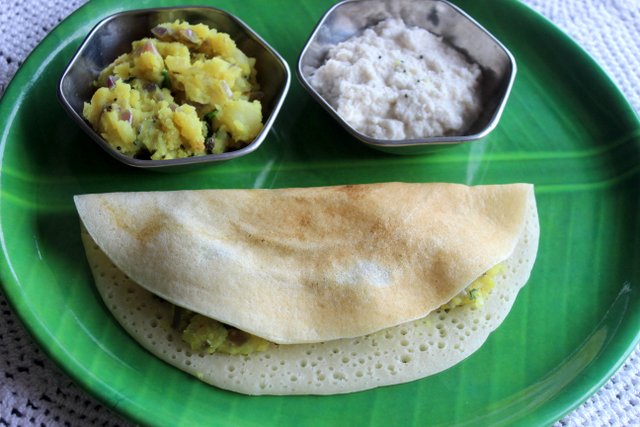 Prep Time : 15 mins
Cook Time : 15 mins
South Indian cuisine
INGREDIENTS
For rava dosa
Rava/semolina – 1 cup
Wheat flour – 2 tablespoons
Curd – 1 cup
Water – 1/2 to 3/4 cup
Baking soda – 1/4 tsp
Salt to taste
For potato masala
Boiled potatoes – 3 nos
Oil – 2 tablespoons
A pinch of hing or asafoetida
Mustard seeds – 1/2 tsp
Cumin seeds/jeera – 1/2 tsp
Urad dal – 1 tsp
Chana dal – 1 tsp
Green chillies – 2 nos
Few curry leaves
Grated ginger – 1 tsp
Onion – 1 (chopped finely)
Turmeric powder – 1/4 tsp
Coriander leaves for garnishing
Lemon juice – 1 teaspoon
Salt to taste
HOW TO MAKE INSTANT RAVA DOSA RECIPE
To a mixer grinder, add 1 cup rava, 2 tablespoons wheat flour and 1 cup curd.
Grind to a smooth batter by adding another 1/2 cup of water.  The batter should be of medium consistency.  Pour the batter to a wide bowl and keep it aside.
Pressure 3 potatoes in a pan with sufficient water, till 3 whistles.  Once the pressure is cooled down, take the boiled potatoes in a bowl.  Ensure that the potatoes are fully cooked but not mushy.  Keep the dosa batter covered with a lid, while the potato masala is being prepared.
Heat 2 tablespoons of oil in  a pan or kadai on medium flame.  Add mustard seeds, urad dal, chana dal, jeera and hing.  Fry till the dals become golden in colour.  Then add  green chillies, grated ginger and curry leaves.
Cook on a low flame for a minute.  Then add chopped onions and stir fry for 2-3 minutes, till the onions become translucent.  Then add the boiled potato, turmeric powder and salt.  Mix well.
Add 4 to 5 tablespoons of water and cook for 2-3 minutes on a low flame till all the ingredients are well mixed.  Check for salt and add if required. Add chopped coriander leaves and lemon juice and mix well. Switch off the flame and keep the potato masala aside.
The rava batter tends to become thick after few minutes.  Add little water to bring it to a medium consistency.  Add salt and 1/4 tsp baking soda and give a good mix.  Now the batter is ready  for making rava dosas.
Heat a griddle or a non-stick tawa or plain dosa tawa on  a low to medium flame.  Pour a ladle of batter into the centre of the tawa and quickly spread the batter evenly into a round shape, starting at the inside of the circle and working towards the outside.  Drizzle a few drops of oil along the edges.
Once the base starts becoming golden in colour, spread some ghee on the top of the dosa.  Place a generous amount of potato masala to one side of dosa and close it the with other side of dosa.  Serve this delicious rava dosa immediately hot alongwith coconut chutney or sambar.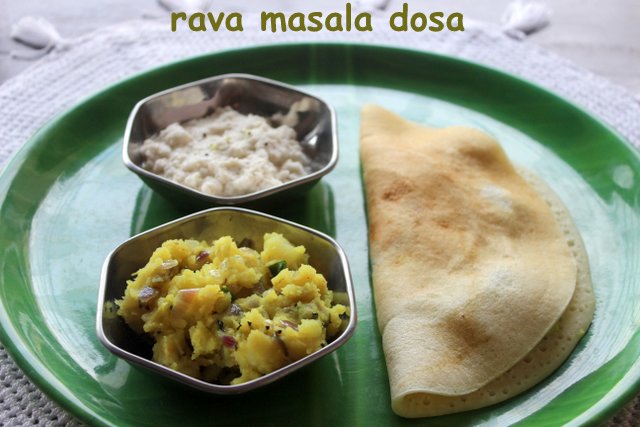 NOTES/TIPS
Ensure to have a right consistency of the dosa batter.  It should be neither thick nor thin,  otherwise it will be difficult to spread it on the pan.  Batter should be of a medium consistency.
Always keep the flame on medium and sprinkle water at the start before making each dosa.  This helps to reduce the temperature of the tawa.  Wipe off the water and then pour the batter and spread it.  If the tawa is too hot, the dosa will stick the pan and form a lump.
Leftover batter can be refrigerated for 2-3 days and used later for making dosas.
Wheat flour used in this dosa recipe, gives a good binding to the dosa.