Badam milk recipe – How to make badam/almond milk recipe – healthy beverages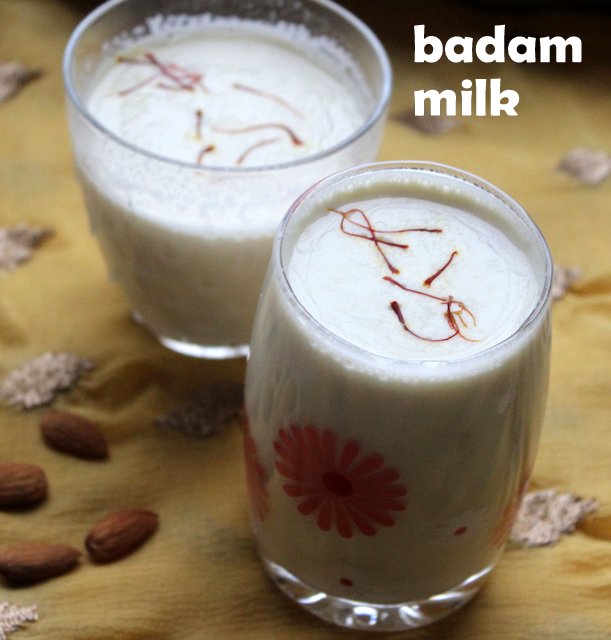 Badam milk or almond milk is a very refreshing, healthy and popular drink made with almond paste, milk, sugar and flavoured with saffron.  Badam milk can be enjoyed chilled during a summer day or hot on cold winter days.  This drink has a nutty flavor and a creamy texture, as almond paste is used in this drink.  Badam milk is not only simple but also easy to make with few ingredients available at home.
This popular drink is served during special occasions and weddings. Cold almond milk is a great cooler during summers and a warm drink during winter season.  Do try this comforting milk recipe which is so simple to make and great in taste too.
You can also try these beverages from my blog: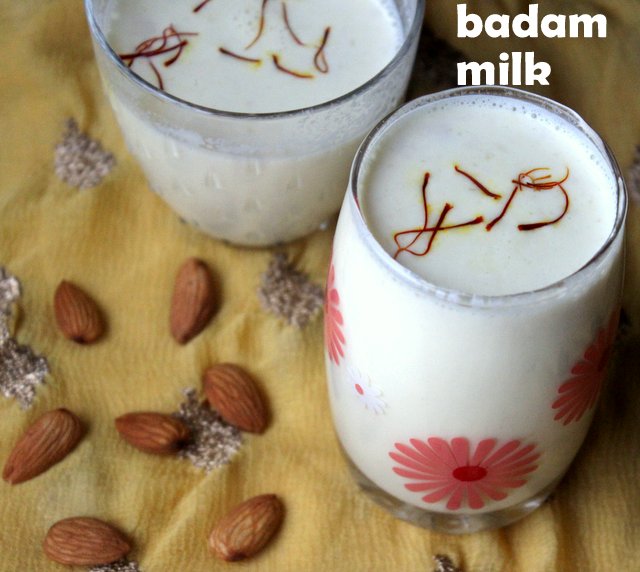 Prep Time : 10 mins
Cook Time :  20 mins
Yield:  2 glasses of badam milk
Indian cuisine
INGREDIENTS
Almonds or badam – 20 nos
Milk – 500 ml
Sugar – 2 to 3 tablespoons
Saffron strings – 2 pinches
HOW TO MAKE BADAM/ALMOND MILK RECIPE
Soak 20 almonds in water for an hour.  Then peel off the skin from each of the almonds.
Transfer the peeled almonds to a mixer grinder and add 1/4 cup of milk to it.  Grind the almonds to a smooth and fine paste.  Keep it aside.
Meanwhile soak 2 pinches of saffron strings in 2 tablespoons of milk in a small cup. Keep it aside.
Heat 500 ml of milk in a wide pan on medium flame.
Let the milk simmer for 15 minutes on a medium flame.  Then add 3 tablespoons of sugar to it and mix well.
Once the sugar dissolves. add the almond paste and stir well to combine.  Lower the flame and continue to simmer for another 10 minutes.  Milk will get thickened a bit.
Finally add the saffron milk and give a good mix.  Cook for a minute and switch off the flame.
Healthy and flavorful badam milk is ready to be served.  Serve badam milk hot or chilled.
NOTES/TIPS
You can also add cardamom powder for an enhanced and aromatic flavor.
Do not add lot of milk at the time of grinding the almonds.  Add only 1/4 cup of milk to grind and get a smooth paste.
Almond milk or badam milk tastes good when made with full cream milk.
Add more or less sugar according to your taste and preference.
If you want to peel off the skin from the almonds quickly, soak the almonds in hot water for half an hour.