Eggless banana cake – How to make eggless banana cake recipe – eggless cakes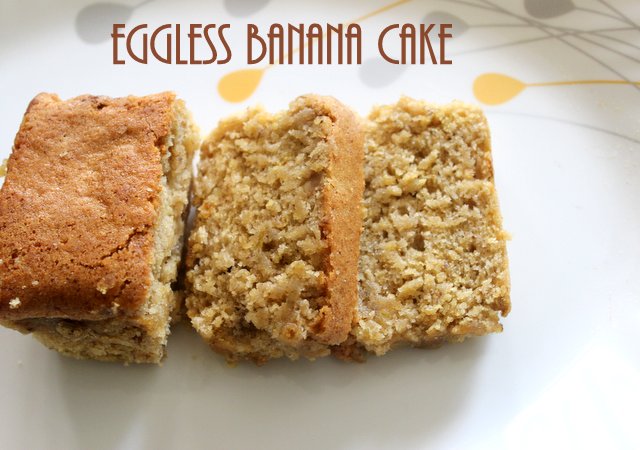 Eggless banana cake is a quick and easy recipe made with ripe bananas and without eggs.  It is also a vegan cake.  Oil is added in this recipe for making it soft and moist.  If you have over ripe bananas at home, you can make this banana bread/cake and relish. You can use honey instead of sugar and make it more healthy. Enjoy this cake with a nice cup of hot tea/coffee.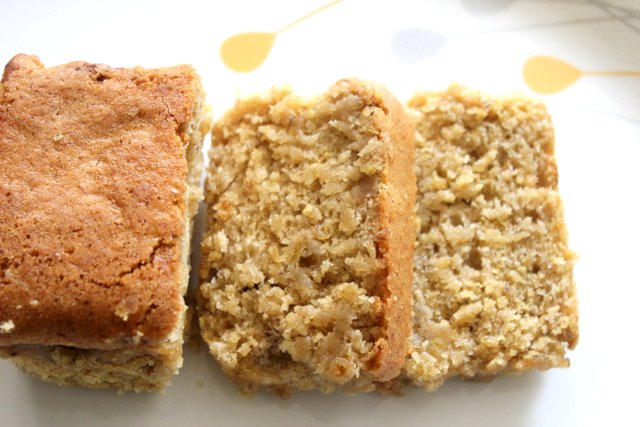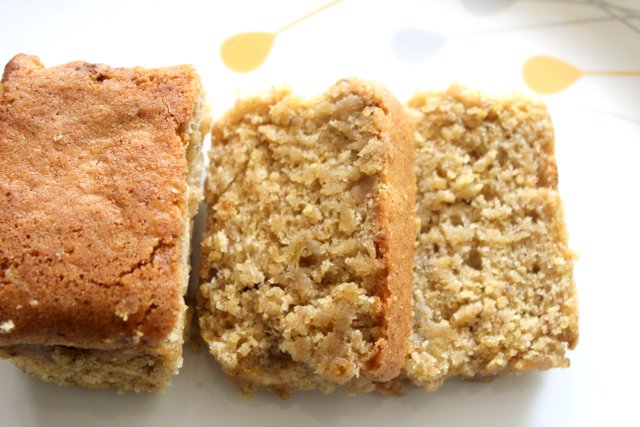 Prep Time :  10 mins
Cook Time : 40 mins
Servings :  4 persons
Indian cuisine
INGREDIENTS
Ripe bananas – 2 (medium sized)
Whole wheat flour – 1.5 cups
Powdered sugar – 3/4 cup
Cooking oil – 1/2 cup
Baking powder – 1 teaspoon
Baking soda – 1/2 teaspoon
Vanilla essence – 1/2 teaspoon
A pinch of salt
Any nuts of your choice (cashewnuts, walnuts and raisins) – 2 tablespoons
HOW TO MAKE OR PREPARE EGGLESS BANANA CAKES
Take a mixing bowl.  Peel the bananas and chop them.
Mash the bananas with the back of a spoon or a blender.  Then add powdered sugar, oil, salt and vanilla essence.
Mix well till the sugar and oil is well blended to make a smooth puree.  Sieve the whole wheat flour, baking powder and baking soda directly into the bowl.
With the help of a ladle, mix all the ingredients thoroughly.  The mixture will become a thick paste.  Now add the nuts of your choice.    Now pour the batter into the greased cake tin and tap it gently so that the batter is spread evenly in the tin and extra air bubbles are let out.
Bake in a pre-heated oven at 180 degree celcius for 30-35 minutes or till done.  Check the cake by inserting a toothpick and if it comes out clean, it means the cake is ready.  Also when it leaves the sides of the pan, then the cake is ready.
Remove the cake from the oven.  Let it cool down for 10 minutes in the pan.  Run a butter knife on the edges of the pan to loosen the sides.  Invert the tin over a plate or a wiring rack and lightly tap on the cake pan.  Let the cake cool down completely.
Cut the cake into desired shapes and enjoy.
NOTES/TIPS
Baking time varies with different ovens.    Hence bake it accordingly.
Always check the cake with a toothpick.  If the toothpick  comes out clean, then the cake is ready.
The batter should be half of the pan before baking it.
Adjust the sugar according to your taste.
You can replace wheat flour with maida/all-purpose flour