Foxtail Millet Ladoo recipe – How to make foxtail millet ladoo recipe – millet recipes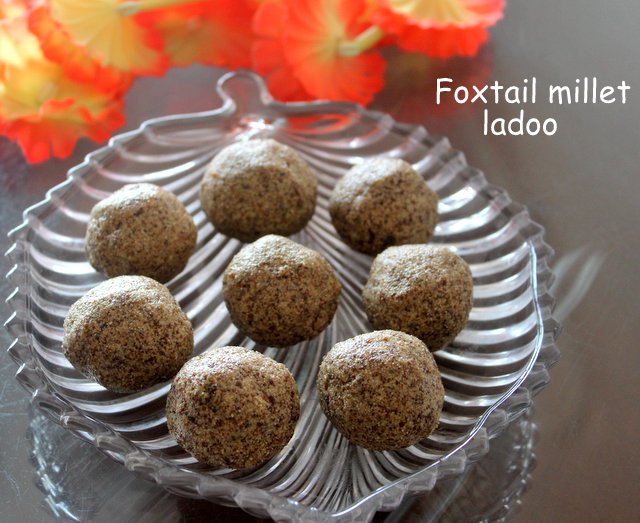 Foxtail millet ladoo – a very traditional and healthy ladoo made with foxtail millet, jaggery, ghee and nuts.  This ladoo is also very delicious to taste and can be had guilt free.  It is very easy to prepare and an ideal sweet during festive and other special occasions.
Foxtail millet is known as Kangni in Hindi, Korralu in Telugu, Thinai in Tamil, Thina in Malayalam and Priyangu in Sanskrit. Foxtail millets are equally popular in other countries too. Foxtail millet is a powerhouse of nutrition. Rich in Vitamin B12, they offer you a daily dose of protein, good fat, carbs and dietary fibre content. It also offers a good amount of calcium.
Foxtail millet  helps in maintaining the blood sugar level, lowers bad cholesterol level and aids in weight loss.  It improves digestive system and helps in relieving the constipation and eliminates problems like bloating and cramping.  It also helps to protect against heart diseases.  Do try this healthy ladoo and enjoy!!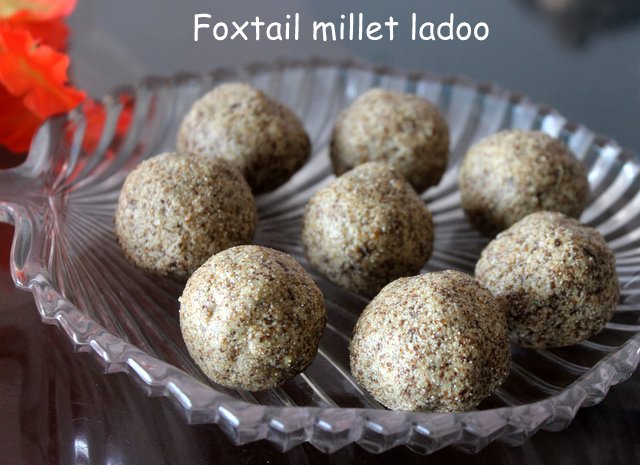 Prep Time : 15 mins
Cook Time : 20 mins
Yield – 10 ladoos
South Indian cuisine
INGREDIENTS
Foxtail millet – 1 cup
Powdered jaggery or palm sugar – 1/2 cup
Ghee – 1/4 cup
Cardamom powder – 1/4 tsp
Almonds and cashewnuts – 1/4 cup
HOW TO MAKE OR PREPARE FOXTAIL MILLET LADOO RECIPE
Heat 1 tsp of ghee in a pan. Add cashewnuts and almonds and stir fry till they turn slightly brown in colour.  Keep it aside.
To the same pan, add 1 cup of foxtail millet and roast them till they turn light golden in colour and become crispy.  Stir continuously so that they are roasted evenly.  This will take approx 10-15 minutes.
Remove them in a plate. Let it cool down completely.  Then take it to a mixer grinder.
Grind them to a fine powder.  Set aside.  Then add the almonds and cashewnuts.
Grind the nuts to a fine powder.  Keep it aside.  Take a mixing bowl.  Add all the ingredients – powdered foxtail millet, powdered nuts and mix well.
Take 1/2 cup of jaggery or palm sugar to the mixer grinder.  Grind to a fine powder.  Add this jaggery powder to the mixing bowl.  Add 1/4 tsp of cardamom powder.
Give a good mix.  Now add 1/4 cup of melted ghee and mix all the ingredients well by hand.
When it is little warm, make equal sized ladoos with your hand. If the ladoo breaks up or if the mixture is too dry, add little ghee accordingly and start making ladoos.
Store the ladoos in an airtight container and enjoy laddus as and when required. It stays good upto one week.
NOTES/TIPS
You can adjust the sweetness by increasing or decreasing the jaggery content. You can also add little dessicated coconut powder to enhance the taste. You can add powdered sugar instead of jaggery.
Ensure to roast the foxtail millet so that it is evenly cooked.  Roast on low flame to prevent burning of the millets.
Foxtail millet ladoos stay good for a week.  You can also keep them in the refrigerator.
Grind the millet to a smooth and fine powder for better taste.
Add your choice of nuts like cashewnuts or pistachious.