Healthy vegetable broken wheat idli or dalia idli or samba godhumai idli recipe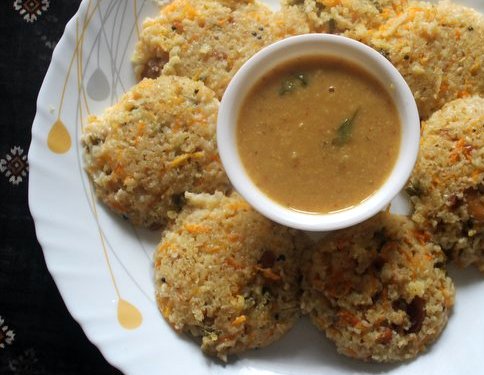 Broken wheat idli is a very nutritious and healthy breakfast recipe made with broken wheat rava, semolina, yoghurt, carrot and cashewnuts.  It is  full of fibre and  makes up for a filling breakfast dish. Grated carrot added to it makes it all the more healthy and a yummy dish.  Broken wheat is especially good for dieters and people who are having diabetics.  They can make this a part of their daily diet as it is not only healthy  but tasty too.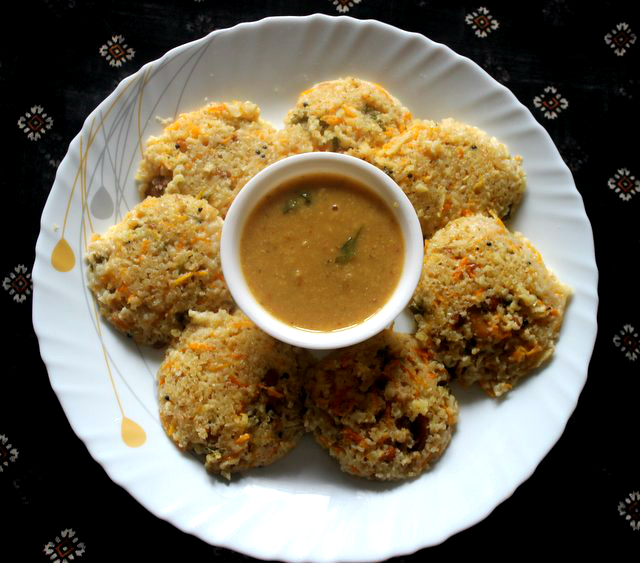 Prep Time :  20 mins
Cook Time :  20 mins
Yield : 10-12 idlis
Total time –  40 mins
INGREDIENTS
Broken wheat rava – 1 cup
Plain rava (semolina) – 1/4 cup (optional)
Yoghurt/curd – 1 cup
Carrot – 1
Chopped coriander leaves – 2 tablespoons
Eno salt – 1/2 teaspoon
Salt to taste
FOR SEASONING
Cooking oil – 2 tablespoons
Mustard seeds/rai – 1/2 teaspoon
Urad dal – 1/2 teaspoon
Chana dal/bengalgram – 1/2 teaspoon
Cashewnuts – 10-12
HOW TO MAKE OR PREPARE BROKEN WHEAT IDLI OR DALIYA IDLI RECIPE
Wash and peel the carrot.  Grate the carrot and keep it aside.
Heat a pan and add broken wheat and semolina and dry roast on a medium flame for 3-4 minutes.  Remove the roasted broken wheat and semolina in a mixing bowl.
In the same pan add oil,  Once the oil becomes hot, add cashew nuts and saute till light golden brown.  Remove and add the roasted cashew nuts to the mixing bowl.
In the same pan add mustard seeds.  Once the seeds starts to crackle, add urad dal, chana dal and saute till light brown.  Add grated carrot and stir fry high for  2-3 minutes.  Add  this mixture too to the mixing bowl.
Combine together.  Now add curd, coriander leaves, salt and little water and mix well.  Keep this batter aside for 10 minutes.
If the batter becomes too thick, add little water and bring to a medium thick consistency.  Adjust the water level accordingly.  Lastly, add eno salt and mix gently.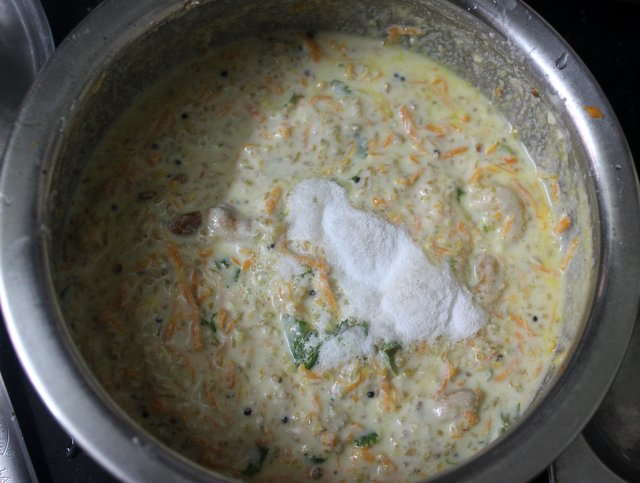 Grease the idli moulds with little oil and pour the batter into each idli mould.  Steam cook for 20 minutes or until done.
Serve broken wheat idli hot with sambar or any chutneys of your choice.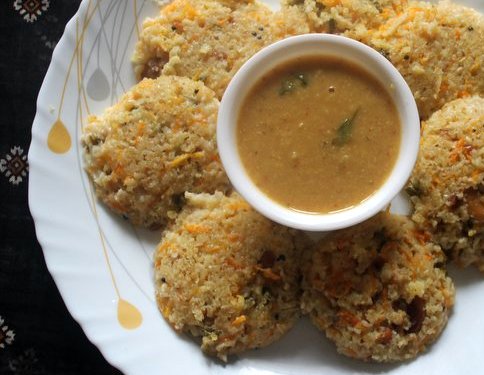 NOTES/TIPS
Once the eno salt is added, steam cook  immediately.  You can also use baking soda instead of eno salt.  They give fluffiness to the idlis.
Broken wheat idlis takes longer time to cook than the regular idlis.