Instant bread uttapam/uthapam recipe – breakfast recipe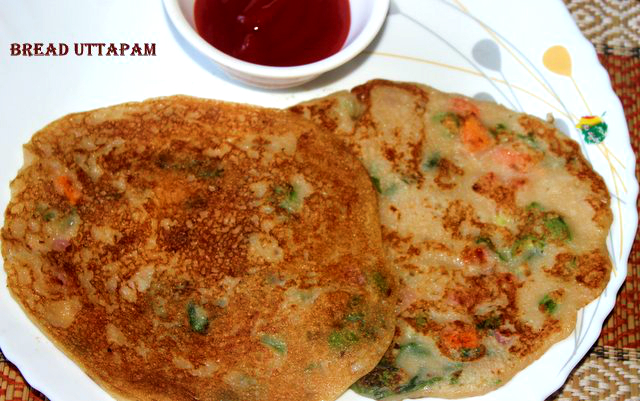 Bread uthapam is an instant uthapam recipe made with Indian bread.  It is a popular South Indian dish, which can be had as a breakfast or as a snack.  You can add your own choice of veggies and make a healthy uthapam.  Bread uthapam is a very tasty and delicious dish which can be prepared instantly.   Do try this light and delicious preparation instead of the traditional uthapam for a change.  Serve bread uttapam hot with tomato ketchup or with your favourite chutney and a cup of tea/coffee and enjoy!!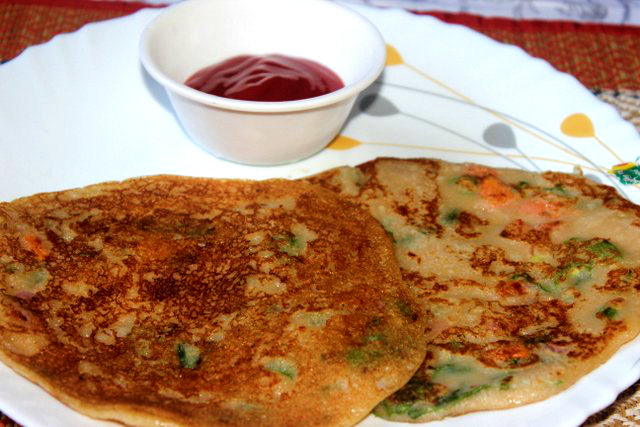 Prep Time : 10 mins
Cook Time : 10  mins
Servings :  2-3 persons
South Indian cuisine
INGREDIENTS
Bread slices – 5
Semolina/rava – 1/2 cup
All purpose flour/maida – 2 tablespoons
Curd/yoghurt – 1/2 cup
Green chillies –  3 (chopped finely)
Finely chopped onion – 1/4 cup
Finely chopped tomato – 1/4 cup
Finely chopped carrot – 1/4 cup
Finely chopped capsicum – 1/4 cup
Salt to taste
Cooking oil
HOW TO MAKE OR PREPARE INSTANT BREAD UTTAPAM RECIPE
Cut the bread slices into small pieces.  In a grinder, add bread pieces, rava, maida, curd and water and grind to a smooth paste.
Take out the batter in a bowl.   Add cumin seeds, chopped onions, tomatoes, carrot, capsicum, green chillies and salt and mix well.  Add water and bring the batter to a medium consistency.  The batter should not be too thick nor too thin consistency.
Heat a pan on a medium flame. Pour a ladleful of batter and spread it to make a thick bread uttapam or pancake.  Pour little oil around the uttapam to make it crispy.  Let it cook for 2 minutes.  Then flip on the other side and cook till the uttapam become golden brown and crispy from both the sides.
Serve bread uttampam with tomato ketchup, coconut chutney  or green chutney.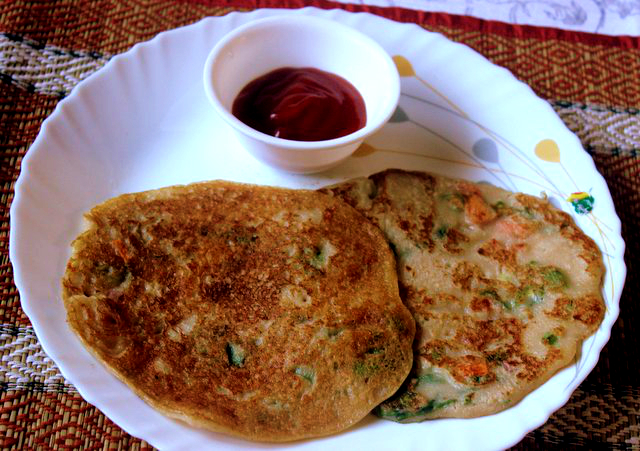 NOTES/TIPS
You can use multigrain bread for a more healthier version.
Ensure the batter is of medium consistency.