Milk peda recipe – How to make milk peda/doodh peda recipe – Diwali sweets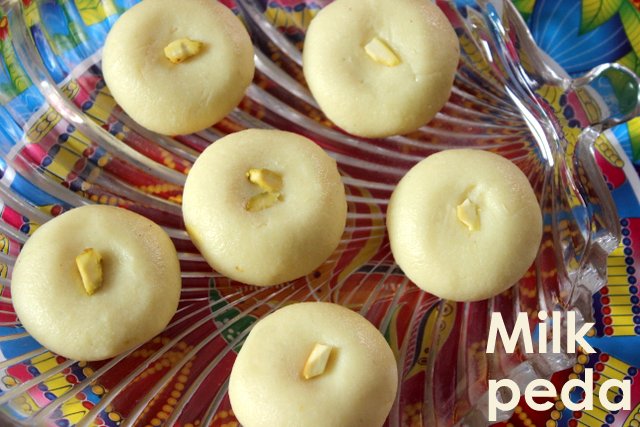 Milk peda or doodh peda is a quick and easy peda recipe made with condensed milk and milk powder.  Ghee or butter is added to give a smooth texture to the pedas.  In this recipe, there is no need to add sugar as condensed milk is used to make pedas. Minimum ingredients are used to make this peda.   Milk peda is a traditional sweet made during festive occasions.  Do try this yummy peda this festival season and enjoy!!
Other peda recipes :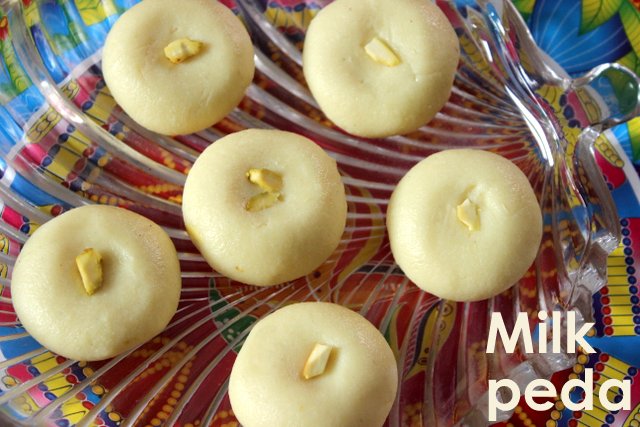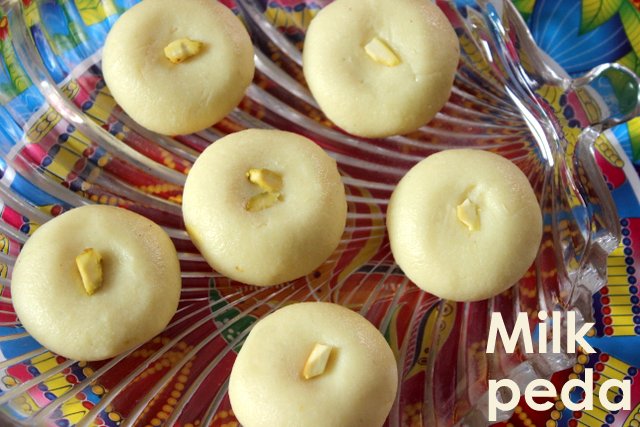 Prep Time : 10  mins
Cook Time :  5 mins
Servings :  12 pedas
Indian cuisine
INGREDIENTS
Milk powder –  1 cup
Sweetened condensed milk – 200 gms (1/2 tin)
Ghee – 1 tablespoon
Cardamom powder – 1/4 teaspoon
Chopped pistachios for garnishing
HOW TO MAKE OR PREPARE MILK OR DOODH PEDA RECIPE
Heat ghee in a non-stick pan on low flame.  Once the ghee melts, add condensed milk and milk powder.  Mix well.
Ensure there are no lumps.  Mix and keep stirring continuously to avoid sticking of the mixture to the bottom of the pan. Add cardamom powder and mix well again.  Once the moisture is fully absorbed by the mixture and becomes dry ball of dough, switch off the flame. Allow the mixture to cool down a bit.  Apply some ghee in your hand and knead the dough when it is still little warm.
Take some mixture in your hand and shape into small balls.  Then press a bit in the middle of the peda and garnish with chopped pistachios or any other nuts as desired by you.
NOTES/TIPS
Ensure not to overcook the mixture. Else the pedas become chewy.
Take a small mixture and check if you are able to form a ball.  This is the right stage to switch off the flame.  Otherwise keep cooking till you see a thick mass of the mixture.
As it is milk based, it stays good when refrigerated for 4-5 days.  Before serving the pedas, bring it to room temperature and then serve.  Otherwise the pedas will be hard.