Rava coconut ladoo – diwali sweet recipe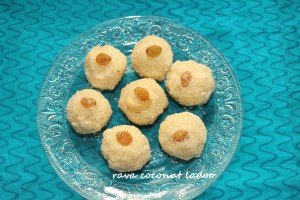 Rava coconut ladoo is a very traditional sweet dish which is prepared during festivals. It is prepared with semolina, freshly grated coconut, sugar, ghee and garnished with cashewnuts and raisins. Rava coconut ladoo is extremely simple to make and less time consuming. Rava or semolina gives a coarse texture to the ladoo and grated coconut added to it, further enhances the taste. Do try this easy and quick recipe and make Diwali festival rich.
Ingredients
Fine rava (chiroti rava) or semolina - 1 cup
Freshly grated coconut - 1 cup
Powdered sugar - 1cup
Ghee - 4 tablespoons
Cardamom powder - 1/4 teaspoon
Cashew nuts - 10
Raisins - 10
Milk - 2 tablespoons
Method
Step 1
HOW TO MAKE RAVA COCONUT LADOO Heat 2 tablespoons of ghee in a pan. Once the ghee is hot enough, add cashewnuts and roast till light brown. Remove them and then add raisins and roast for few seconds. Keep roasted cashewnuts and raisins aside in a plate.
Step 2
In the same pan, add rava or semolina and roast on a low flame, till the aroma starts coming out. When the colour of the rava starts changing, remove them in a plate. (Roast the rava without changing its colour).
Step 3
In the same pan, add grated coconut and roast for a minute on a low flame, without changing its colour. This helps to remove the moisture in the coconut, if any.
Step 4
Take a mixing bowl. Add roasted rava, roasted coconut, powdered sugar, cardamom powder, cashewnuts, raisins and remaining ghee and mix well.
Step 5
Add 2 tablespoons of milk and combine together.
Step 6
Once the ladoo mixture is just warm enough, make lemon sized balls and set aside. You can add little more milk, if the mixture is too dry. Adding little milk will bind the mixture and you can shape the ladoos easily.
Step 7
Rava coconut ladoos are now ready to be served.
Step 8
NOTES : If you are using normal rava, you can grind roasted rava along with cardamom to get fine flavoured rava. Use only the white portion of grated coconut. This helps in getting white coloured ladoos. Adjust sugar according to taste desired. If you want a long shelf life, you can add water or ghee, instead of milk to make the ladoos. Always roast the rava on a low flame, otherwise there is a chance it may get burnt.