Instant wheat dosa – how to make south indian godhumai dosa recipe – easy breakfast recipes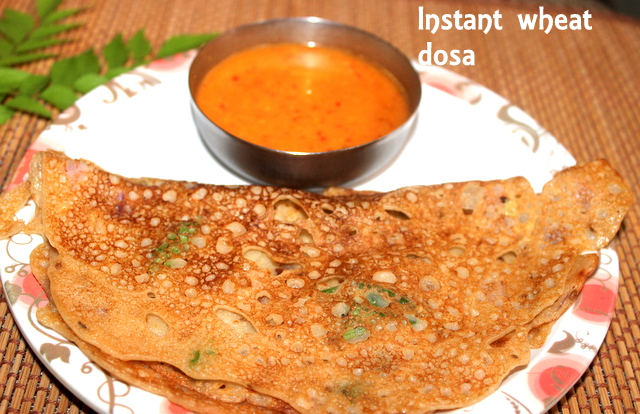 Wheat dosa is another instant version of dosa made with wheat flour. Also called as godhuma (means wheat) dosa in Tamil Nadu, it is a popular south indian breakfast dish, which is not only simple but easy to make too.  Wheat dosa makes up for a healthy evening snack or light dinner too.  It goes well with coconut chutney, tomato chutney or sambar.  Do try this crispy and flavourful dosa for a change and enjoy..
If you are looking for dosa recipes, also try :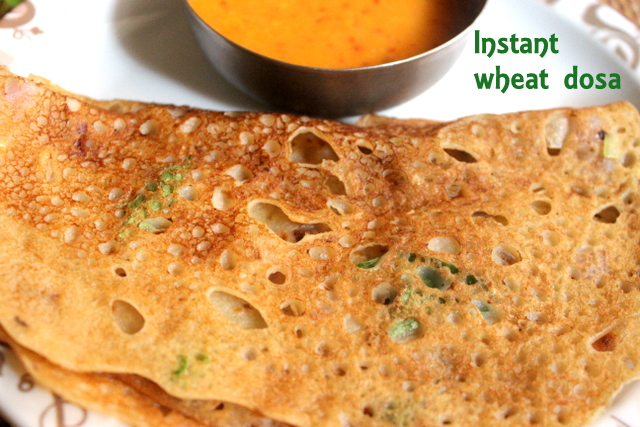 Prep Time : 10  mins
Cook Time : 15 mins
Servings : 5 dosas
INGREDIENTS
Wheat flour – 1/2 cup
Rice flour – 1/4 cup
Sour curd or yoghurt – 2 tablespoons
Onion – 1 (chopped finely)
Cumin seeds or jeera – 1/4 teaspoon
Green chillies – 2 (chopped finely)
Ginger – 1 inch sized (grated or chopped finely)
5 to 6 curry leaves
Salt to taste
Oil for cooking dosas
HOW TO MAKE OR PREPARE INSTANT WHEAT DOSA OR GODHUMA DOSA RECIPE
Take a large bowl.  Add wheat flour, rice flour, curd, green chilli, onion, ginger, cumin seeds and salt.  Mix well.
Add water little by little and combine together.  Mix well till you get a nice smooth and thin batter consistency.  Ensure there are no lumps in the batter.  The batter should not be thick too.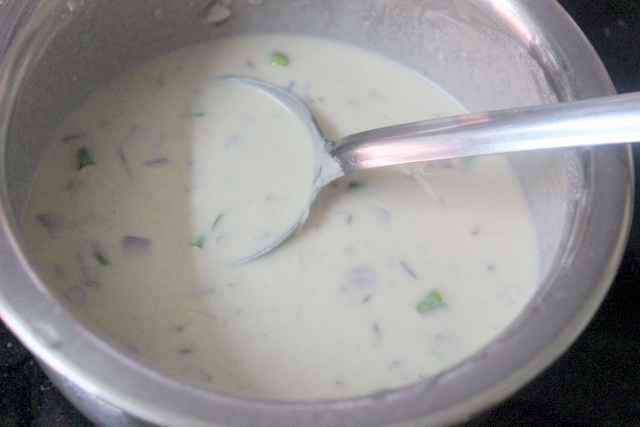 Heat a non-stick tawa or dosa pan on medium flame.  When the tawa becomes hot,  pour a ladle of dosa batter from the outside of the tawa to the inner side, filling in gaps if any.  You cannot spread this batter like regular  dosa, as there should be small holes in the dosa, similar to rava dosa.
Put 1 tsp of oil on the top and around the dosa and cook for a minute on a medium flame. Once the dosa turns golden and crisp, flip on the other side and cook for half a minute.  Continue with the same method for the remaining batter.
Serve wheat dosa hot with sambar or coconut chutney.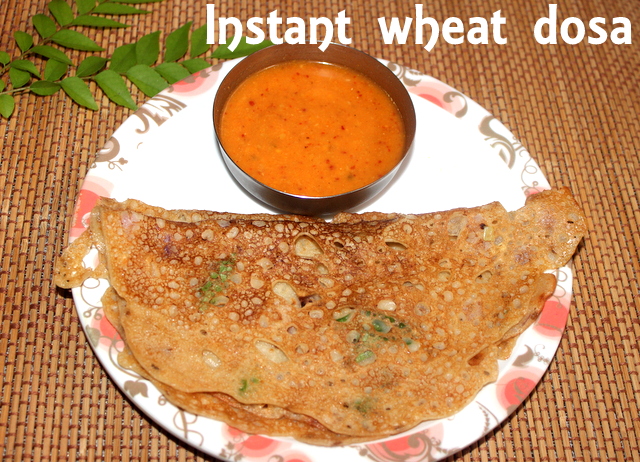 NOTES/TIPS
You can also use buttermilk instead of curd.
You can temper or season the batter with mustard seeds, urad dal, cumin seeds and curry leaves.
Add chopped coriander leaves for that extra flavour to the dosa.
Wheat dosa is best served hot or warm.
Ensure to heat tawa on medium flame for even cooking of dosas.  If cooked on high flame, dosas gets dark in colour and remains partially uncooked.