Potato peas cutlet recipe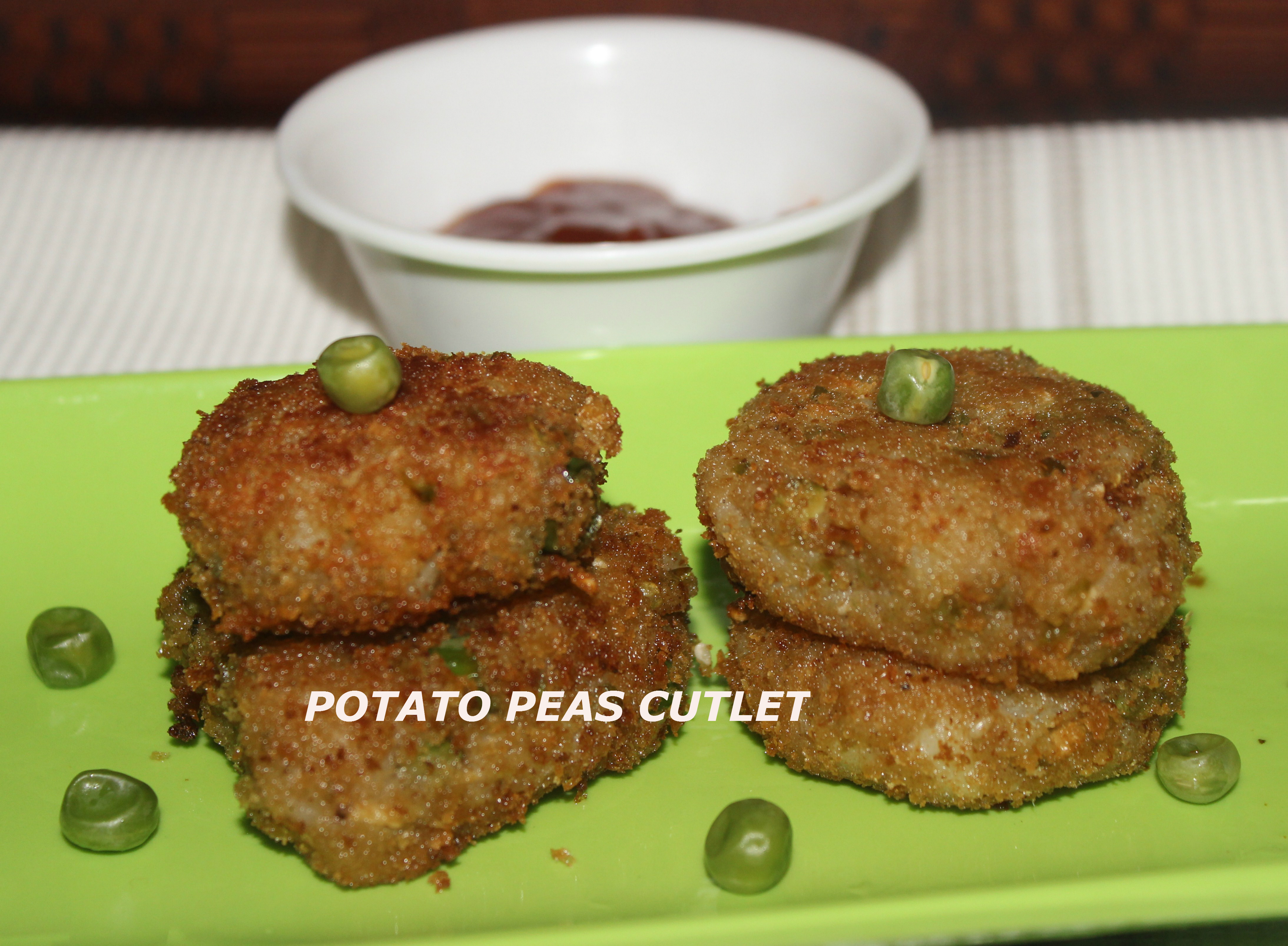 Potato peas cutlet is a wonderful combination of boiled potatoes, peas, green chillies, bread crumbs and mixed with spices.  It is then either shallow fried or deep fried.  Potato peas cutlet makes up for a good monsoon treat or as an evening snack.  Potato peas cutlet is a very popular snack in North India.  It is called as alu mutter tikki  in hindi, which means potato peas cutlet
Ingredients
Potatoes - 4 (boiled and mashed)
Green peas - 1/2 cup (mashed)
Green chillies - 2 to 3 (crushed)
White til - 1/2 teaspoon
Garam masala powder - 1/2 teaspoon
Sugar - 1/2 teaspoon (optional)
Lemon juice - 1 tablespoon
Bread slices - 3 (powdered for mixing with potatoes and peas)
Salt to taste
Cooking oil for frying
Bread crumbs - 1/2 cup for rolling the cutlets
Method
Step 1
HOW TO MAKE POTATO PEAS CUTLET RECIPE Boil the potatoes with sufficient water till soft. Mash the potatoes and keep aside
Step 2
Cut bread slices into small pieces and grind them into a fine dry powder and set aside.
Step 3
Take a vessel or a bowl. Add mashed potato, mashed green peas, green chillies, til, salt, garam masala, sugar, lemon juice and mix well to make a medium thick dough by kneading with your fingers.
Step 4
Add powdered bread to above mixture and mix well.
Step 5
Take small portion of the prepared mixture and shape it like a thick disc or any desired shape.
Step 6
Roll the prepared cutlets in bread crumbs and deep fry or shallow fry in oil over medium flame until golden brown on both sides. Flip them as required to make both sides golden brown.
Step 7
Serve potato peas cutlet hot with tomato sauce.