Shakkarpara or shankarpali recipe – How to make shakkarpara or shakkarpare recipe – Diwali recipes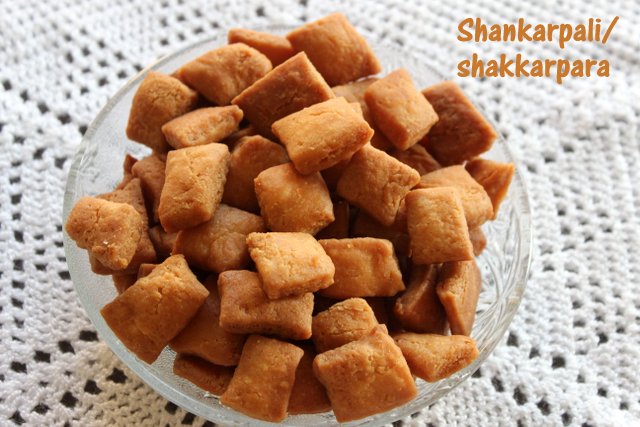 Shakkarpara  or shankarpali is a popular sweet snack in Maharashtra and Gujarat.  It is generally made during festivals like Ganesh Chaturthi or Diwali or any special occasions.  Shakarpara or shankarpali is rich in carbohydrates, an instant source of energy.  They are crispy deep fried sweet snack made with all purpose flour (maida), milk, ghee and sugar and it has a long shelf life.  You can also make shakkarpara with whole wheat only or maida and whole wheat in equal quantities. Once stored in an airtight containter, it stays good for upto 2 weeks.  Enjoy this snack during festivals or as a teatime snack.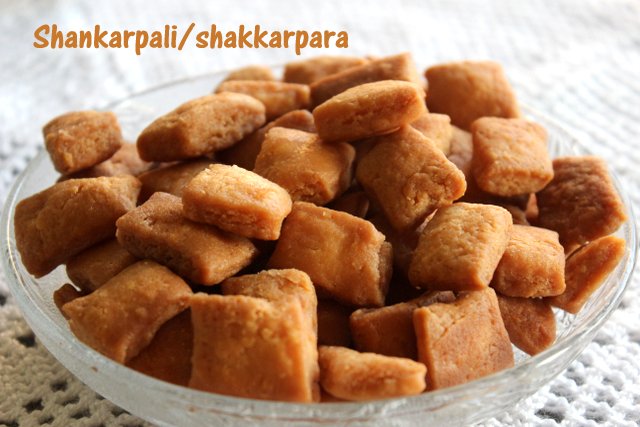 Prep Time :  10 mins
Cook Time : 40 mins
Indian cuisine
INGREDIENTS
All-purpose flour or maida –  2 cups
Powdered sugar – 1/2 cup
Melted ghee – 1/2 cup
Milk – 1/2 cup
A pinch of salt
Oil for deep frying
HOW TO MAKE OR PREPARE SHAKKARPARA OR SHANKARPALI RECIPE
Take a wide bowl.  Add milk (warm up the milk a bit) and powdered sugar.  Mix well and ensure that the sugar is fully dissolved in the milk.
To this mixture, now add melted ghee and give a good mix.
Once the liquid mixture (milk, sugar and ghee) is ready, add maida little by little.
Stir well all the ingredients so that the maida is well mixed with the milk-ghee-sugar mixture.  Keep adding the maida little by little and repeat the process, so that the entire 2 cups of maida is fully used.
Once done, knead into a soft but firm dough. If you feel the dough is a bit sticky, add little more maida and knead to a smooth and pliable dough.  The dough should not be sticky.  Keep the dough covered and leave it aside for 30 minutes.
After half an hour, knead the dough once again till it is smooth.  Divide the dough into 4 equal parts.  Roll each dough ball between your palms till it becomes soft and free of any cracks.  Take one part of dough and roll into a thick paratha.  Meanwhile heat the oil in a kadai  or pan on medium flame.
With the help of a knife or shakarpara cutter,  cut the paratha into square or diamond shaped pieces, as desired by you.
Once the oil becomes hot, reduce it to low flame.  Slide the pieces gently into the oil and deep fry on a low to medium flame, till light golden in colour.
Remove them in an absorbent paper. Once cooled down, store in an airtight container.
NOTES/TIPS
You can also bake the shakkarpara if you are health-conscious.  In that case preheat the oven to 180 degress C.  Bake the shankarpali  for 20-25 minutes or till they turn light golden in colour.  Baked shankarpalis do not puff and they look like baked cookies.
Add more sugar as per your taste.
Ensure to deep fry the shankarpali on a low to medium flame.
If the dough is too soft, add little more maida to make a stiff but soft dough.  If the dough is too stiff, add a teaspoon of water and knead the dough.
Once the shankarpalis cool down, they turn a shade darker.
When you drop the shakkarpara pieces into the oil, drop it or gently slide into the oil. It will get together when you drop them in hot oil, but then will get separated.