Raw banana (plantain) chips recipe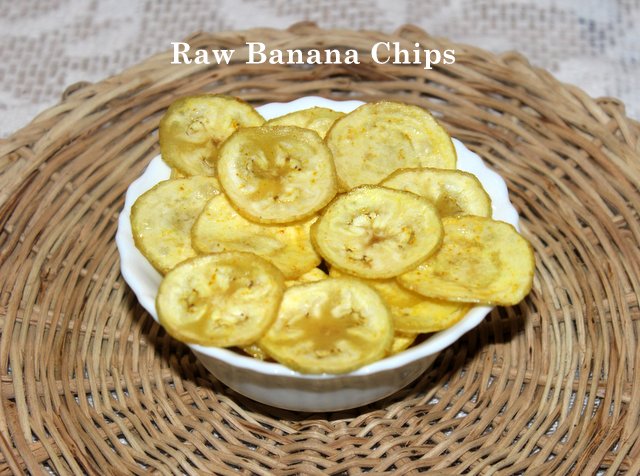 Banana chips or vazhakkai chips are made by deep-frying raw banana slices.  They are crispy, salty and spicy and can be made quickly at home  and requires less ingredients.  In the state of Kerala, a variety of banana called "Nendran" is used to make banana chips.   Banana chips can be served with variety of rice dishes like lemon rice, tomato rice, tamarind rice or coconut rice.  Banana Chips can be had as a snack at any time of the day and is liked by all ages.
Prep Time : 10 mins
Cook Time : 15 mins
Indian cuisine
Total time – 25 mins
INGREDIENTS
Raw bananas – 2
Turmeric powder – 1/4 teaspoon
Salt to taste
Cooking oil for deep-frying
HOW TO MAKE OR PREPARE RAW BANANA OR VAZHAKKAI CHIPS
Wash and peel the bananas.  Cut them into thin slices and immerse them in water by adding salt and turmeric powder to it for 10 minutes.
Drain the water.  Dry them completely by spreading them in a piece of cloth.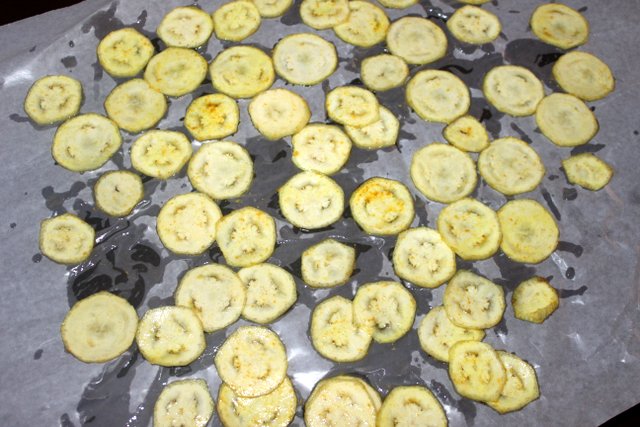 Heat sufficient oil in a heavy bottomed pan or kadai.  Deep fry the sliced banana chips till crispy.  Add few slices at a time, while deep-frying. Do not overcrowd the oil.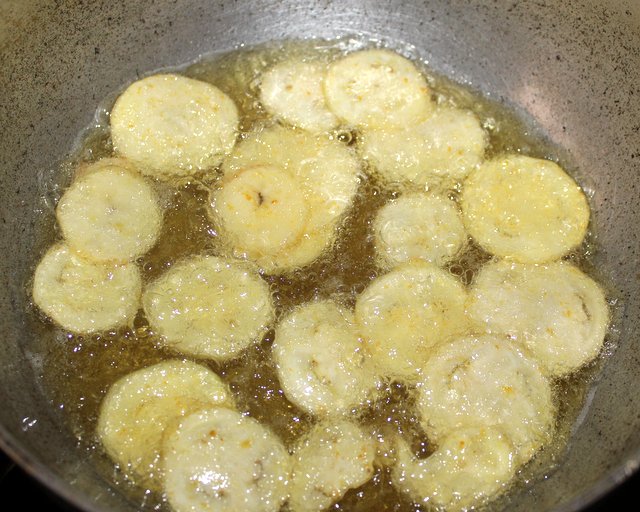 Once done, remove the chips in an absorbent paper to remove excess oil.
Crispy and crunchy homemade banana chips are now ready to be munched.  Set aside to cool. Store them in an airtight container.
If you like to have spicy chips, sprinkle pepper powder and red chilli powder to the jar and shake well.
These healthy chips makes a good tea time snacks or any time snack.  Enjoy them with your family as and when you need to munch something.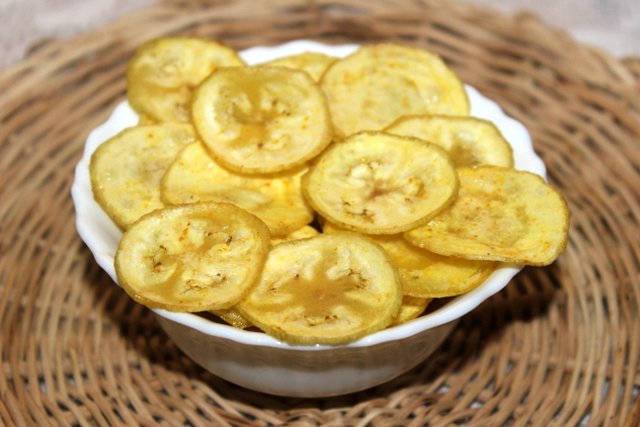 NOTES/TIPS
Use good quality unripe bananas for making these chips.
You can also use coconut oil for deep-frying for authentic taste.
Store the chips in an airtight container immediately after deep-frying and after it gets slightly warm. Otherwise it tends to lose its crispiness.
Dry the soaked banana slices completely before deep-frying.  Else the colour tends to become dull.