Raw jackfruit curry – How to make kathal curry recipe – Indian curries – raw jackfruit recipes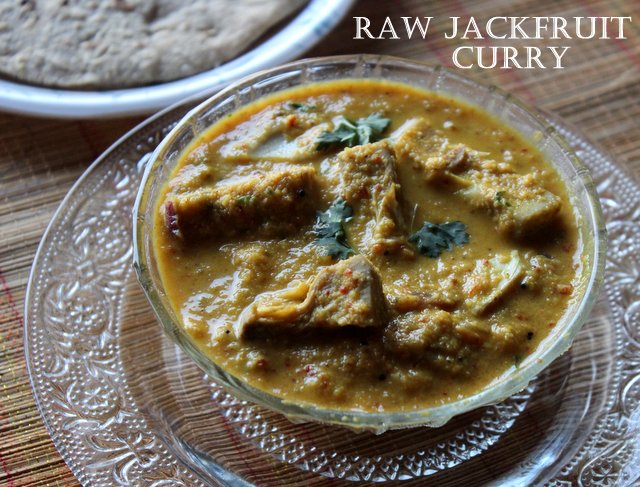 Raw jackfruit curry is a sweet and spicy curry made with raw jackfruit, coconut, spices and jaggery. This is a very popular dish in Kerala and Karnataka especially Mangalore.  Tamarind is added to this recipe which gives a tangy taste to the curry.  This curry goes well with rice as well as rotis.    Raw jackfruit is rich in Vitamin C, fibre and carbohydrates.  Raw jackfruit is called as kathal in hindi, halasinakayi in kannada and palamusu in Tamil. Raw jackfruit has a distinct flavor which gives a good taste and enhances the flavor of the dish.  To get the maximum flavor, use coconut oil for the seasoning as it gives a good aroma to the curry.  Jackfruit is low in calories and fat and a good source of proteins and nutrients.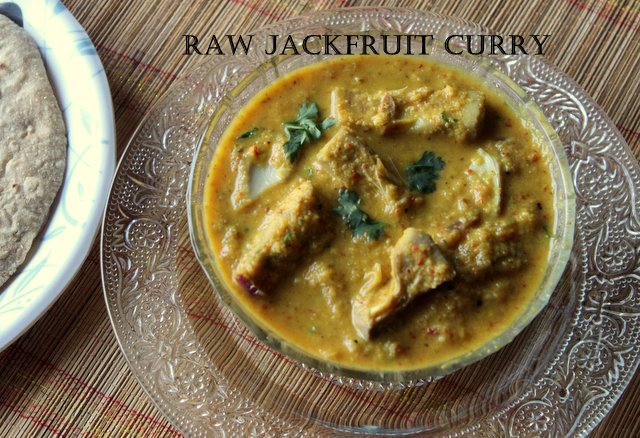 Prep Time : 20 mins
Cook Time : 20  mins
Servings : 3 to 4 persons
South Indian cuisine
INGREDIENTS
Raw or unripe jackfruit – 200 gms
Onion – 1 (chopped finely)
Coconut oil or any other cooking oil – 2 tablespoons
A pinch of asafetida or hing
Mustard seeds or rai – 1/2 teaspoon
Cumin seeds or jeera – 1/2 teaspoon
Few curry leaves
Coriander leaves for garnishing – 2 tablespoons
Salt to taste
TO GRIND TO A FINE PASTE
Coriander seeds – 2 tablespoons
Cumin seeds – 1 tablespoon
Whole red chillies – 3 to 4 nos
Urad dal – 1 tablespoon
Garlic cloves – 2
Turmeric powder – 1/4 teaspoon
Grated coconut – 1/2 cup
Jaggery – 1 small piece
HOW TO MAKE RAW JACKFRUIT CURRY RECIPE
Rinse the peeled jackfruit and remove the seeds.  If the seeds are too tender,  you can include the seeds too for cooking.  Chop the jackfruits into small or medium pieces as desired by you.  You can either pressure cook the jackfruit pieces for 3 whistles or boil them separately in a pan with enough water.  Once cooked, drain the water and keep the boiled raw jackfruit pieces aside.
Heat 1 tablespoon of  oil in a pan on medium flame.  Add the coriander seeds, cumin seeds, red chillies, urad dal and garlic cloves.  Saute  for 2-3 minutes, till you get a nice aroma.
Once the ingredients cool down, take them to a mixer grinder.  Add turmeric powder, tamarind piece and jaggery.
Add little water to make a smooth paste.  Keep the ground paste aside.  To the same pan, add another 1 tablespoon of oil.  Once the oil becomes hot,  add hing, mustard seeds and cumin seeds.
Once the seeds stop spluttering, add chopped onions and curry leaves.  Stir on a low to medium flame till the onions becomes light golden in colour.  Then add the ground paste and mix well.
Add little water and adjust the consistency and cook on a low flame for 2-3 minutes.  Finally add the boiled jackfruit pieces and mix well.  Add salt and mix well again.  Garnish with chopped coriander leaves.
Cook on a low flame for a minute and then switch off the flame.
Serve raw jackfruit curry with steamed rice or rotis.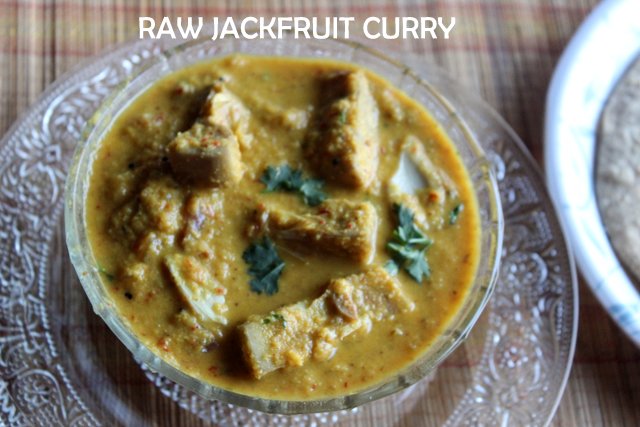 NOTES/TIPS
Use coconut oil as it gives a good taste and enhances the flavor of the dish.
If you are peeling the jackfruit and removing the seeds by yourself,  rub little oil on your palms before cleaning the jackfruit.
Tender raw jackfruit takes less time to cook.  So choose the tender ones for this curry.
You can add tomatoes for a tangy flavor.