Sabudana khichdi recipe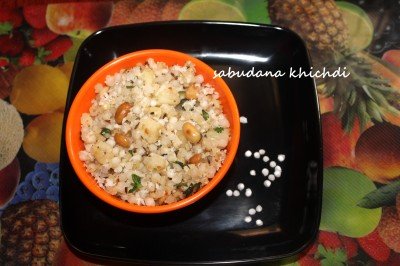 Sabudana khichdi is an Indian snack made from sago, potatoes, peanuts and green chillies.  It is more popular in Maharashtra and Gujarat.  Sabudana khichdi is a favourite snack for people who are observing fast during Sankashti and festivals like Navratri. Sago is pure carbohydrate, has high energy content and hence an ideal food for people who are on fast.  Adding peanuts to sabudana khichdi adds to the protein, vitamins and minerals content making it a complete dish.
Ingredients
Sabudana/sago - 1 cup
Potatoes - 2 (boiled, peeled and cut into 1/2 inch cubes)
Peanuts - 1/2 cup
Oil - 3 tablespoons
Mustard seeds - 1/2 teaspoon
Cumin/jeera seeds - 1 teaspoon
Green chillies - 2 to 3 (chopped finely)
1 string of curry leaves
Lemon juice - 2 tablespoons or as per taste
Sugar - 1 teaspoon
Grated coconut - 2 tablespoons
Salt to taste
Chopped coriander leaves - 1 tablespoon
Method
Step 1
HOW TO MAKE SABUDANA KHICHDI RECIPE Wash sabudana in running water thoroughly. Then soak the sabudana with just enough water to immerse sabudana. Cover with a lid and and keep it soaked, for at least 4 to 5 hours. The grains become separate and fluffy after 5 hours.
Step 2
Dry roast the peanuts. Peel the skin off by rubbing with your hands. (Alternatively, you can use the already peeled and skinned ones).
Step 3
Once the peanuts are skinned and cooled down, grind them to a coarse powder and set aside.
Step 4
Heat oil in a pan. Add mustard seeds. Once the seeds stop spluttering, add cumin seeds, green chillies, curry leaves and stir fry for a minute.
Step 5
Add boiled and cubed potatoes and salt and saute them for 2 minutes on a medium flame.
Step 6
Add ground peanuts powder and mix well.
Step 7
Add soaked sago and mix well by stirring continously on low flame. Cover the pan with a lid and cook for 3 to 4 minutes on a low flame.
Step 8
Once cooked, switch off the flame. Add lemon juice and sugar and combine together.
Step 9
Garnish with coriander leaves and grated coconut.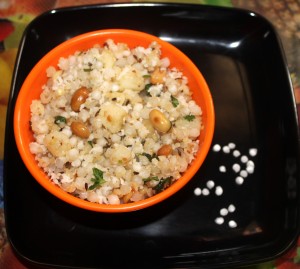 Step 10
Serve sabudana khichdi hot with sweet curd or plain.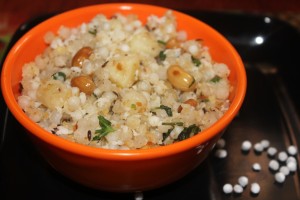 Step 11
NOTES : Add just enough water at the time of soaking sago so that the sago is immersed in water. Adding more water will make the sago mushy. Pressure cook the potatoes until soft upto 3 whistles. Peel the skin and cut the potatoes into cubes and keep it ready before making the khichdi. Alternatively, you can directly add the chopped raw potatoes and cook it in the pan. Add little salt while cooking potatoes as it enhances the taste of khichdi and cooks faster.