Sambar powder or sambar masala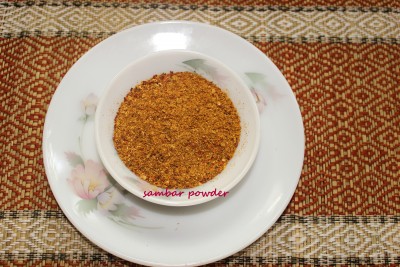 A traditional method for making sambar powder (South Indian style).
Ingredients
Coriander seeds - 4 tablespoons
Chana dal (bengal gram split) - 2 teaspoons
Methi seeds - 1 teaspoon
Whole red chillies - 5 to 6 nos
Fresh grated coconut - 5 tablespoons
Oil - 1 teaspoon
Method
Step 1
Heat oil in a pan. Add coriander seeds, chana dal, methi seeds, red chillies and fry on a medium flame, till they become light brown and aroma exudes.
Step 2
Add grated coconut to the above mixture and fry for 30 seconds on a low flame
Step 3
Remove from heat. Grind the above mixture with little water to a smooth paste.
Step 4
Sambar masala is ready to use.
Step 5
NOTE : The above sambar masala has to be consumed/used on the same day, since it is ground alongwith coconut and water to a soft paste. The image shown is sambar powder without coconut. This powder can be stored for 2 to 3 weeks. Whenever you want to make sambar, just add grated coconut to this powder and make a smooth paste and add at the time of making sambar. You can store dry sambar powder in an airtight container for future use.