Til ki chikki – How to make til gud ki chikki recipe – Till ki chikki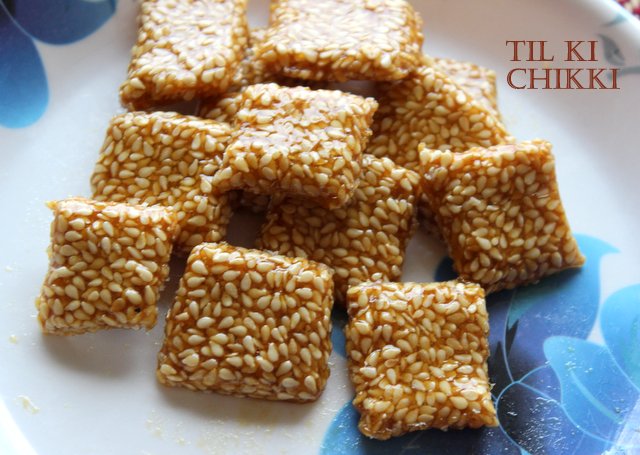 Til chikki is a special winter season snack made with white sesame seeds and jaggery and a very traditional Indian sweet.  This chikki is an ideal snack to be had in the cold winter season.  Til chikki is especially prepared during Makar Sankranthi festival (kite flying festival) where it is exchanged between friends and relatives. Til chikki is also called as tilgul, til patti or gajak  and is highly rich in iron content. It is generally served during winter season, as it provides warmth to the body. This snack can be made within half an hour and simple to make too.  In this recipe, I have used only white sesame seeds to make chikki.  You can prepare the chikki by mixing both black and white sesame seeds.  Til chikki can be stored for upto a month.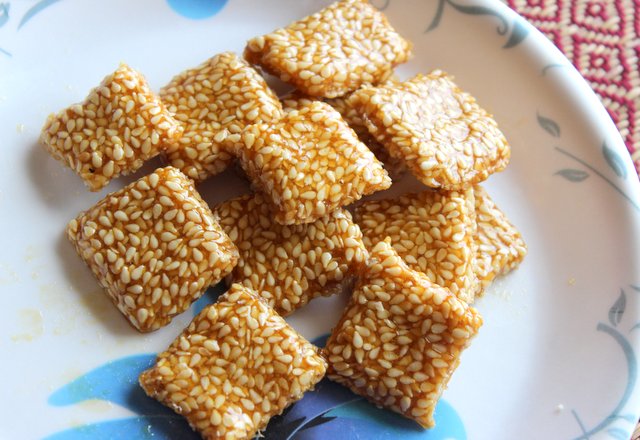 Prep Time :  5 mins
Cook Time : 15  mins
Yield – 20 pieces
Indian cuisine
INGREDIENTS
White sesame seeds (til) – 1 cup
Jaggery (gud) – 1 cup
Ghee – 1 teaspoon
HOW TO MAKE OR PREPARE TIL CHIKKI RECIPE
Heat a non-stick pan on low flame.  Add sesame seeds and dry roast on low flame till the seeds starts spluttering.  Roast for 4-5 minutes to remove the moisture.  The seeds will start becoming light golden in colour.
Transfer the roasted sesame seeds to a bowl.  Keep it aside.  To the same pan, add 1 tsp of ghee.
Add 1 cup of jaggery and keep stirring on low flame, till the jaggery starts melting.
Boil the jaggery syrup on low flame till it becomes glossy and starts thickening.  To check the jaggery consistency, add few drops of jaggery water to a bowl of water.  (This step is very important for getting a crisp till chikki).
It should form a soft ball and cut with a snapping sound.  If it sticks to the bottom of the pan, then it is not cooked. Add the roasted sesame seeds to the jaggery syrup.  Mix well.
Simmer on a low flame for another 1 minute,  till the jaggery is well blended with the sesame seeds.  Switch off the flame.
Immediately pour the mixture to a greased plate or on a board lined with butter paper. Let it cool for around 2-3 minutes.  Do not cool it completely.   With the help of a rolling pin, slightly flatten the mixture to a round or square shape. Roll it from one end to the other evenly. (Grease the rolling pin with little ghee and then start rolling the mixture).  When the mixture is still warm, cut into small square pieces.
Once the chikkis cool down completely, store them in an airtight container and eat as and when you like.  Tasty and healthy till chikki is ready to be served.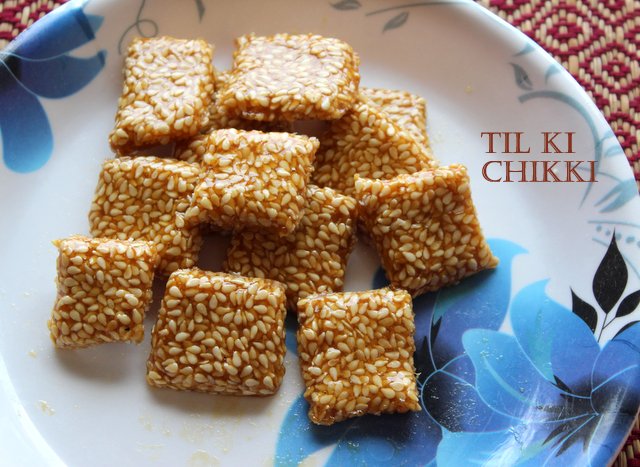 NOTES/TIPS
Do not cook the jaggery on high flame as it will stick to the pan.  It is advisable to use a non-stick pan.
Consistency of jaggery is very important.  Ensure that the jaggery is not overcooked, otherwise  the chikki will become very hard.  If undercooked, the chikki turns very soft.
The mixture tends to cool down quickly and become hard. So ensure that you are fast in  flattening the mixture and cut into pieces.
Add your choice of dry fruits like cashewnuts and badam, to make it more nutritious.
Choose good quality of sesame seeds and which are free from dust or stones.