Schezwan noodles recipe – How to make veg schezwan noodles recipe – Noodles recipe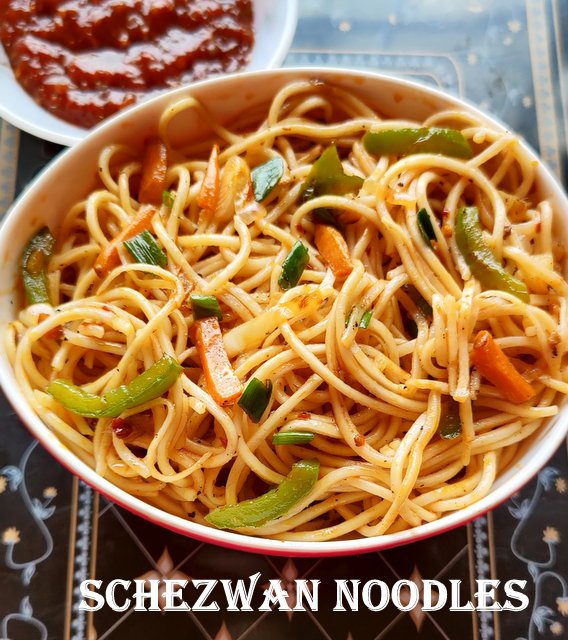 Schezwan noodles is a very popular indo chinese dish made with stir fried veggies, noodles and spices.  This is a simple recipe made with schezwan sauce which gives a sweet and spicy taste to the noodles.  Schezwan noodles is very easy to make and can be done in just 45 minutes of time and is best served hot.  Schezwan noodles can be served as a starter or as a meal for lunch or dinner.
You can either make schezwan sauce at home or buy from the stores as per your preference.  But if you are using the store bought schezwan sauce, adjust the quantity according to the spiciness required by you. Sesame or til oil gives a good flavor to the noodles, but if not available, you can use any other cooking oil.  In this recipe, I have used cabbage, carrot, green capsicum and spring onions.  You can add other veggies like mushrooms, green peas, baby corn or brocolli too. This lip smacking dish is loved by all age groups as it is a perfect blend of spices and sauces.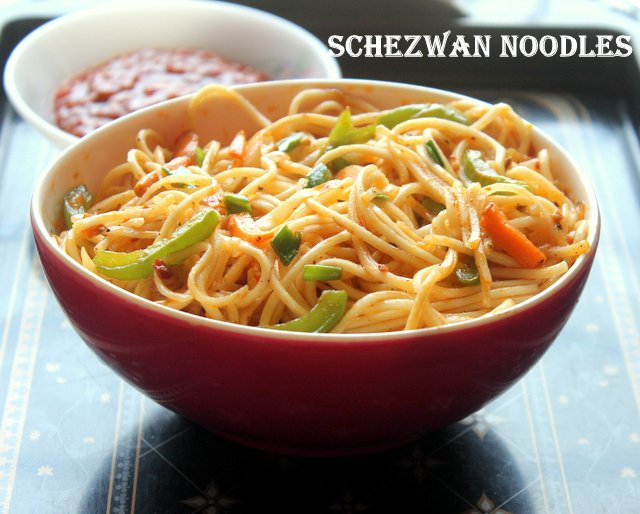 Prep Time : 20 mins
Cook Time : 25 mins
Indo chinese cuisine
Servings : 2 persons
INGREDIENTS
Hakka or instant noodles – 1 packet (150 gms of noodles)
Water – 4 cups
Salt – 2 pinches
Oil – 2 teaspoons
VEGGIES FOR STIR-FRYING
Spring onion whites – 1/4 cup (finely chopped)
Cabbage – 1/4 cup (chopped into long shreds)
Green capsicum – 1/4 cup (chopped vertically)
Carrots – 1/4 cup (chopped vertically)
Finely chopped garlic cloves – 1 teaspoon
Finely chopped ginger – 1 teaspoon
Black pepper powder – 1/2 teaspoon
Schezwan sauce – 2 tablespoons
Apple cider vinegar or white vinegar – 1 teaspoon
Cooking oil – 2 tablespoons
Salt as per taste
Spring onions greens (scallion greens) finely chopped for garnishing –  1 tablespoon
HOW TO MAKE OR PREPARE SCHEZWAN NOODLES RECIPE
Take sufficient water in a pan or vessel.  Add few drops of oil and 2 pinches of salt to it.   Once the water comes to a nice boil, add 150 gms of noodles to it.  Oil helps to avoid the noodles from sticking together.  Salt gives a nice flavour to the noodles.
Ensure that the noodles are completely submerged inside the water.  Cook the noodles for 4-5 minutes or till they are cooked.  Do not overcook the noodles, else the dish becomes too mushy.  Once cooked, drain the noodles immediately with the help of a colander or strainer.  Add cold water to the noodles and rinse them.  This step ensures that they do not stick and further stops the cooking process.
Heat 2 tablespoons of oil in a pan on medium flame.  Once the oil is hot, add 1 tsp of chopped garlic cloves, 1 tsp of chopped ginger.  Saute for few seconds till you get a nice aroma.    Then turn the flame to high heat and  add 1/4 cup spring onions, 1/4 cup carrot, 1/4 cup green capsicum and 1/4 cup cabbage.  Stir fry all the veggies on high flame for 4-5 minutes.
Ensure to continuously stir fry the veggies to get a nice smoky flavour.   Cook for another 5 minutes till the veggies are cooked but at the same time retain the crunchiness.
Once the veggies are cooked, lower the flame and add 2 tablespoons of schezwan sauce, 1/2 tsp of black pepper powder and salt.  Give a good mix.  Then add the cooked and drained noodles to the cooked veggies.
Mix the noodles gently without mushing the noodles.  Cook on a high flame for another 2-3 minutes, till the sauce and spice  is well coated with the noodles.  Finally add 1 tsp of apple cider vinegar or white vinegar.  Mix well and switch off the flame.  Garnish with finely chopped spring greens and serve immediately hot or warm.
NOTES/TIPS
Try using hakka noodles or rice noodles as they work best for this recipe.  Do not overboil the noodes, otherwise the dish will become mushy.
After adding cooked noodles to the stir fried veggies, do not over mix.  Use a fork or spoon to gently mix everything.
You can also add mushrooms to this dish for variation.
Stir fry the veggies on a medium to high flame for more crunchiness and taste.  It also gives a smoky flavor to the noodles
Schezwan noodes itself makes up for a quick meal and does not require any side dish.
Use a heavy and thick bottomed pan for making this recipe,  then the veggies will not get burnt when cooking on a high flame.