Soya chunks or meal maker curry or gravy recipe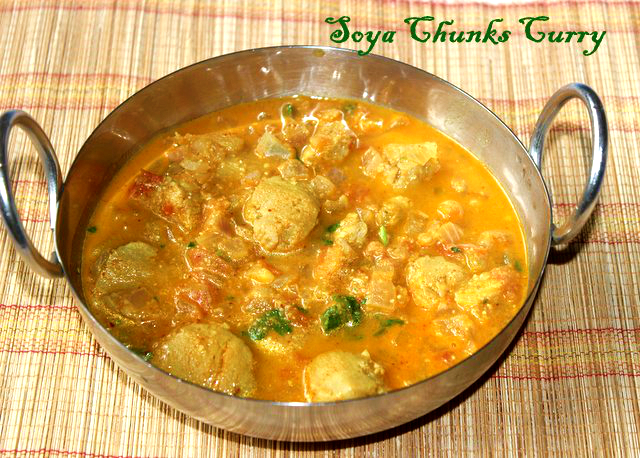 Soya chunks or nuggets are full of proteins and rich in vitamins, minerals and other nutrients proven to help lower cholesterol and loss of bone mass.  Soya is strongly recommended for diabetics,  growing children, weight-watchers and the aged.   It is a  100 per cent vegetarian high quality protein source and great for growing children, as it provides critical vitamins, minerals, fibre and protein.  The nuggets when boiled turn spongy and ready to absorb any flavours you cook them in and hence makes up for a delightful dish.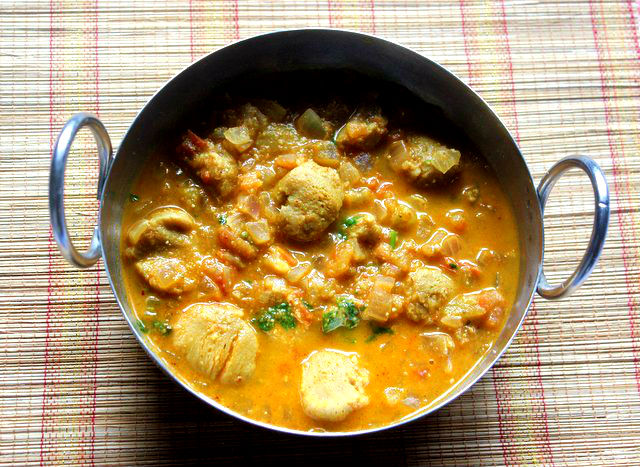 Prep Time : 20 mins mins
Cook Time :  20 mins mins
Servings : 2-3 persons
Indian cuisine
INGREDIENTS
Soya chunks or meal maker – 1 cup
Onions – 2 nos (medium sized chopped finely)
Tomatoes – 4 nos. (medium sized chopped finely)
Ginger-garlic paste – 1/2 teaspoon
Turmeric powder – 1/4 teaspoon
Red chilli powder – 1/4 teaspoon
Coriander (dhania) powder – 1 teaspoon
Garam masala powder – 1 teaspoon
Coriander leaves for garnishing
Salt to taste
TO GRIND
Grated coconut – 1/4 cup
Poppy seeds (khuskhus) – 1/2 teaspoon (soaked in hot water for 15-20 minutes )
Green chillies – 2 nos.
FOR THE SEASONING
Cooking oil –  2 tablespoons
Bay leaf – 2
Cinnamon stick – 2 small pieces
Cloves – 2
HOW TO MAKE OR PREPARE SOYA CHUNKS OR MEAL MAKER  CURRY/GRAVY RECIPE
Boil little water and bring it to a boil. Then switch off the flame.  Add soya chunks to the boiled water immediately and keep it closed for half an hour. It will swell up a bit. Drain the water and rinse the soya chunks well to get rid of the smell.  Squeeze out the excess water thoroughly from the soya chunks and set aside.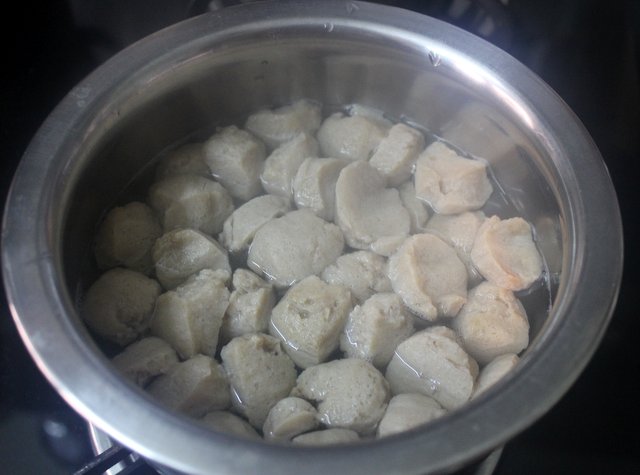 Grind the coconut, poppy seeds and green chillies with little water to make a smooth paste.  Keep it aside
Heat a pan or kadai on a medium flame.  Add bay leaf, cinnamon stick and cloves and saute for half a minute.  Add chopped onions and ginger-garlic paste and saute till the raw smell goes away and onions become little translucent.
Add chopped tomatoes and cook till they become little soft.   Add little water accordingly so that the masalas do not get burnt and are cooked properly.
Add the ground coconut mixture and combine together.  Then add red chilli powder, turmeric powder, coriander powder and garam masala powder and mix well.
Finally add the squeezed soya chunks and salt and mix well.  Adjust water accordingly and bring it to a gravy consistency.  Boil for few minutes till the soya chunks are well absorbed by the gravy and you get the desired consistency.
Garnish with chopped coriander leaves and serve hot as a side dish  or accompaniment for rotis or chapatis or rice or pulao.
TIPS/NOTES
Always squeeze out the excess water from boiled soya chunks before adding to the gravy to get the desired taste.