Sweet modaka or ukadiche modak recipe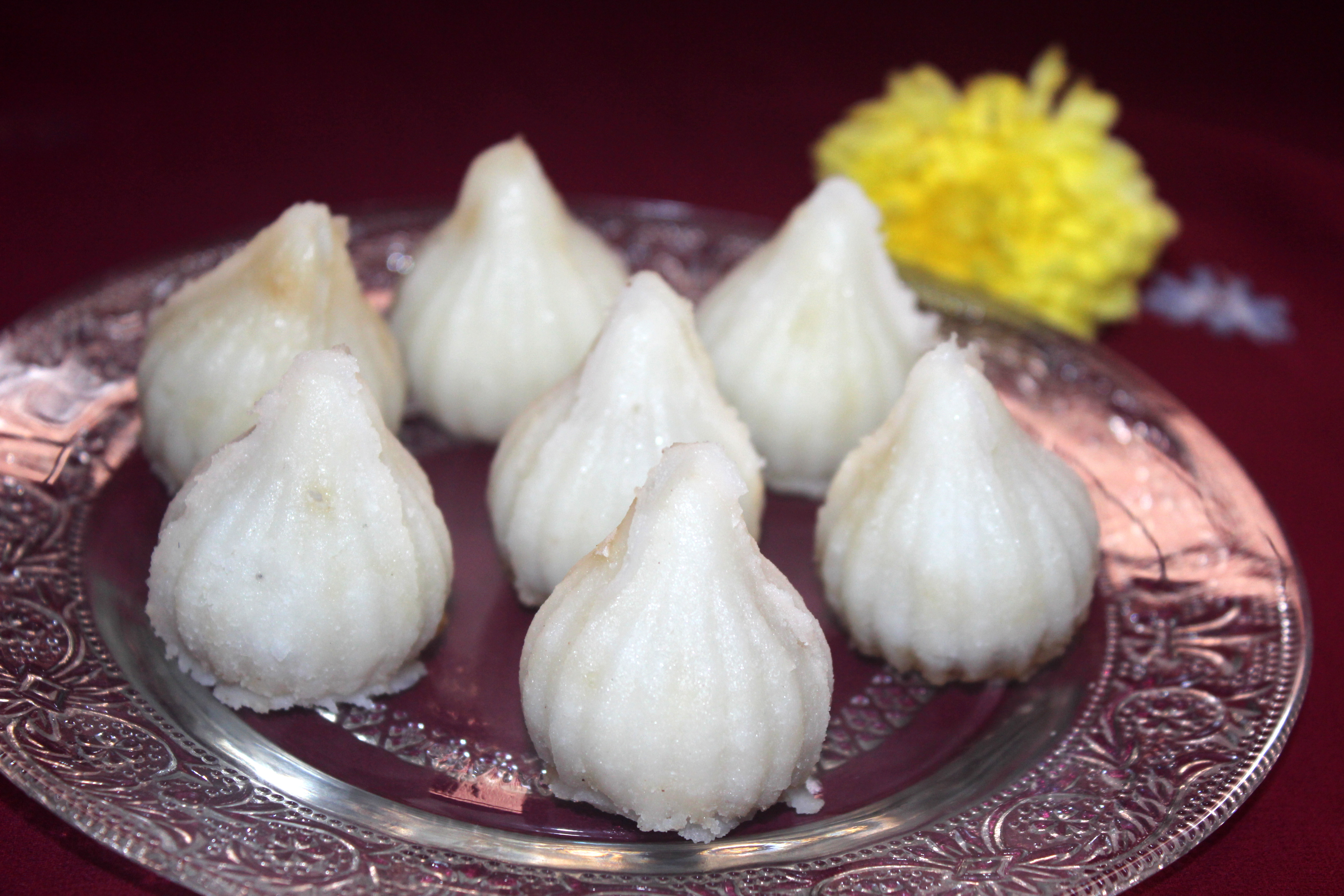 Ganesh Chaturthi also known as Vinayaka Chaturthi is a hindu festival and is celebrated as birthday of Lord Ganesha, the elephant headed son of Lord Shiva and Goddess Parvati. Ganesha is the Lord of power and wisdom.
The festival lasts for 10 days ending on Ananta Chaturdashi. Devotees install idols in their homes and the idol is bathed with panchamrut, a mixture of milk, curd, ghee, honey and jaggery.
Ganesh Chaturthi is by all means a tribute to Lord Ganesha who bestows success upon worthy people.
Devotees make offering of coconuts, flowers and Ganesha's favourite sweet modaka which is made up of rice flour,grated coconut and jaggery. Another popular dish is the sweet karanji or fried modak which I have already posted under festival dishes. I have tried sweet modaka with the help of mould too, which which I have posted as the main picture.
So lets celebrate Ganesh Chaturthi with this traditional recipe.
Ingredients
Rice flour - 1 cup
Water - 1 1/2 cups
Grated jaggery - 1 cup
Grated coconut - 1 cup
Gingelly oil -1 teaspoon
Cardamom/Elaichi powder - 1/4 teaspoon
A pinch of salt
Ghee - 1 tablespoon
Method
Step 1
HOW TO MAKE SWEET MODAKA/UKADICHE MODAK RECIPE Boil water in a vessel. Add 1 teaspoon of oil and a pinch of salt to the water. Once the water reaches the boiling point, switch off the flame. Add rice flour little by little stirring continuously till the rice flour is fully absorbed by the water. Ensure that no lumps are formed. If it becomes too sticky or liquidy, you can add some rice flour. Keep the mixture aside for 5 minutes.
Step 2
Once the mixture becomes little warm and thick solid mass, knead it into a smooth dough and set aside. Apply some oil to your hand while kneading, so that the dough does not stick to your hands. Keep the dough covered.
Step 3
For the filling, heat ghee in a pan on a low flame. Add grated coconut and grated jaggery and mix well. Keep stirring till the jaggery starts melting and gets mixed well with the coconut. The mixture will leave the sides of the pan and get thickened. Add cardamom powder and mix well. Switch off the flame and remove from the fire.
Step 4
Take a small quantity of dough in your palm and make a small round disc shape in your palm.
Step 5
Put the coconut mixture in the centre and close from all edges of the dough to the centre and give shape to modaks by tapering to the top with your fingers
Step 6
Repeat the procedure with the remaining dough and coconut mixture and keep the modaks ready for steaming.
Step 7
Take an idli cooker or steamer and steam the modaks for 8 to10 minutes. If you are using pressure cooker, steam without the whistle.
Step 8
Place modaks in a separate plate and it is ready to be offered to Lord Ganesha.