Sweet potato chaat recipe – How to make sweet potato or shakarkandi chaat recipe – chaat recipes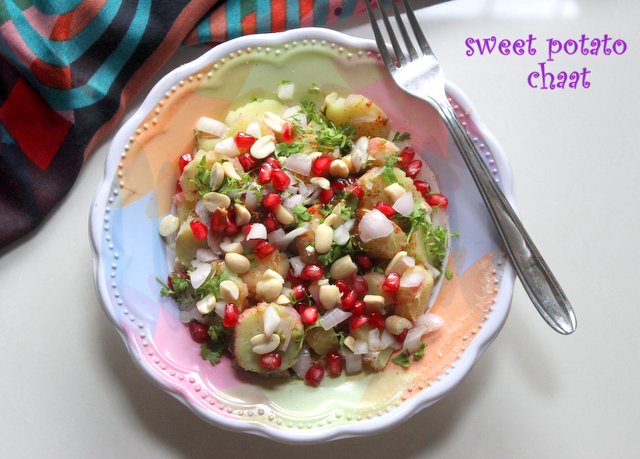 Sweet potato chaat – a healthy and delicious chaat recipe made with sweet potatoes and spices and garnished with chopped onions, sev, roasted peanuts and pomegranate seeds.  This chaat is very popular in North India, especially during winter seasons, when sweet potatoes are available in plenty.  It makes for a great snack and has a nice crunchy, sweet and spicy flavours.  I have just boiled the sweet potatoes and tossed with spices and chutneys.  You can also stir-fry them with little oil before adding the spices.
Peanuts gives a nice crunchy flavour to the chaat and the chutneys a spicy and sweet taste.  Chaat masala gives a tangy flavor, so do not skip on that.  Pomegranates seeds gives a nice color as well as a sweet taste to the chaat.
Sweet potatoes are a rich source of fibre and contains a lot of vitamins and minerals including iron, calcium, Vitamin C, B vitamins and selenium.  The fibre content in sweet potatoes prevents constipation and promotes regularity for a healthy digestive tract.
Sweet potatoes can be enjoyed at any time, as it has a high nutrient value. Sweet potato chaat is also consumed during Navratri or festival fasting as a filling snack.  Do try this popular winter street food snack and enjoy !!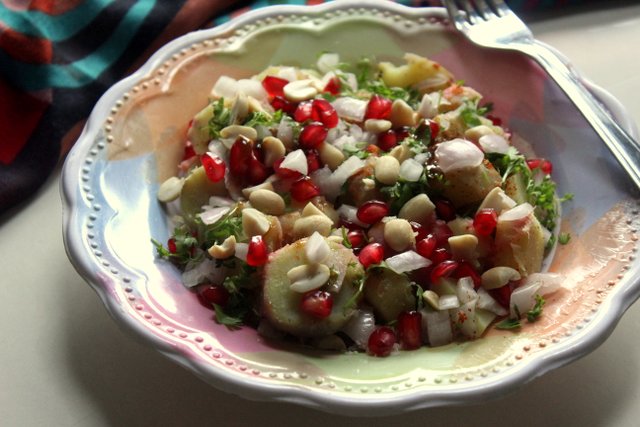 Prep Time : 10 mins
Cook Time : 20 mins
Servings : 2 persons
Indian cuisine
INGREDIENTS
Sweet potatoes – 3 nos (small sized)
Red chilli powder – 1/2 teaspoon
Chaat masala – 1/2 teaspoon
Cumin powder – 1/2 teaspoon
Lemon juice – 2 teaspoons
Coriander chutney – 1 teaspoon
Tamarind chutney – 1 teaspoon
Salt to taste
FOR GARNISHING
Chopped coriander leaves – 1 tablespoon
Onions – 1 no. (finely chopped)
Pomegranate seeds – 2 teaspoons
Roasted peanuts – a handful
HOW TO MAKE OR PREPARE SWEET POTATO CHAAT RECIPE
Rinse the sweet potatoes thoroughly to remove any mud or impurities if any.    In a small pressure cooker, add the sweet potatoes and 1 cup of water.
Pressure cook them for 4 whistles on medium flame.  Let the pressure cool down  completely.
Transfer the cooked sweet potatoes to a plate.  Let the sweet potatoes cool down a bit.
Peel the skin of the sweet potatoes and chop them into small pieces.  Arrange the pieces in a plate.
Add red chilli powder, chaat masala, cumin powder, lemon juice, coriander chutney, tamarind chutney and salt.  Mix gently.  Finally garnish with chopped coriander leaves, chopped onions, roasted peanuts and pomegranate seeds.
Serve sweet potato chaat immediately and enjoy this delicious and nutritious chaat.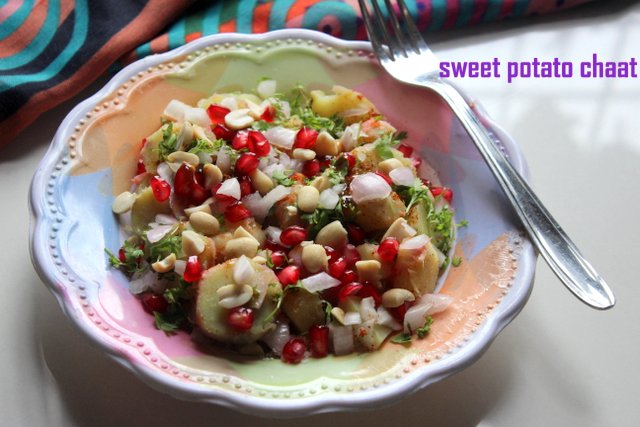 NOTES/TIPS
Ensure not to overcook the sweet potatoes.
Add the chutneys according to your taste and sweet flavour desired by you.
You can add amchoor powder instead of lemon juice.
You can roast the sweet potatoes in an oven instead of boiling or steaming them.
Adjust spice powders according to your taste preferences.
You can also garnish  sprinkle with thin sev and plain yoghurt for a variation.