Tiranga salad recipe – How to make tiranga salad recipe – Indian recipes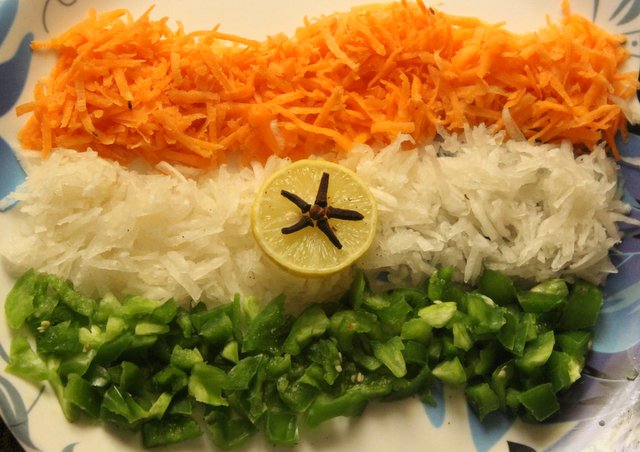 Tiranga salad is a healthy tricolour salad made with carrots, radish and green capsicum.   It is a very special salad prepared to celebrate Independence day in true spirit.  Tiranga salad is an ideal dish to celebrate this event.  Do give a try and surprise your loved ones with this tri coloured salad on this day..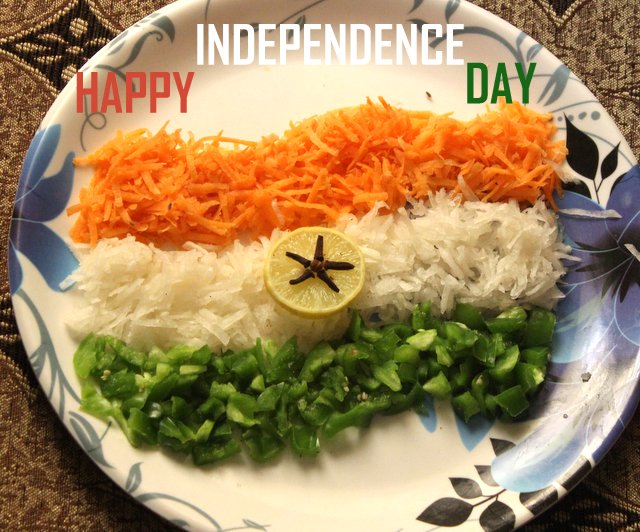 Servings :  4 persons
Preparation time – 15 mins
Indian cuisine
INGREDIENTS
Carrot – 1
Radish – 1
Green capsicum – 2 (big sized)
Black pepper powder – 1/2 teaspoon
A slice of lemon and black cloves for the chakra
Salt to taste
Lemon juice as per taste
HOW TO MAKE TIRANGA SALAD RECIPE
Wash the vegetables thoroughly.  Peel the carrot and radish.  Grate them and keep it in separate bowls.
Chop the green capsicum into small pieces and keep them in a separate bowl.
Add salt, pepper powder and lemon juice to all the vegetables.
Arrange grated carrot in the first orange layer, grated radish in the white layer and chopped capsicum in the green layer.  Place the lemon slice in the centre and arrange the black cloves as the chakra.
Tricolour or tiranga salad is ready to be served.