Vella cheedai or seedai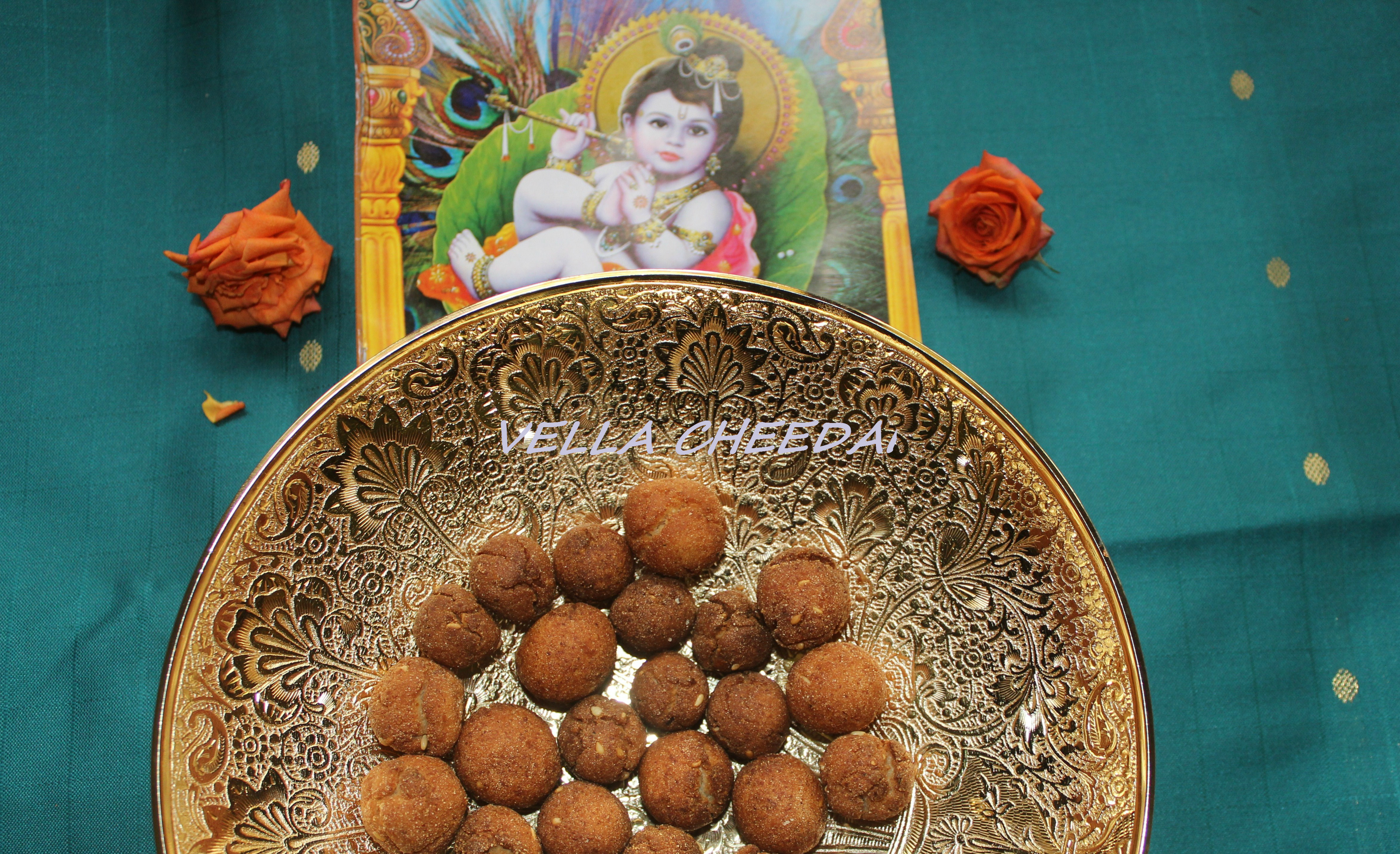 Vella cheedai is a very popular snack prepared during Krishna Janmashtami or Gokulashtami.  It is a mildly sweetened and crunchy snack prepared from rice flour, jaggery, cardamom powder and coconut.  Vella cheedai is a snack  prepared to celebrate the birth of Lord Krishna which falls on 28th of August, this year.
Ingredients
Rice flour - 1 cup
Jaggery - 1 cup
Urad dal - 1 teaspoon
White sesame seeds - 1/2 teaspoon
Grated coconut - 1 tablespoon
Cardamom powder - 1/4 teaspoon
Butter - 1 tablespoon
Cooking oil to fry
Method
Step 1
HOW TO MAKE VELLA CHEEDAI Sieve the rice flour to remove any impurities and keep aside.
Step 2
Cut the jaggery into small pieces. Heat a kadai with 1/2 a cup of water. Add jaggery pieces and keep it on a low flame. When jaggery dissolves well, remove from flame. Allow it to cool down. Strain the jaggery water to remove the impurities and set aside.
Step 3
Heat a pan. Dry roast the urad dal on a low flame till light golden in colour and aroma exudes.
Step 4
Once it cools down, grind the urad dal into a fine dry powder.
Step 5
In the same pan, add sieved rice flour and dry roast the rice flour on a low to medium flame. This is to ensure there is no moisture in the rice flour. Remove the rice flour separately in a vessel.
Step 6
In the same pan, dry roast the sesame seeds till light brown and set aside.
Step 7
Finally in a bowl, take rice flour. Add grounded urad dal powder, roasted sesame seeds, cardamom powder, butter (melt the butter and add) and grated coconut and mix well.
Step 8
Add jaggery syrup little by little and knead well to form a soft but stiff dough.
Step 9
Roll into small balls and leave it to rest in a plate or a muslin cloth.
Step 10
Heat sufficient oil in a deep bottomed pan. Fry the balls on a medium flame till golden brown.
Step 11
Drain the cheedais in an absorbent paper.
Step 12
Once it cools down, store it in an airtight container.
Step 13
NOTES: Ensure to sieve the rice flour and sesame seeds to remove any impurities/stones. The dough should be stiff and not too loose, else the balls gets crumbled when put in oil. Once the dough is kneaded, allow the dough to rest for half an hour. Use medium heat to deep fry the balls to ensure that even the inner part is also well cooked.