Chilli paneer recipe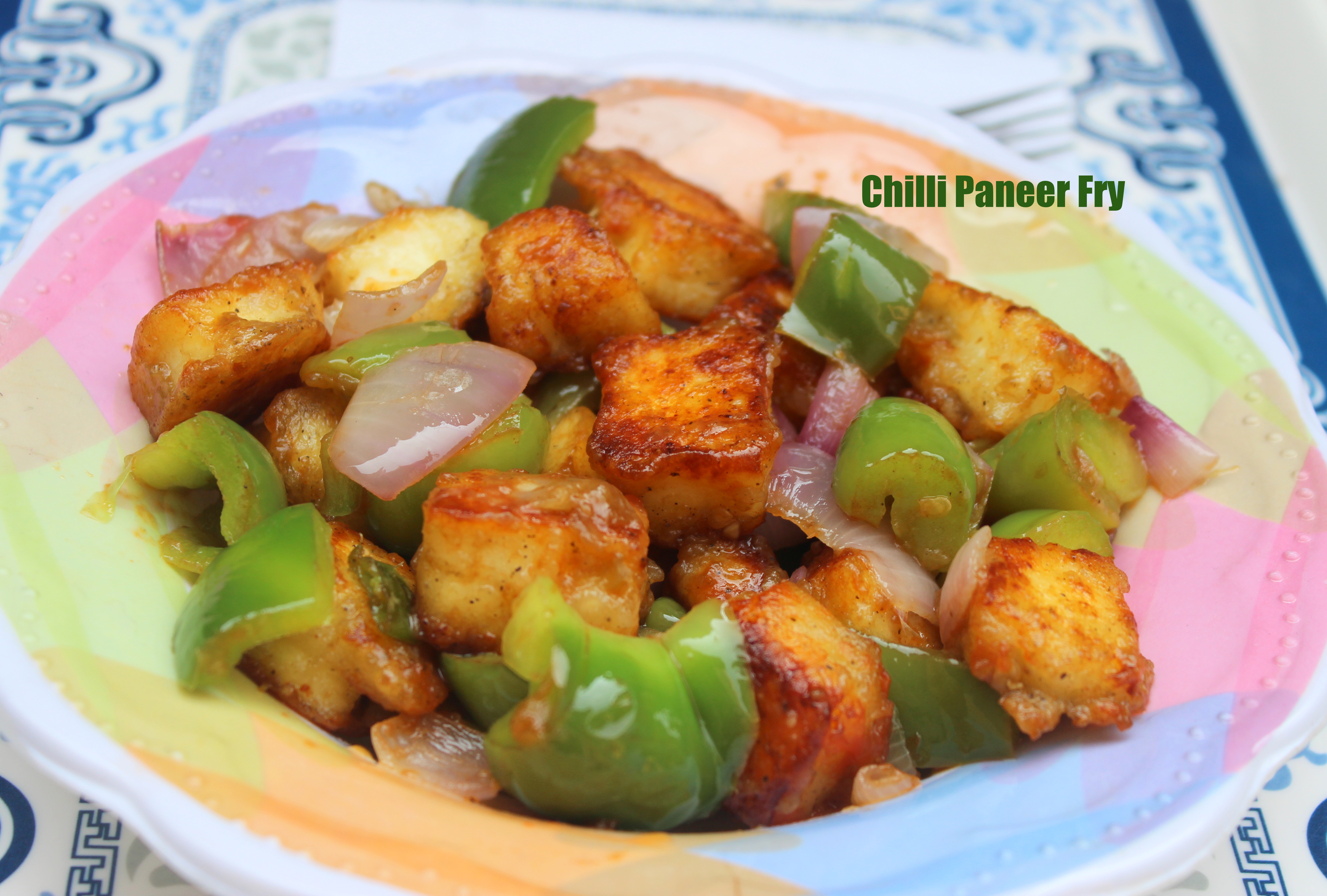 Chilli paneer is a very popular and delicious starter made with paneer, capsicum and onions and mixed with sauces. It can be served an appetizer or a starter and tastes best when it is served hot. This is dry version of chilli paneer and it also goes well with fried rice.
For more paneer dishes you can check  http://charuscuisine.com/category/paneer-dishes/
Ingredients
Paneer or Cottage cheese - 200 gms (cut into medium cubes)
Green capsicum - 1
Onion - 1
Ginger-garlic paste - 1 teaspoon
Soya sauce - 1 tablespoon
Green chilli sauce - 1/2 teaspoon
Tomato sauce - 1 tablespoon
Green chillies - 2 (chopped finely)
Cooking oil
FOR THE BATTER
Corn flour - 2 tablespoons
All purpose flour/maida - 1 tablespoon
Ginger-garlic paste - 1/2 teaspoon
Black pepper powder - 1/2 teaspoon
Salt to taste
Method
Step 1
HOW TO MAKE CHILLI PANEER RECIPE In a mixing bowl, add corn flour, maida, ginger-garlic paste, pepper powder and salt and mix well. Add little water to make a thick to medium batter.
Step 2
Add paneer cubes to the batter and marinate for about 25-30 minutes.
Step 3
Cut the onion and capsicum into medium pieces and keep it aside.
Step 4
Heat little oil in a pan and shallow fry the marinated paneer pieces till golden brown. Set it aside.
Step 5
Remove the oil and heat 2 tablespoons of oil in the same pan. Add onion, capsicum and green chillies and stir fry on a medium flame till the onions become translucent and capsicum becomes little crisp.
Step 6
Add ginger-garlic paste and stir fry for half a minute.
Step 7
Now add soya sauce, green chilli sauce, tomato sauce and cook on a medium flame stirring continuously for few minutes. Add salt only if required.
Step 8
Reduce flame and add fried paneer pieces and stir well till it is well coated with the sauces. Cook for a couple of minutes.
Step 9
Now switch off the flame and serve chilli paneer hot as a starter or as a side dish for vegetable fried rice.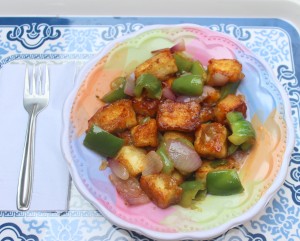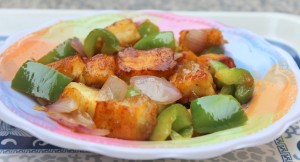 Step 10
NOTES : The batter consistency should be of medium consistency and not too thin. Ensure the paneer pieces are well coated and marinated for about half an hour. You can also deep fry the paneer pieces to further enhance the taste. But shallow frying is a healthier version and it also tastes very good.