Mathri recipe – How to make crispy mathri recipe – Diwali snacks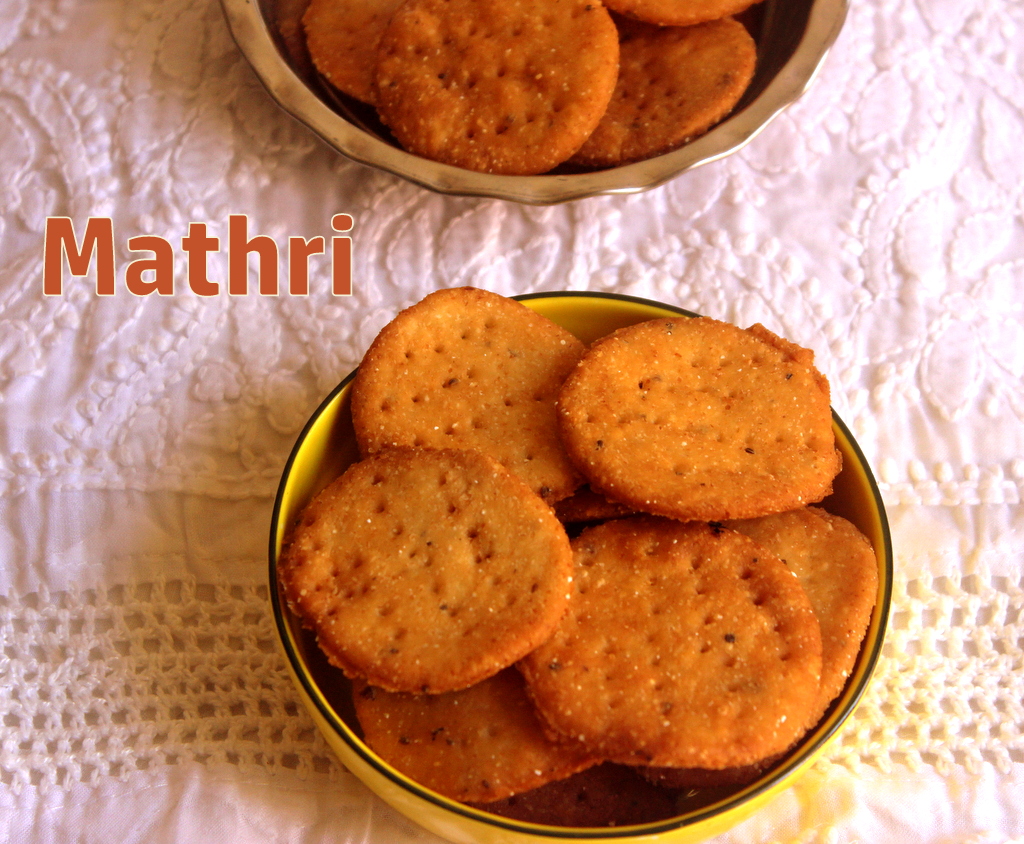 Mathri is a very popular North Indian snack made with all purpose flour and semolina.  It is usually served at special occasions or festivals like Diwali or Karwa chauth or at weddings. Carom seeds is added to a give a nice flavour to the mathri.  It can be stored in an airtight containers for weeks and hence it is an ideal snack even during long distance travel.  Mathris can be made in a round or triangular shape as desired by you.   It is an excellent accompaniment for tea/coffee.   Do try this salty and crispy snack this Diwali season!!
For full collection of diwali snacks and sweets from my blog you can check this link :
http://charuscuisine.com/diwali-sweets-and-snacks-recipes-diwali-recipes-collection-2015/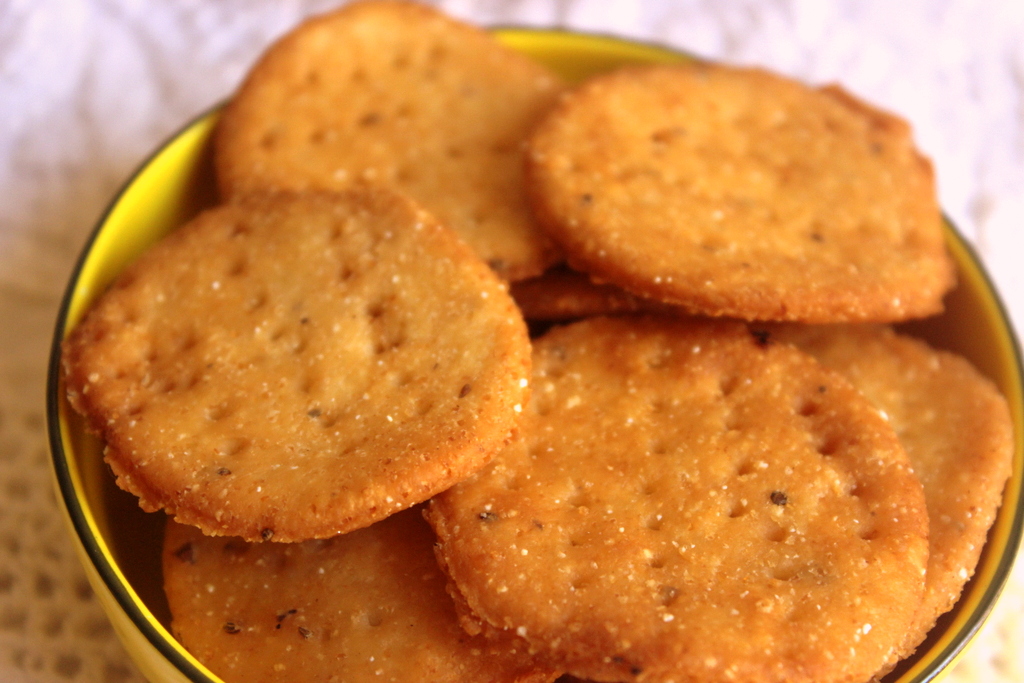 Prep Time :  20 mins
Cook Time : 30  mins
Servings :  4 persons
North Indian cuisine
INGREDIENTS
All purpose flour or maida – 1 cup
Rava or semolina – 1/4 cup
Ajwain or carom seeds – 1/2 teaspoon
Crushed or powdered black pepper corns – 1/2 teaspoon (optional)
Butter or ghee – 2 tablespoons
Salt to taste
Cooking oil for frying
HOW TO MAKE OR PREPARE MATHRI RECIPE
Take a mixing bowl and add maida, ajwain, crushed pepper corns, ghee and salt.  Mix all the ingredients well by hand.  The mixture should be crumbly in texture.
Add water little by little and knead to form a firm  dough.  Keep the dough covered and set aside for 15 minutes.
Divide the dough into equal portions.  Keep one portion of the dough on rolling board and roll into a small round slightly thick circle with the help of a rolling pin.  Take a cookie cutter or a round sharp lid/cap of any small bottle and make a round disc of 3 to 4 inches in diameter.
Prick the round discs with the help of a fork to prevent puffing during deep frying.  Repeat the process with the remaining round discs.  Heat sufficient oil in  a heavy bottomed pan on medium flame.  Once the oil becomes hot, reduce the flame to low.  Gently slide the flattened discs and deep fry on both the sides, on a low to medium flame, till golden brown in colour.
Mathris takes a little more time to cook compared to other deep fried snacks.  Remove the fried mathris and drain the excess oil,  with the help of a slotted spoon to a plate.
Once cooled down, transfer the mathris to an airtight container.  Serve mathris with evening tea or with pickles.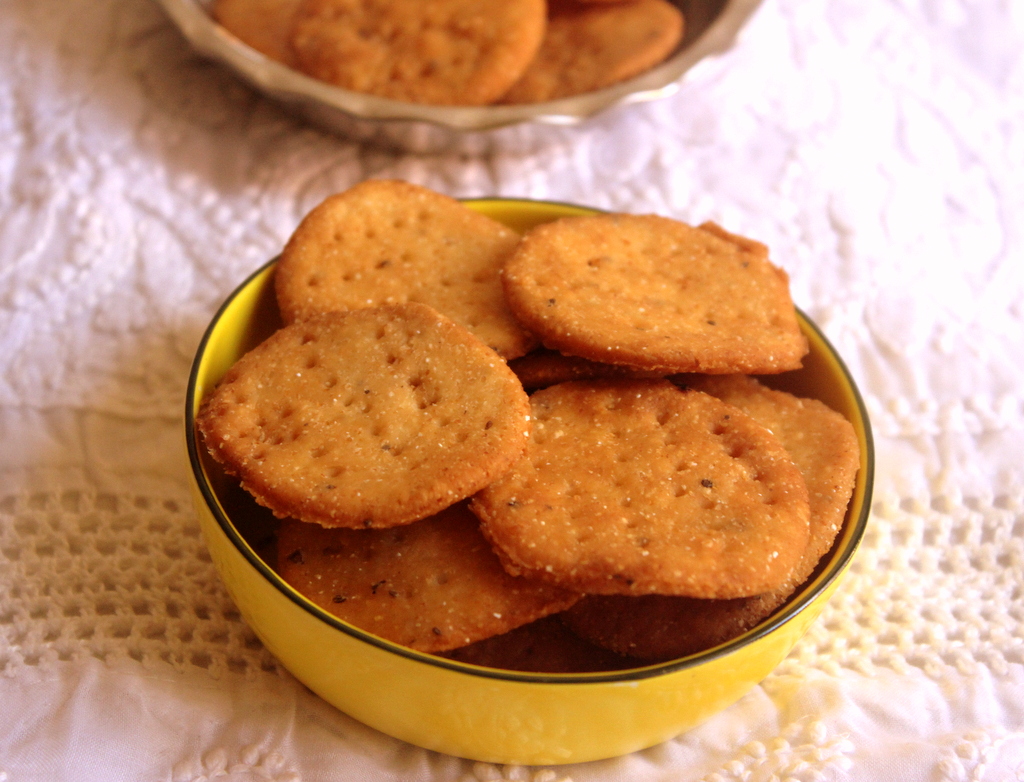 NOTES/TIPS
Always ensure to deep fry on  a low to medium flame as it helps to cook evenly.
The dough should be firm and not too soft.  If the dough is too soft, the mathris will not become crisp.