Yam poriyal or yam vegetable recipe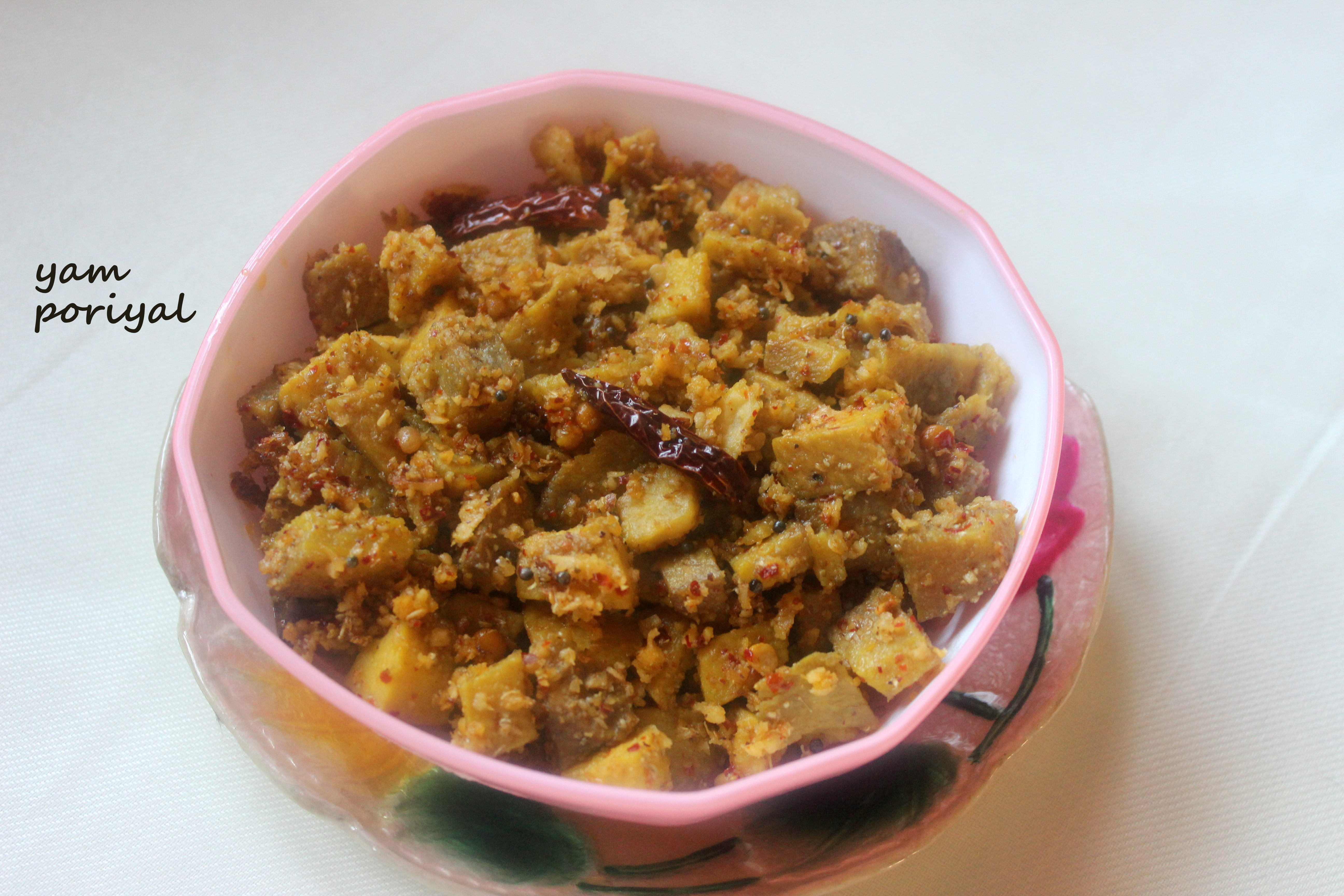 Yam is known as suran in Hindi and senai kizhangu in Tamil. It is a good source of energy and high in dietary fibre. Yam vegetable or poriyal is a spicy preparation of yam, coconut and and mildly spiced with Indian spices. This vegetable preparation is more popular in Tamil Nadu and it goes well as a side dish for rice and curry.
Ingredients
Yam or suran - 2 cups (cut into cubes)
Turmeric powder - 1/4 teaspoon
Coconut oil or any cooking oil - 2 tablespoons
Mustard seeds or rai - 1/2 teaspoon
Urad dal - 1 teaspoon
Chana dal - 1 teaspoon
Whole red chillies - 2 to 3
A pinch of asafoetida
Grated coconut - 1/4 cup
FOR THE DRY POWDER
Coconut oil or any cooking oil - 1 teaspoon
Coriander seeds - 2 tablespoons
Urad dal - 1 tablespoon
Chana dal or bengalgram dal - 1 tablespoon
Mustard seeds or rai - 1/2 teaspoon
Whole red chillies - 3 to 4
Salt to taste
Method
Step 1
HOW TO MAKE YAM PORIYAL OR VEGETABLE RECIPE Boil the yam pieces with enough water. Add salt and turmeric powder to the water and boil till the yam is fully cooked. Alternatively, you can pressure cook upto 3 or 4 whistles. Set aside.
Step 2
Heat 1 teaspoon of oil in a pan. Add all the ingredients under 'dry powder' and stir fry on a low flame till light brown and the aroma exudes. Once cooled down, grind them to a smooth dry powder. Keep aside.
Step 3
Heat 2 tablespoons of oil in the same pan. Add asafoetida, mustard seeds, urad dal, chana dal and red chillies and saute them on a medium flame.
Step 4
Once the seeds stops spluttering and dals turn light brown, add grated coconut and dry powder and mix well.
Step 5
Add the boiled yam pieces and combine together. Cover the pan with a lid and cook on a low flame for upto 5 minutes.
Step 6
Switch off the flame and remove them in a serving bowl.
Step 7
Serve yam poriyal hot with steamed rice and any curry of your choice.