Sweet coconut poha/sweet avalakki recipe – How to make sweet poha/aval recipe – Indian sweet recipes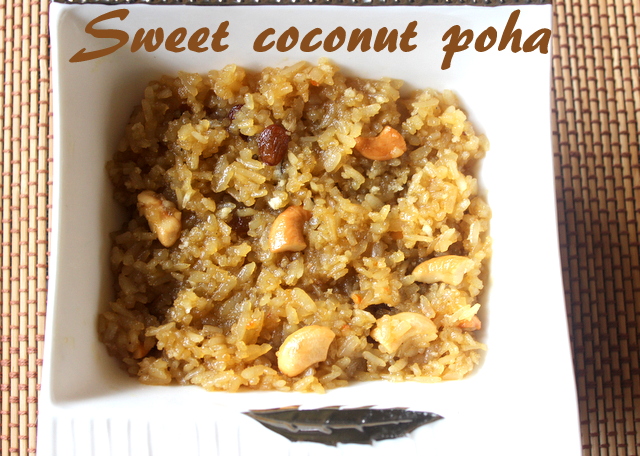 Sweet coconut poha is an easy sweet snack which can be made in less than 30 minutes.  Jaggery and coconut  when added, gives a nice delicious taste to the poha. Coconut, ghee and roasted nuts further enhances the taste.  Sweet poha is also a sweet dish which is prepared on Janmashtami, an Indian festival which marks the birth of Lord Krishna.  This dish does not require much preparation and can be prepared instantly.  Sweet poha is ideal as an evening snack or when you crave for an easy and quick sweet snack.
Other poha recipes :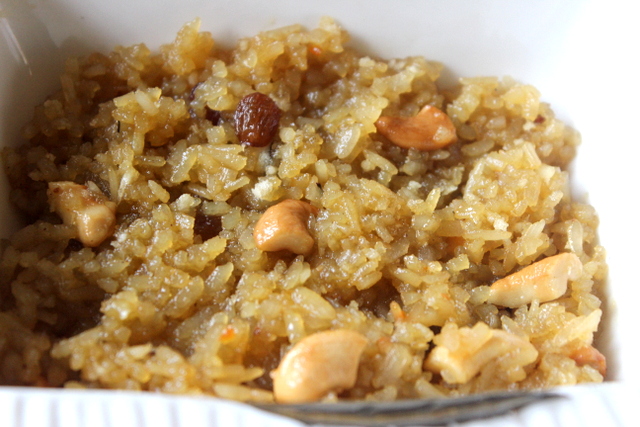 Prep Time :  5  mins
Cooking Time : 15 mins
Yield : 2 persons
South Indian cuisine
INGREDIENTS
Poha or flattened or beaten rice – 1 cup
Jaggery –  1 cup
Water – 1/4 cup
Cardamom powder – 1/4 teaspoon
Grated coconut – 1/4 cup
A pinch of orange food colour (optional)
Ghee – 2 tablespoons
Cashewnuts  – 5 to 6
Raisins – 5 to 6
HOW TO MAKE OR PREPARE SWEET COCONUT POHA OR SWEET AVALAKKI  RECIPE
Wash the beaten rice thoroughly with running water to remove any impurities, if any.  Drain the water completely and set aside  for 10-15 minutes.  Heat ghee on medium flame and stir fry the cashewnuts and raisins till golden brown in colour.  Set aside.
Heat 1/4 cup of water on low flame.  Add the jaggery and dissolve in it.  (If the jaggery has any impurities, filter to remove the impurities).  Then add the poha and mix well.
Add the orange food colour, cardamom powder and fried nuts and mix well again.  Keep the flame on low and cook till the jaggery water is fully absorbed by the aval.
Once the mixture becomes slightly thick, switch off the flame.  Add the grated coconut and combine well.  Sweet coconut poha is ready to be served
Enjoy sweet coconut poha as a sweet dish or dessert or just a plain snack.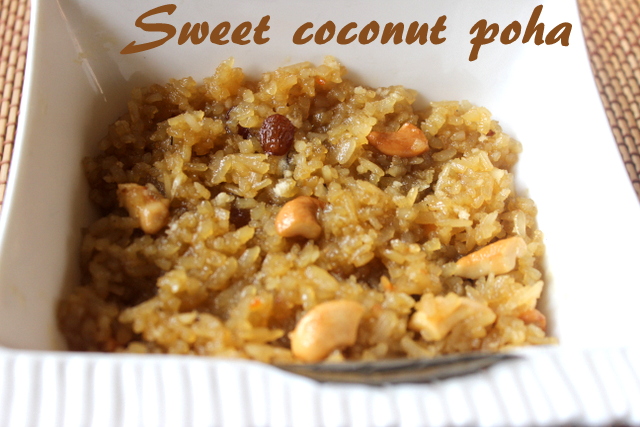 NOTES/TIPS
If you are using the thick variety of poha, wash and sprinkle little water and then set aside for 15 minutes.  It helps the poha to become soft. If using the thin variety, just drain the water completely and set aside for 10-15 minutes.
Add jaggery according to the sweetness desired by you.
Ensure that the jaggery used is without any impurities.  Otherwise, you can strain the jaggery water with the help of a strainer, before adding the poha to it.