Onion or kanda poha (Avalakki) recipe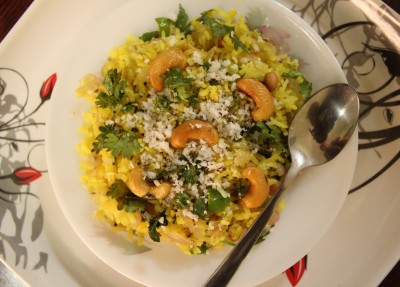 Flattened or beaten rice is used to prepare avalakki or poha which is a light snack and with spices, chillies, onions and peas added to it makes up for an ideal and nutritious breakfast. This dish is very popular in Maharashtra and Karnataka.
Ingredients
Beaten or flattened rice - 2 1/2 cups
Onions - 2 nos (chopped finely)
Green peas - 2 tablespoons
Green chillies - 5 nos
Mustard seeds - 1 teaspoon
Urad dal - 1 teaspoon
Chana dal - 1 teaspoon
Cashew nuts - 1 tablespoon
Ground nuts - 1 tablespoon
Turmeric powder - 1/2 teaspoon
Salt to taste
1 string of curry leaves
Few coriander leaves
Sugar - 2 teaspoons
Lemon - 1 no
Grated coconut - 2 tablespoons
Oil - 2 tablespoons
Method
Step 1
HOW TO MAKE AVALAKKI OR POHA RECIPE Soak flattened rice for 2 minutes with just enough water to immerse the flattened rice.
Step 2
Then remove the water with the help of a strainer and set aside.
Step 3
Heat oil in a pan. Add mustard seeds. Once they start spluttering, add urad dal, chana dal, cashewnuts, and ground nuts and stir fry till the dals turn light brown.
Step 4
Add green chillies, green peas, curry leaves, onions and saute for some time till the onions become translucent.
Step 5
Add flattened rice, turmeric powderr, salt, sugar and mix well.
Step 6
Cook on a low flame for 5 to 7 minutes and then remove from heat.
Step 7
Add the lemon juice and combine together.
Step 8
Garnish with coriander leaves and grated coconut.
Step 9
Serve avalakki or onion poha hot.