Saffron flavoured rice kheer recipe – How to make saffron rice kheer – rice pudding recipes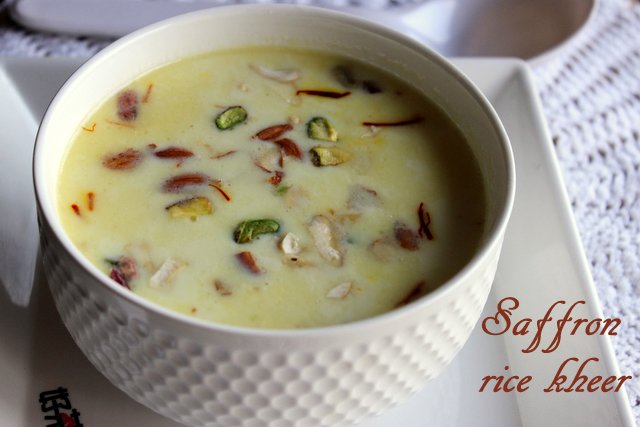 Saffron rice kheer is an Indian version of rice pudding made with basmati rice, sugar, chopped nuts and flavoured with saffron strands.  Kheer, a rice pudding, is an Indian dessert which is made during auspicious occasions like Diwali, Navaratri and other special occasions.  It is served generally at the end of the meal.  This kheer recipe requires the basic ingredients which are readily available at home and can be prepared quickly.  Saffron and nuts added to this kheer makes it more flavourful and tasty.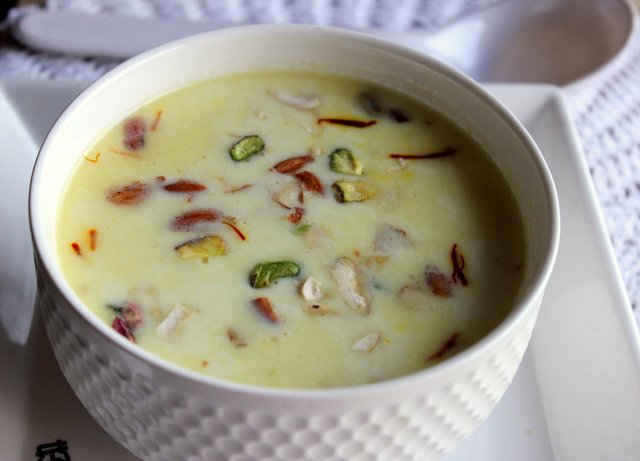 Prep Time :  10 mins
Cook Time : 20  mins
Servings :  4 persons
Indian cuisine
INGREDIENTS
Full fat milk – 1 litre
Basmati rice – 1/4 cup
Ghee – 1 tablespoon
Sugar – 1/2 cup
Cardamom powder – 1/2 teaspoon
Saffron strands – a generous pinch
Chopped nuts (almonds, pistachios, cashewnuts and raisins) – 1/4 cup
HOW TO MAKE OR PREPARE SAFFRON FLAVOURED RICE KHEER RECIPE
Rinse the basmati rice a couple of times.  Then soak with little water for 30 minutes.
After 30 minutes, drain the water completely and keep the soaked rice aside.  Heat 1 tablespoon of ghee on a medium flame.
Stir fry for a minute.  Keep the chopped nuts – almonds, cashewnuts, raisins and pistachios – ready.
After the rice is stir fried for a minute, add 1 litre of milk and boil on a medium flame.  Keep stirring occasionally so that the rice does not stick to the bottom of the pan.  Meanwhile soak a generous pinch of saffron strands in 5 tablespoons of warm milk.
Once the milk comes to a full boil, reduce the flame and continue to cook on a low to medium flame, stirring occasionally.  Cook till the rice is fully cooked.  This will take approx. 20-25 minutes.
Then add the sugar and the saffron dissolved milk.
Add the chopped nuts and the cardamom powder.
Mix everything well and continue to cook on a low flame for another 10 minutes, until the kheer thickens a bit.  Keep scraping the milk solids from the sides of the pan and add it to the kheer.  Once the kheer is almost ready, add 1 tablespoon of rose water.  But this step is optional.   Then switch off the flame.
Pour the saffron rice kheer in serving bowls and serve warm or chilled  as desired by you.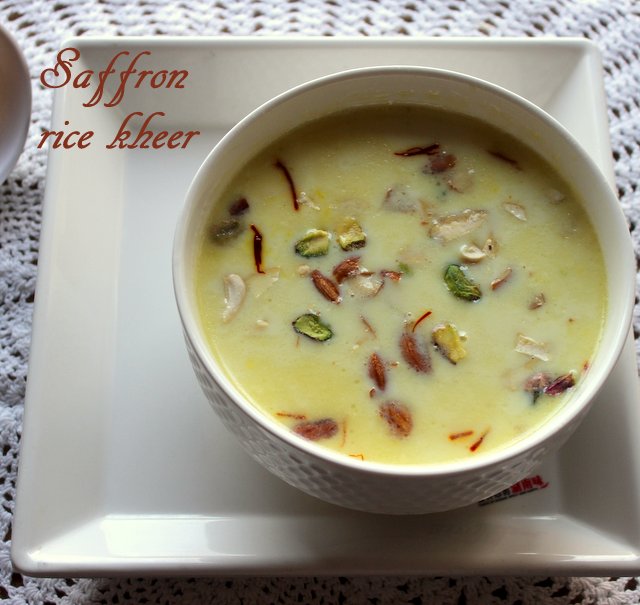 NOTES/TIPS
Use whole milk or full fat milk for making this rice kheer.
You can add few drops of rose water for a flowery aroma to the kheer.
If you do not have basmati rice immediately at home, you can use ordinary sona masoori rice or kolam rice.
Kheer tends to thicken once cooled down completely.
Add the sugar only after the rice has been cooked fully.
Adjust dry fruits and sugar as per your taste.