Paneer makhani or paneer butter masala recipe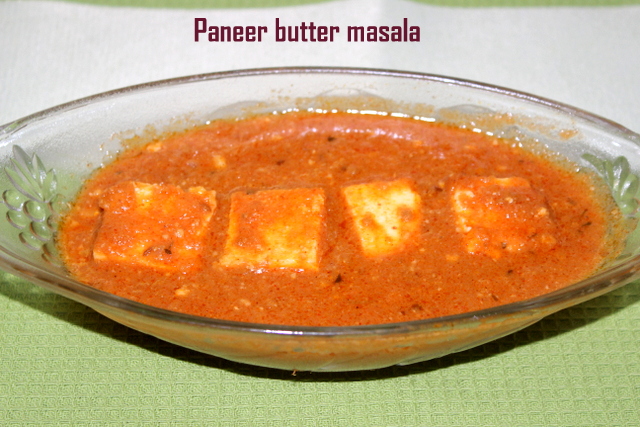 Paneer makhani or paneer butter masala or shahi paneer is an all time favourite North Indian dish. It is a rich creamy dish cooked in tomato gravy and is a favourite amongst the kids and perfect for parties too. Paneer makhani is one of the most popular main course fare in Indian restaurants. This dish is further enhanced with cashewnut paste and flavoured with kasoori methi leaves which gives a good taste.  Serve paneer butter masala hot with rotis, naans or jeera rice.
If you are interested in paneer recipes, also check palak paneer, paneer tadka, paneer in white gravy,  paneer tawa masala, matar paneer,  shahi paneer, sweet corn paneer masala, paneer bhurji, kadai paneer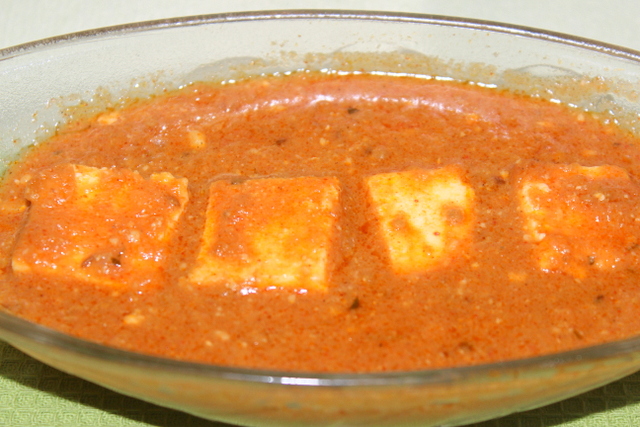 Ingredients
Paneer or cottage cheese - 250 gms (cut into 1 inch small pieces)
Milk cream - 1/4 cup
Onions - 2 (blanched and pureed)
Tomatoes - 4 (blanched and pureed)
Cashewnuts - 10-12
Butter- 2 tablespoons
Cumin seeds - 1/2 teaspoon
Ginger-garlic paste - 1teaspoon
Turmeric powder - 1/4 teaspoon
Red chilli powder - 1 teaspoon
Coriander powder -1 teaspoon
Cumin powder - 1/2 teaspoon
Garam masala powder - 1 teaspoon
Kasoori methi leaves - 1 tablespoon
Chopped coriander leaves - 2 tablespoons
Salt to taste
Method
Step 1
HOW TO MAKE PANEER MAKHANI OR PANEER BUTTER MASALA RECIPE Blanch the onions and tomatoes and make puree out of it. (Immerse them in boiling water for 15 -20 minutes. Then remove the skin and blend them separately, to make a puree out of it)
Step 2
Keep the onion puree and tomato puree separately.
Step 3
Heat butter in a pan. Add cumin seeds and stir till the seeds splutter.
Step 4
Add onion paste and ginger-garlic paste. Stir fry for another 2 minutes till the onions turn light brown and raw flavour goes away.
Step 5
Add turmeric powder, red chilli powder, coriander powder, cumin powder, garam masala, kasoori methi leaves and salt and mix well. Cook for another 1-2 minutes on a low flame.
Step 6
Add tomato puree and mix well. Cover the pan with a lid and cook for 2 minutes on a low flame.
Step 7
Now add cashewnut paste and mix well. (For making this paste, soak the cashewnuts in hot water for half an hour and make a paste out of it).
Step 8
Add paneer pieces and give a good stir. Cook for another 2 minutes on a low flame so that paneer pieces absorbs the flavours. Lastly add milk cream. After adding milk cream do not heat for too long else the milk tends to curdle. Combine together and switch off the flame.
Step 9
Remove in a serving bowl. Garnish with coriander leaves and serve hot with rotis or naans.
Step 10
Paneer makhani or paneer butter masala is ready to be served. It is a good combo with rotis, naans or parathas.