Beetroot kurma recipe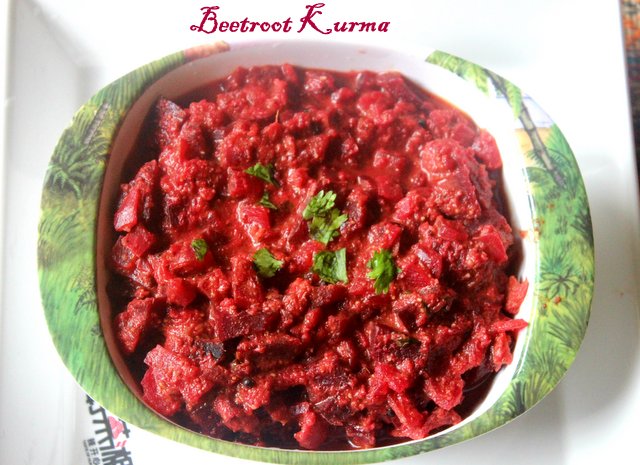 Beetroot is low in fat, full of vitamins and minerals and packed with powerful antioxidants.  It is rich in fibre, which assist in preventing constipation and help to lower cholesterol levels too.  While buying beetroot, just take care to buy beetroot which is  firm, smooth, and a vibrant red-purple and not soft, wrinkled or dull in colour. Fresh beets with the greens attached can be stored for three to four days in the fridge, but beets with the greens removed can be stored in the fridge for two to four weeks.  Beetroot kurma is a different variation of beetroot recipe that can be included in your daily diet, because it is a delicious gravy  and an excellent side dish for rotis, puris or any bread varieties as well as rice.  Do try this tasty beetroot kurma and enjoy with your family and loved ones.  I am sure you will enjoy this kurma recipe.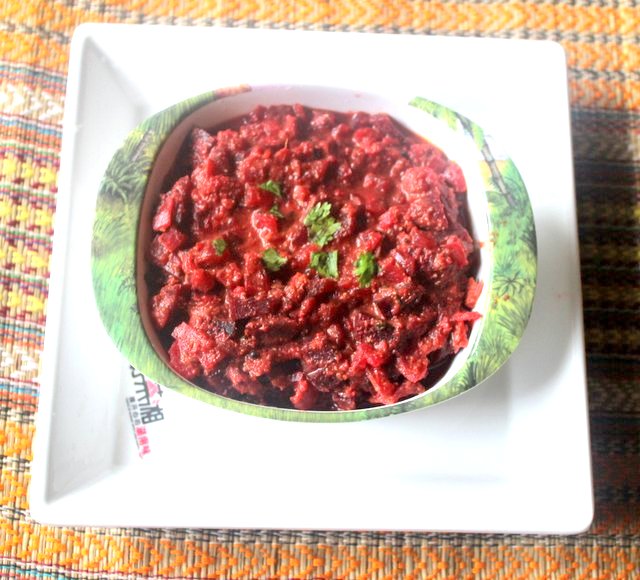 Prep Time : 15  mins
Cook Time : 30  mins
Servings :  3-4 persons
South Indian Cuisine
INGREDIENTS
Beetroot – 2 (medium sized chopped into small pieces)
Potato – 1  (chopped into small cubes)
Onion – 1 (chopped finely)
Medium sized tomatoes – 2 (chopped finely)
Turmeric powder – 1/4 teaspoon
Red chilli powder – 1/2 teaspoon
Garam masala powder – 1/2 teaspoon
Cooking oil – 2 tablespoons
Cumin seeds – 1/2 teaspoon
Salt to taste
Chopped coriander leaves for garnishing
INGREDIENTS FOR GRINDING 
Grated coconut – 3/4 cup
Green chillies – 2
Coriander seeds – 2 tablespoons
Cumin seeds – 1 tablespoon
Garlic cloves – 5-6
Ginger – 1 inch small size
Poppy seeds (khus khus) – 1 teaspoon
Fennel seeds – 1/2 teaspoon
Chopped coriander leaves – 2 tablespoons
HOW TO MAKE OR PREPARE BEETROOT KURMA RECIPE
Wash and peel the beetroots and potato.  Chop them into small pieces.
Take a vessel and add the chopped beetroot and potato cubes and pressure cook them upto 2-3 whistles.
Grind all the ingredients mentioned under 'INGREDIENTS FOR GRINDING'  with little water to a smooth paste.  Keep it aside.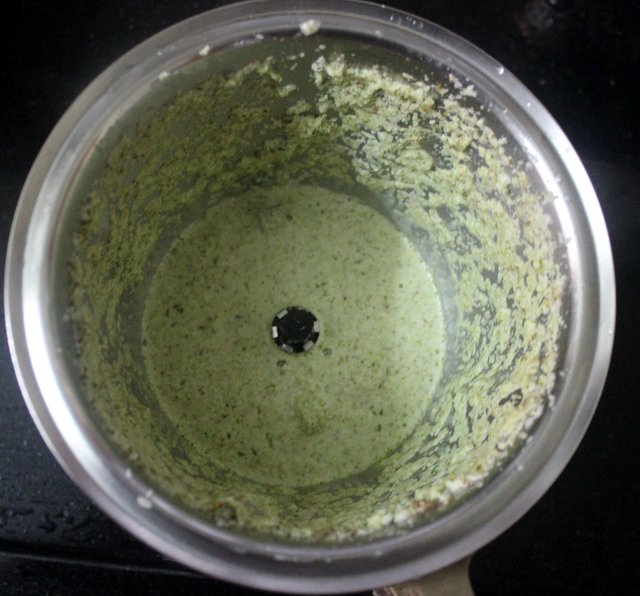 Heat oil in a pan on medium heat.  Add mustard seeds and allow it to splutter.  Then add cumin seeds and saute till light brown.  Add chopped onions and saute till they are translucent.  Add chopped tomatoes and cook till they become little soft.
Add the ground paste and cook on a low flame for 2-3 minutes.  Add salt, red chilli powder, turmeric powder and garam masala and mix well.  Add boiled chopped beetroot and potato and combine together.  Add water as required and bring it to a thick medium consistency and give a good mix.  Simmer on a low flame for 5-6 minutes till the gravy is well blended with the vegetables.
Once done, switch off the flame and garnish with chopped coriander leaves.
Serve beetroot kurma hot with rotis, chapatis, puris or with steamed rice.