Sprouts masala sabzi recipe – How to make sprouts masala subzi recipe – green moong recipes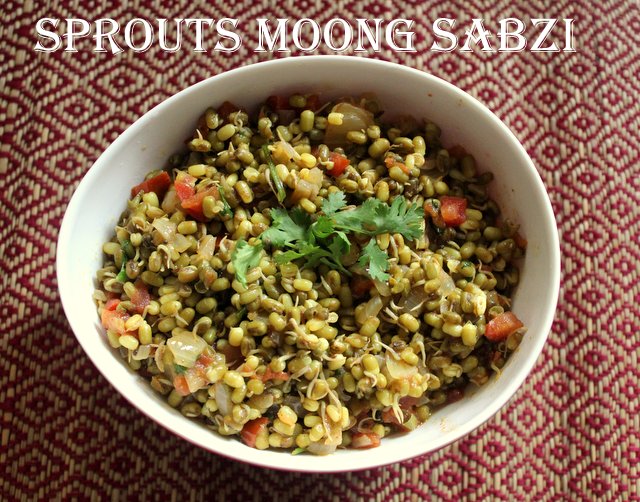 Sprouted green moong sabzi is a healthy and nutritious sabzi which goes well with rotis, parathas and rice. Sprouted moong is high in protein and an excellent source of dietary fibre.  They are healthy for people of all ages.  Any grain when sprouted becomes easy to digest and healthy too.  You can sprout moong beans at home or buy them from super stores.  Sprouts are integral part of food in Maharashtra and had as a snack or simple salad or cooked  as a subzi as accompaniment for rotis or chapathis.  While using less oil for making this subzi, it becomes a complete low calorie and  light dish.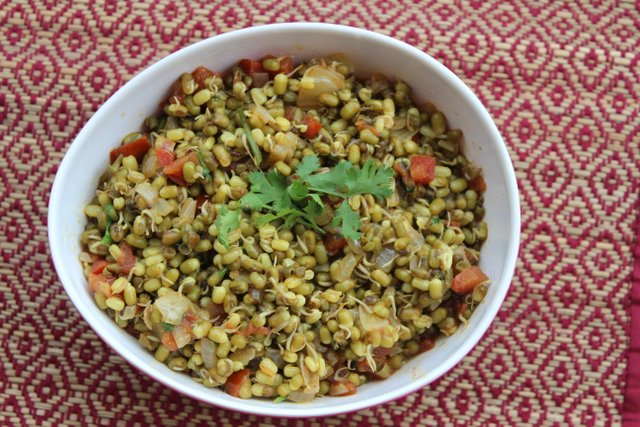 Prep Time : 15 mins
Cook Time :  20 mins
Servings :  4 persons
Indian cuisine
INGREDIENTS
Green moong sprouts – 1 cup
Onion – 1 (chopped finely)
Tomatoes – 2 (chopped finely)
Green chillies – 2 (chopped finely)
Ginger-garlic paste – 1 teaspoon
Turmeric powder – 1/4 teaspoon
Red chilli powder – 1/4 teaspoon
Coriander powder – 3/4 teaspoon
Garam masala – 1/2 teaspoon
Cooking oil – 2 tablespoons
A pinch of asafetida or hing
Mustard seeds or rai – 1/2 teaspoon
Cumin seeds – 1/2 teaspoon
Jaggery powder – 1 teaspoon (optional)
Salt to taste
Chopped coriander leaves for garnishing
HOW TO MAKE OR PREPARE SPROUTS MASALA SUBZI RECIPE
PREPARATION
Rinse the sprouted green moong thoroughly under running water.  Drain the water completely.  Boil enough water in a vessel and add the sprouted green moong.  Cook the sprouted green moong till soft.  Do not make it mushy.
METHOD
Heat oil in a pan on medium flame.  Add hing, mustard seeds and cumin seeds and allow it to splutter.  Then add chopped onions and ginger-garlic paste.
Saute till the onions become translucent.  Then add green chillies and chopped tomatoes and mix well.  Saute till the tomatoes become soft.  Add turmeric powder, red chilli powder, coriander powder and garam masala.
Saute till the masala gets well cooked.  Add the cooked sprouted moong beans and mix well.
Add little water if required and stir well.  Add jaggery powder and mix well.
Cook for 4-5 minutes on a low to medium flame.  Then switch off the flame.  Garnish with chopped coriander leaves.
Serve sprouted green moong sabzi hot with rotis, parathas or rice.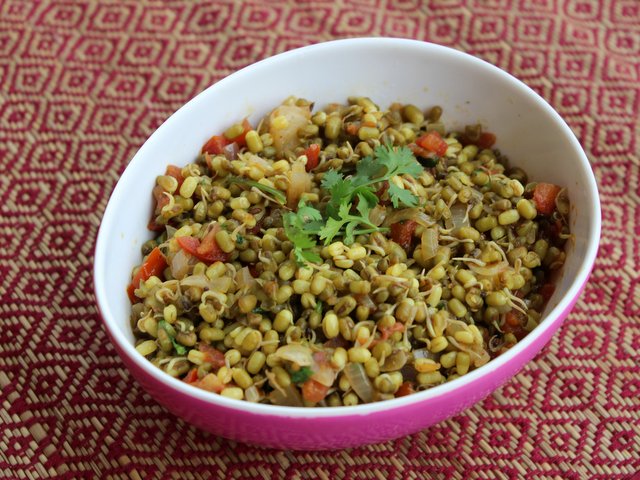 NOTES/TIPS
You can either make it dry or with some gravy.  If you prefer a dry subzi, cook till the moisture is fully absorbed.
You can also add chopped potatoes alongwith onions and tomatoes and make this subzi.